(Opens in a modal)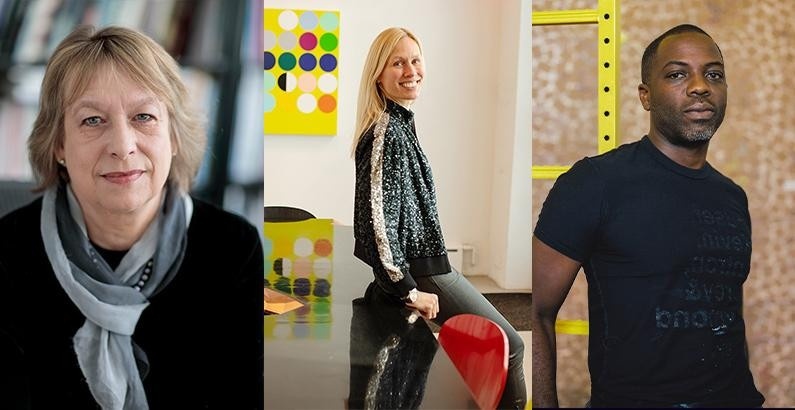 ---
Are there currents in contemporary art-making that define our complex sociopolitical, historical moment, locally, nationally, and globally? What does it mean to enter the art market as an emerging artist? How do artists today organize and manage their collaborative studio practices? These and other questions will be discussed at this panel conversation in which Sabine Eckmann, William T. Kemper Director and Chief Curator at the Mildred Lane Kemper Art Museum, will be joined by Andrea Teschke, partner at Petzel Gallery in New York, and artist Derek Fordjour, as well as Sam Fox School MFA in Visual Art graduates Jessica Bremehr (MFA-VA21), Adrian Gonzalez (MFA-VA21), and Lola Ogbara (MFA-VA20). The program is organized on the occasion of a pair of thesis exhibitions at the Kemper Art Museum, which will feature the artwork of the 2020 and 2021 graduating classes of the MFA in Visual Art program at the Sam Fox School of Design & Visual Arts at Washington University in St. Louis.
---
Derek Fordjour was born in Memphis in 1974, to parents of Ghanaian heritage. Fordjour earned his BA at Morehouse College, MA in art education at Harvard University, and MFA in painting at Hunter College. His work has been exhibited at notable institutions nationally and internationally. He has received commissions for public projects, including a permanent installation for the Metropolitan Transit Authority of New York City at the 145th Street subway station and the Whitney Museum of American Art's Outside the Box public art series. He was awarded a 2016 Sugar Hill Children's Museum Artist-in-Residence, a 2017 Sharpe-Walentas Studio Program award, and the 2018 Deutsche Bank NYFA Fellowship Award. His work has been reviewed in the New York Times, Financial Times, Los Angeles Times, and Hyperallergic. He has also been featured in several publications such as the Wall Street Journal, Vanity Fair, and Forbes magazine. Fordjour was recently appointed the Alex Katz Chair of Painting at the Cooper Union and serves as a Core Critic at Yale University School of Art. His work also appears in several collections including The Studio Museum in Harlem, Brooklyn Museum, Pérez Art Museum Miami, Dallas Museum of Art, Whitney Museum of American Art, and Los Angeles County Museum of Art.
As partner at one of the art world's leading galleries, Andrea Teschke has more than two decades of experience working with top contemporary artists and estates. In her role at Petzel Gallery, New York, she represents Cosima von Bonin, Derek Fordjour, Maria Lassnig, Sarah Morris, and Corinne Wasmuht, to name just a few. Andrea has curated several exhibitions at the gallery, most recently A Love Letter to a Nightmare, a group exhibition highlighting contemporary visual nods to historical movements such as Surrealism, Symbolism, and Pop. She holds an MA in international studies from the Rheinische Friedrich-Wilhelms-Universitaet in Bonn, Germany.
---