(Opens in a modal)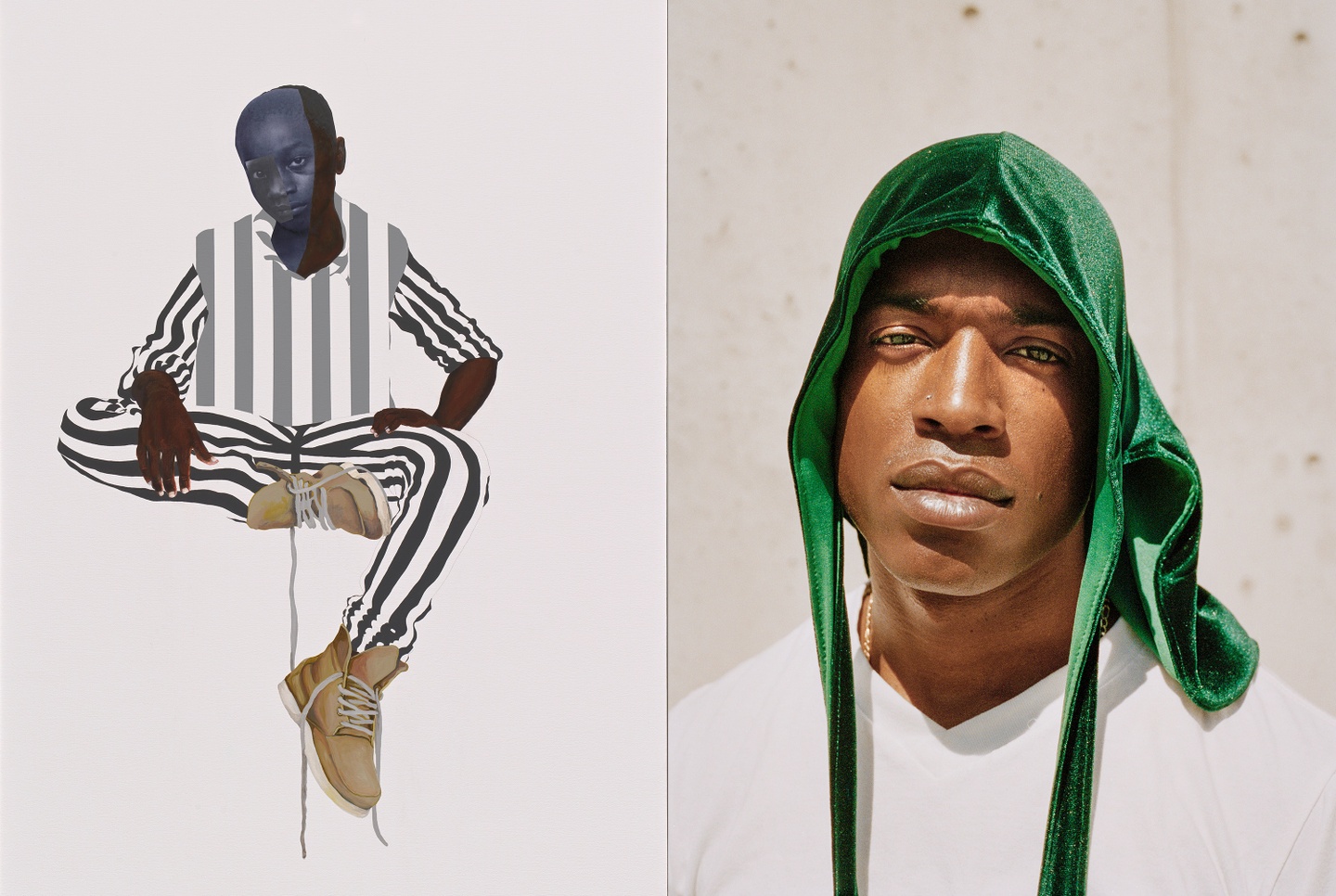 Artists Deborah Roberts and Adrian Octavius Walker with Adrienne Davis
---
---
The Outwin artists Deborah Roberts and Adrian Octavius Walker speak with Adrienne Davis, William M. Van Cleve Professor of Law in the School of Law, and Professor of Organizational Behavior & Leadership in the Olin Business School, and co-director of the Center for the Study of Race, Ethnicity & Equity. Both artists use portraiture to depict the complexity of Black subjecthood, exploring themes of race, identity, beauty, and gender politics.
This online program is free, but registration is required.
---
Adrian Octavius Walker is a mixed-media artist based in Chicago by way of St. Louis. His work is inspired by the Black body, dynamics of the Black family, and archival work related to the African American experience and the untold stories they share. Working in both film and digital-format photography, Walker creates penetrating portraits influenced by his deep awareness of the nuances that pervade the human experience. His greatest milestone to date is being one of the prize-winning artists in The Outwin 2019: American Portraiture Today. Walker is currently represented by pt.2 Gallery Oakland. @aoctaviusW
Deborah Roberts is a mixed-media artist whose work challenges the notion of ideal beauty. Her work has been exhibited internationally across the USA and Europe. Roberts's work is in the collections of the Whitney Museum of American Art, New York; Brooklyn Museum, New York; The Studio Museum in Harlem, New York; Los Angeles County Museum of Art; and the Virginia Museum of Fine Arts, Richmond, among several others. She was selected to participate in the Robert Rauschenberg Residency (2019) and was a finalist for the 2019 Outwin Boochever Portrait Competition, as well as the recipient of the Anonymous Was A Woman Grant (2018), and the Pollock-Krasner Foundation Grant (2016). Roberts earned her MFA from Syracuse University, New York. She lives and works in Austin, Texas. Roberts is represented by Stephen Friedman Gallery, London and Susanne Vielmetter Los Angeles Projects, CA.
Adrienne Davis is a feminist and critical race theorist who focuses on "the law of daily life," or how law regulates and affects people's daily interactions, decisions, and identities. She has written extensively on the gendered and private law dimensions of American slavery; the legal regulation of intimacy, including interracial relationships, polygamy, and sex work; and theories of justice and reparations. She is currently working on several projects on the second generation of work on intersectionality, including misogynoir. She is currently working on two books. The first brings together her work on interracial intimacy, polygamy, sex work, pet inheritance. The second is based on her work as a vice provost for institutional diversity and is entitled What I Saw at the Diversity Revolution. She has published articles in the Stanford Law Review, the Columbia Law Review, and the California Law Review, as well as numerous other articles and book chapters. She is the co-editor of the books Black Sexual Economies: Race and Sex in a Culture of Capital and Privilege Revealed: How Invisible Preference Undermines America.
Deborah Roberts (b. 1962), detail of 80 days (from Nessun Dorma series), 2018. Paper, acrylic, graphite, and pastel on canvas, 72 ¼ x 48 1/8". Collection of the artist, courtesy of Stephen Friedman Gallery, London. © Deborah Roberts.
Adrian Octavius Walker (b. 1988), detail of Black Virgin Mary, 2018. Inkjet print, 39 ¼ x 26 3/8". Collection of the artist. © Adrian Octavius Walker.