(Opens in a modal)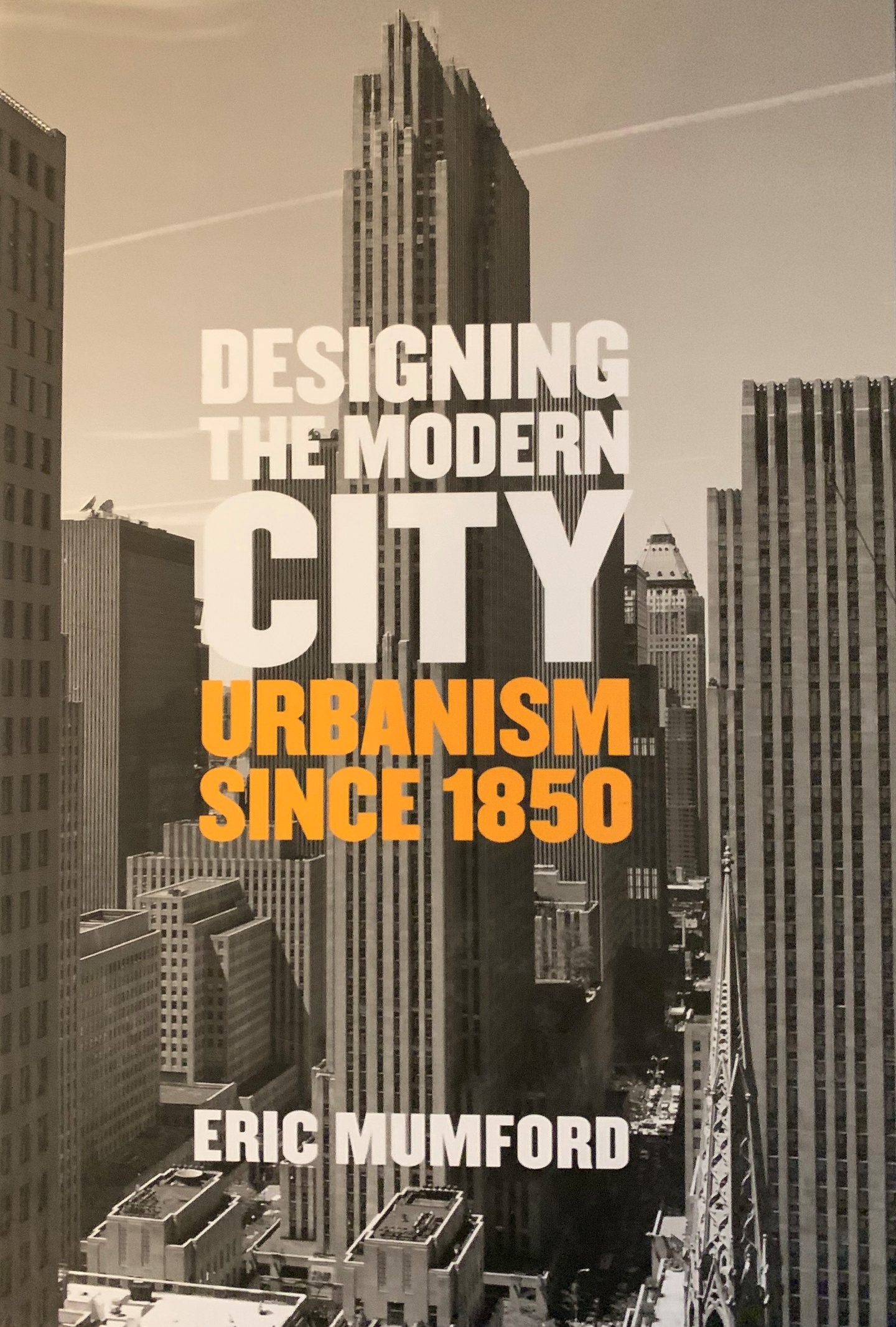 Faculty Publication Discussion: Designing the Modern City: Urbanism Since 1850
---
---
This faculty publication discussion will center on Designing the Modern City: Urbanism Since 1850, written by Eric P. Mumford, the Rebecca and John Voyles Professor of Architecture. The comprehensive survey traces the global history of urbanism and urban design from the industrial revolution to the present.
As part of the event, several invited panelists will share their perspectives on how architects have attempted to shape the form of cities under the ongoing conditions of modernization. Each speaker will focus on how a topic from the book relates to design issues that they have addressed or considered in their practice or considered as historians. Robert McCarter, the Ruth and Norman Moore Professor of Architecture, will serve as moderator.
The event is free and open to the public; no registration is required. The event will take place in person in Weil Hall's Kuehner Court, in addition to being livestreamed through this link and on the Sam Fox School's YouTube channel. Copies of the publication are available for purchase in the University bookstore.
Panelists
Kenneth Frampton, Ware Chair of Architecture, Graduate School of Architecture, Planning, and Preservation, Columbia University
Igor Marjanović, William Ward Watkin Dean and Professor, Rice Architecture
Jennifer Yoos, FAIA, LEED AP, Professor and Head, University of Minnesota School of Architecture; Principal and President, VJAA
Moderator
Robert McCarter, Ruth & Norman Moore Professor of Architecture, Sam Fox School of Design & Visual Arts, Washington University in St. Louis
---
11:15-11:45pm
Reception for students, faculty, and participants
12-12:20pm
Welcome and Introduction: Heather Woofter
12:20-12:50pm
Presentation: Kenneth Frampton
12:50-1:20pm
Presentation: Igor Marjanović
1:20-1:50pm
Presentation: Jennifer Yoos
1:50-2:15pm
Presentation: Eric P. Mumford
2:15-4pm
Panel Discussion: Moderated by Robert McCarter
4-4:30pm
Book Signing & Reception
Written with an international perspective that encourages cross-cultural comparisons, leading architectural and urban historian Eric P. Mumford presents a comprehensive survey of urbanism and urban design since the industrial revolution. Beginning in the second half of the 19th century, technical, social, and economic developments set cities and the world's population on a course of massive expansion. Mumford recounts how key figures in design responded to these changing circumstances with both practicable proposals and theoretical frameworks, ultimately creating what are now mainstream ideas about how urban environments should be designed, as well as creating the field called "urbanism." He then traces the complex outcomes of approaches that emerged in European, American, and Asian cities.
This erudite and insightful book addresses the modernization of the traditional city, including mass transit and sanitary sewer systems, building legislation, and model tenement and regional planning approaches. It also examines the urban design concepts of groups such as CIAM (International Congresses of Modern Architecture) and Team 10, and their adherents and critics, including those of the Congress for the New Urbanism, as well as efforts toward ecological urbanism. Highlighting built as well as unbuilt projects, Mumford offers a sweeping guide to the history of designers' efforts to shape cities.
University Health & Safety Protocols
Your health and safety are important to us. All visitors to campus must complete WashU's visitor screening tool no more than two hours before coming to campus. Kindly be prepared to show your screening results when you arrive at the event.
Visitor screening
Faculty, staff, and students screening
Masks are required indoors and encouraged outdoors.