(Opens in a modal)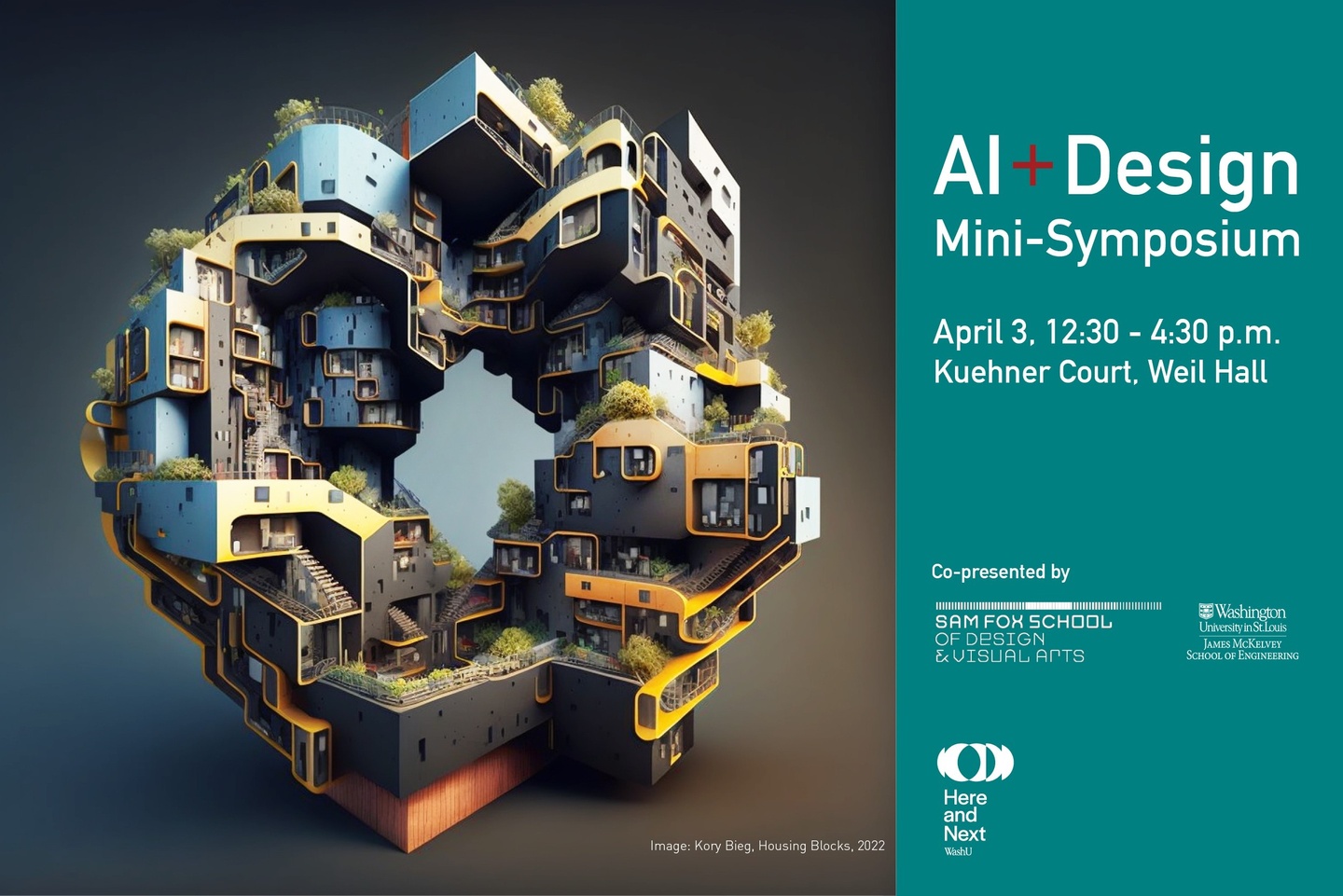 AI + Design Mini-Symposium
---
---
This one-day symposium provides an opportunity for students and faculty to explore the intersections of artificial intelligence and design. The keynote will be given by Krishna Bharat, WashU parent and distinguished research scientist at Google, plus three sessions with WashU faculty and guests covering topics like creativity, interaction design, and current issues in AI. Co-presented by the Sam Fox School of Design & Visual Arts and the McKelvey School of Engineering, sessions take place in Weil Hall and are open to the WashU community.
Support provided by the Ralph J. Nagel Dean's Fund.
---
The in-person event on April 3 was standing room only in the Sam Fox School's Kuehner Court.
To learn more about how faculty at WashU are thinking about artificial intelligence and design, watch the recording below.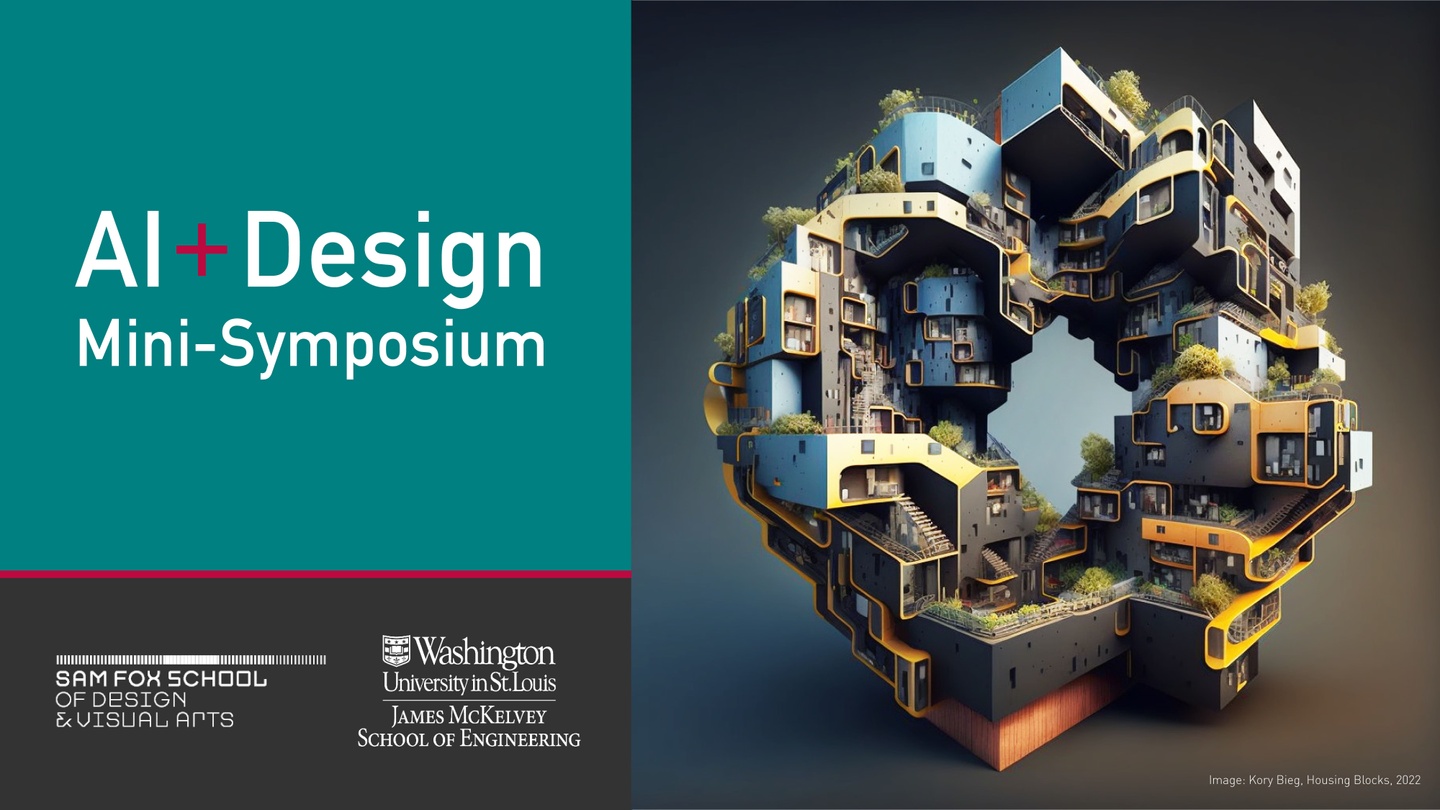 Attendees are welcome to attend any session that interests them.
12:30 p.m.
Welcoming Remarks
12:45 p.m.
Keynote Address
1:15 p.m.
How to Create with Creative AI
2:15 p.m.
The Machinic Muse: AI & Creativity
3:15 p.m.
Human-AI Interaction: Designing the Interface between Humans and Artificial Intelligence
4:00 p.m.
Concluding Remarks
4:30 p.m.
Reception in Weil Hall Commons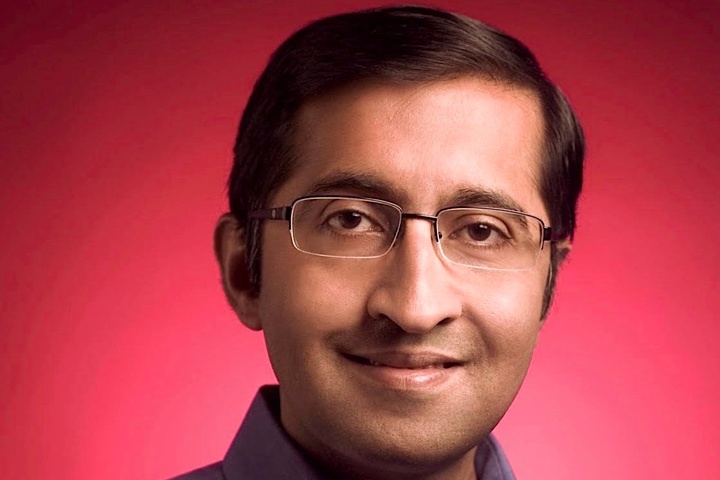 Krishna Bharat
Krishna Bharat is a technologist and innovator working at the intersection of computing and online search. He is a Distinguished Research Scientist at Google and the founder of Google News. Launched in 2002, and with more than 72 international editions, Google News provides access to a diverse set of news sources, driving billions of visits to news sites every month.
 Bharat joined Google in 1999 to start Google Research. He helped define the group's charter and recruit the first batch of research scientists. He also founded Google's engineering operations in India in 2004 and served as the first director of the Bangalore R&D center. Prior to joining Google, Bharat was a Research Scientist at DEC Systems Research Center in California.
Bharat holds a PhD in computer science from the Georgia Institute of Technology and a BTech in computer science from the Indian Institute of Technology Madras. In 2003, he won the World Technology Award for Media & Journalism and Google News won the Webby Award in the news category.  Bharat serves on the boards of the Columbia School of Journalism and the Committee to Protect Journalists.
---
Welcome and Introductions
Carmon Colangelo
Ralph J. Nagel Dean of the Sam Fox School
E. Desmond Lee Professor for Collaboration in the Arts
Keynote Address
Krishna Bharat
WashU parent, Technologist and Innovator
Distinguished Research Scientist, Google, Inc.
How to Create with Creative AI
In this conversation, Kory Bieg and Ian Bogost (who were childhood friends) will discuss the current state of AI-assisted design. What's easy to do? What's difficult? Are the results usable in the design process, or just provocations, for now? What kinds of new tools do designers and computer scientists need to develop to make the design process work? As educators, how do we need to change the way we teach, and as students how we learn, in light of these new technologies?
Kory Bieg, AIA, AB '99
Associate Professor and Program Director for Architecture, University of Texas at Austin
Founder and Principal, OTA+
Ian Bogost
Barbara and David Thomas Distinguished Professor
Director of Film & Media Studies 
Professor of Computer Science & Engineering
The Machinic Muse: AI & Creativity
To design and make is an act of collectively building the future, of telling stories to one another of who we are and who we want to be. Architects, artists, designers, and engineers are poised to engage in a new form of collaborative worldbuilding with AI. This session will discuss what we want the capabilities of AI to be, how we'd like to use it in our design processes, what the role of AI in pedagogy and teaching will be, how we might direct AI's spatial potential, and how the built environment may change in response.
Constance Vale (co-host)
Assistant Professor and Undergraduate Chair, Architecture
Matthew Allen (co-host)
Visiting Assistant Professor, Architecture
Chandler Ahrens
Associate Professor, Architecture
Sharvari Mhatre
Lecturer, Architecture
Human-AI Interaction: Designing the Interface between Humans and Artificial Intelligence
This panel will focus on the future of user experiences and interfaces for emerging technology. Particularly, this session will speculate on how digital tools and interfaces will evolve with the integration of artificial intelligence. How will AI tools change the process of design? What new skills will future designers need? How should education evolve to address these advancements? If AI is the next big leap in humans' integration of digital tools into their physical lives, this panel explores the responsibility of UX/UI designers and engineers to ensure inviting, efficient, productive, and ethical integrations of artificial intelligence.
Jonathan Hanahan (host)
Associate Professor, Interaction Design
Heather Snyder Quinn
Assistant Professor in Design Futures
Alvitta Ottley
Assistant Professor, Computer Science & Engineering
Caitlin Kelleher
Associate Professor, Computer Science & Engineering
Concluding Remarks
Aaron Bobick
Dean and James M. McKelvey Professor
James McKelvey School of Engineering