(Opens in a modal)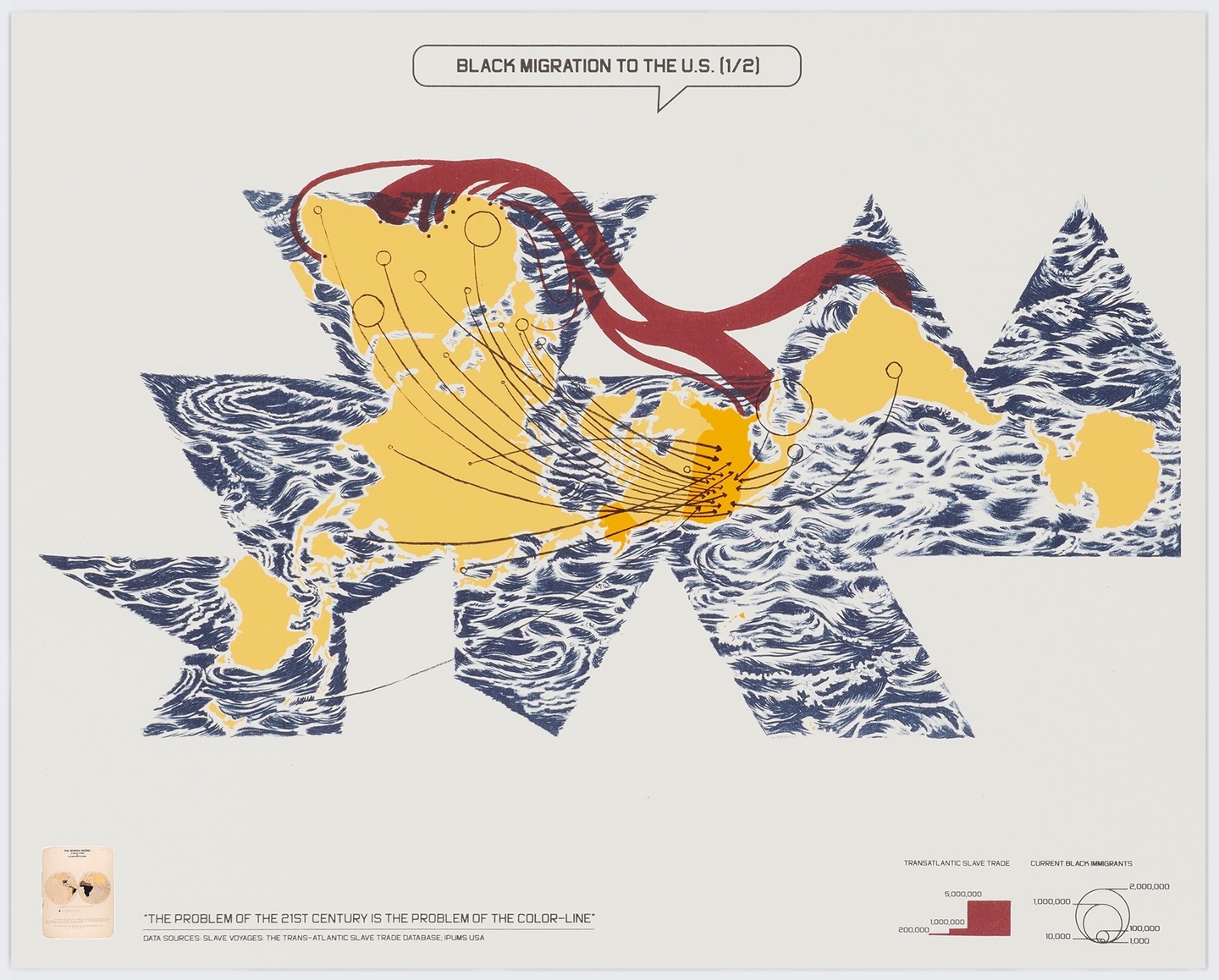 Arthur and Sheila Prensky Island Press Visiting Artist Lecture: William Villalongo and Shraddha Ramani
---
---
Artist William Villalongo and data scientist Shraddha Ramani will present the Arthur and Sheila Prensky Island Press Visiting Artist Lecture. The talk kicks off a weeklong residency at the Sam Fox School's Island Press.
Over the past several years, Villalongo and Ramani have developed "Printing Black America: W.E.B. Du Bois's Data Portraits in the 21st Century," a collaborative print portfolio that considers the legacy of Du Bois' ground-breaking sociological research into the lives of Black Americans in the early 20th century — and projects those insights forward into the 21st.
---
About William Villalongo
William Villalongo was born in 1975. He lives and works in Brooklyn, Ny. He earned his BFA from The Cooper Union School of Art, MFA from Tyler School of Art at Temple University and attended Skowhegan School of Painting & Sculpture. His figurative paintings, works on paper and sculpture are concerned with representing the Black subject against notions of race exploring metaphors of mythology and liberation. His curatorial projects include American Beauty at Susan Inglett Gallery in 2013 and Black Pulp! touring nationally between 2016-2018 explore the intersections of politics, history and art. Villalongo is the recipient of the prestigious Louis Comfort Tiffany Award and the Joan Mitchell Foundation Painters & Sculptor's Grant. Villalongo was the 2022 Jules Guerin & Harold M. English Rome Prize Fellow in Visual Art. His work is included in several notable collections including the Studio Museum In Harlem, The Whitney Museum of American Art, Princeton University Art Museum and The National Gallery of Art. His work has been reviewed in Art In America, The New Yorker and the New York Times. The artist is represented by Susan Inglett Gallery, New York and is associate professor at The Cooper Union School of Art.
About Shraddha Ramani
Shraddha Ramani is an urbanist and researcher based in Brooklyn, Ny. She uses data visualization and mapmaking as tools to make cities more resilient and equitable. Her work is centered around democratizing data to better equip communities to make informed decisions about their futures. She currently works at the NYC Department of Transportation on efforts to improve equity and accessibility.
Previously she was director of the GIS Data Center at New York City Emergency Management, where she led a team to make data-driven decisions for emergency planning, response, recovery, and mitigation. In earlier roles she developed online applications to help the public visualize and understand natural hazard risks in their communities. Earlier, she worked on the development of the Future City Lab exhibition at the Museum of the City of New York. Shraddha Ramani is from Bangalore, India and her work is heavily informed by her own immigrant experience. She has participated in planning projects in India and Brazil, and was a Peace Corps volunteer in Ecuador. She holds a master's degree in urban planning from Columbia University, and a bachelor's in Environmental Studies from Oberlin College.