Chandler Ahrens
---
---
Chandler Ahrens is an associate professor at Washington University in St. Louis as well as a co-founder of Open Source Architecture (OSA), an international transdisciplinary collaboration developing research and commissioned projects. His focus is on the intersection of material investigations, environmental phenomena, and computational design processes.
Ahrens' teaching has been recognized with an Emerging Faculty Award from the Building Technology Educators Society. His teaching has been recognized with an Emerging Faculty Award from the Building Technology Educators Society. His work with OSA has received several AIA Design Awards, a Chicago Athenaeum New American Architecture Award, Chicago Athenaeum Good Green award, and Architect's Newspaper Best of Design award, and is part of the permanent collection at the Fonds Regional d'Art Contemporain (FRAC) in Orleans, France. He is the editor of Instabilities and Potentialities, Notes on the Nature of Knowledge in Digital Architecture (2019), co-curator and editor of the Gen(h)ome Project (2006), and co-chair and editor for the exhibition Evolutive Means, ACADIA2010. He was on the board of directors for ACADIA.
Prior to OSA, Ahrens worked for several large international architectural firms including nine years as a senior project designer at Morphosis Architects, where he was responsible for notable builds such as the New Academic Building at Cooper Union in New York; Hypo-Alpe Adria bank in Udine, Italy; Emerson College in Los Angeles; Embassy in London; and Phare Tower in Paris. He was a visiting professor at the Confluence Institute for Innovation and Creative Strategies in Lyon, France, from 2014-2018.
---
Catoptric Surface
Date: 2016-present
Partners: Department of Computer Science & Engineering, McKelvey School of Engineering, Washington University in St. Louis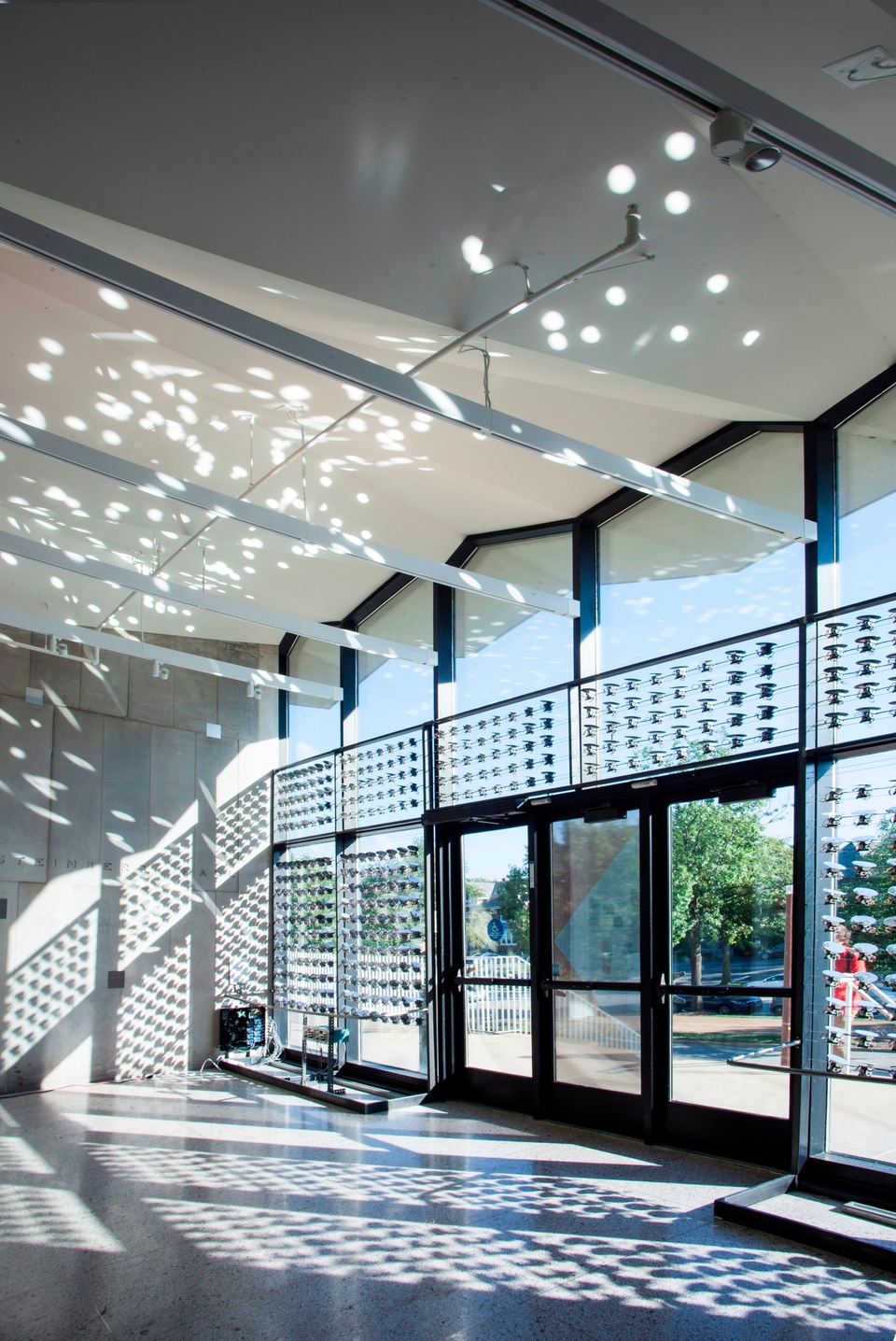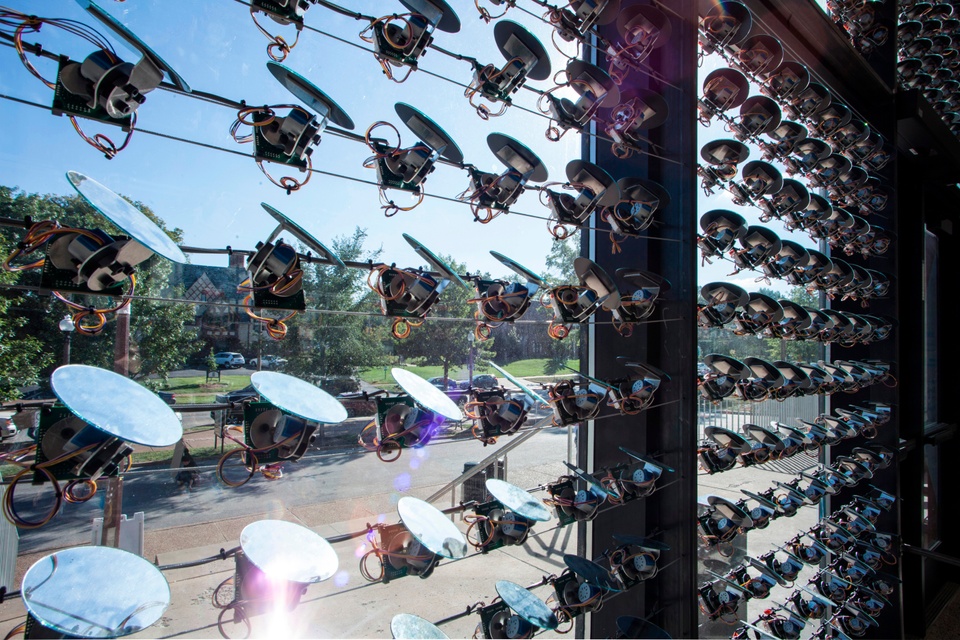 Catoptric Surface Installation in Steinberg Hall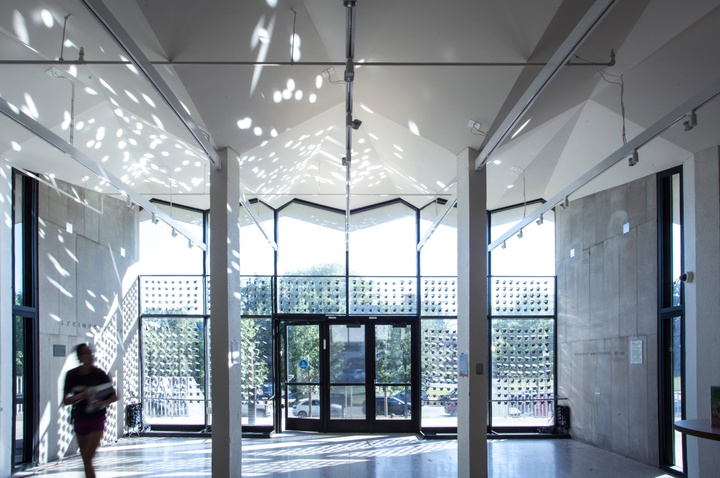 Catoptric Surface Installation in Steinberg Hall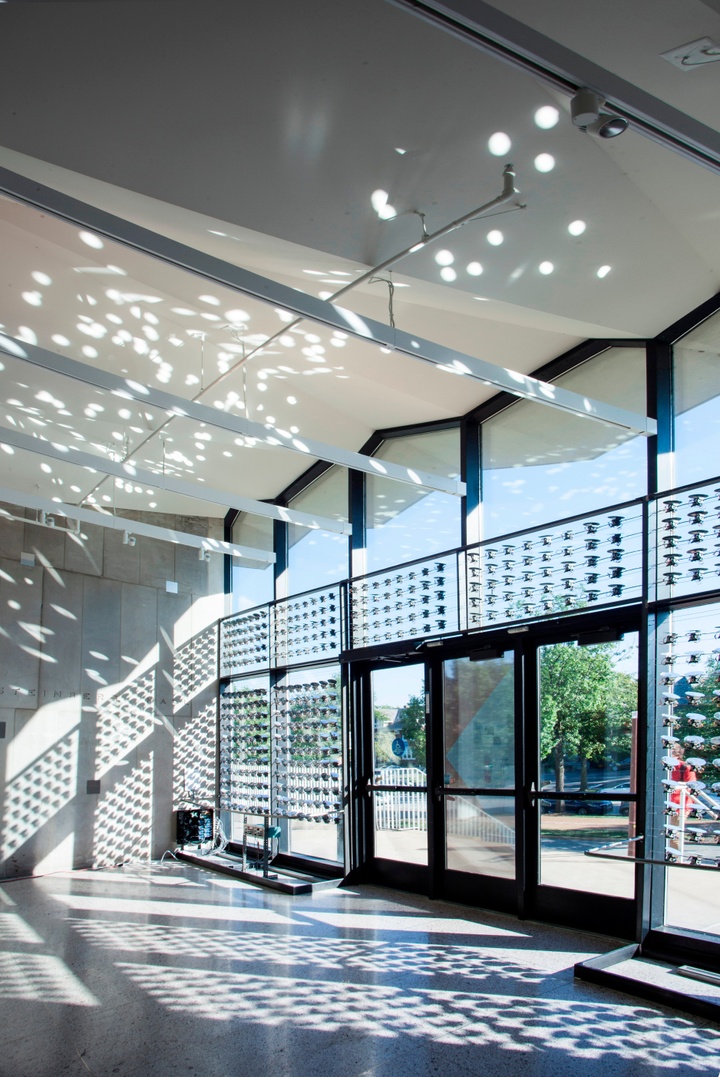 Catoptric Surface Installation in Steinberg Hall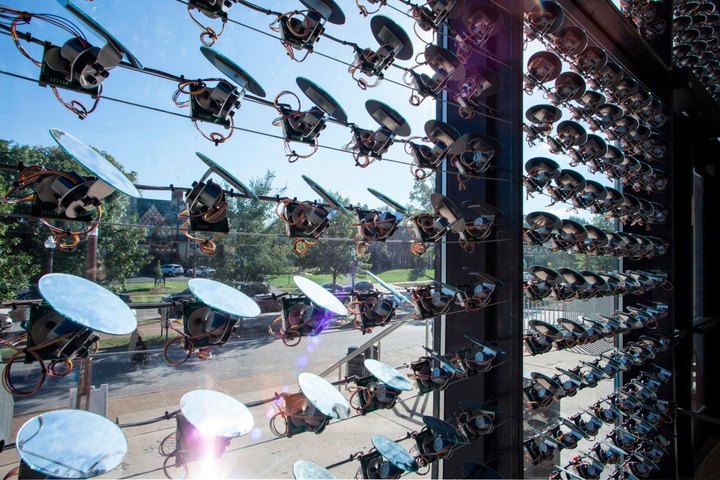 This research project is a robotic façade system where each mirror rotates independently, controlled by a computer and electric motors to reflect daylight from the exterior deep within the building in precise locations. In this sense, each mirror can be considered to produce a pixel of daylight. The location of each pixel of light is determined by any raster-based image that is provided to the software. As each mirror rotates to reflect daylight onto a chosen location, it attempts to recreate a very low-resolution version of the input image. This prototype could be used to control specific practical quantities of daylight for varying needs, but also to generate atmospheric effects.
Additional Work by Chandler Ahrens
Rajeunir Black Caviar retail store, 2016
Location: Palm Desert, California
Partners: OSA & Studio Jantzen
Rajeunir Black Caviar in Palm Desert is the second store for the luxury dermatological products company. For this store, the client sought to develop their identity through a unique environment by creating individualized spaces carved out of the walls for each customer and smaller spaces are carved out for product placement. The challenge was to create a sense of intimacy and a little mystery in the relatively small sales area. The space is defined by a smooth, continuous surface that, when cut into, reveals that the surface has depth and a series of golden objects that begin to emerge, suggesting that there is more hiding within the depth of the walls than is first seen.
SlrSrf residence, 2012
Location: Culver City, California
Optimization of the roof as a solar receiving surface for net zero photovoltaic electrical production generates the form of the 450 square foot (42m2) addition and renovation of an existing house in Culver City, California. The rotation of the roof surface to maximize solar intensity creates an opportunity to thicken the north wall to place systems otherwise located in the attic space, allowing a much taller ceiling of the living spaces. A new stair is located between the addition and existing house that integrates the library shelving displaced by the stair.
Columbus State University Commerce and Technology Center addition
Location: Columbus, GA
Rajeunir Black Caviar retail store
Location: Friendswood, Texas