Q & A with Danielle Ridolfi
---
---
Danielle Ridolfi
is an illustrator and graphic designer from St. Louis, Missouri, currently pursuing a Master of Fine Arts in Illustration & Visual Culture in the Sam Fox School of Design & Visual Arts. Her work includes children's picture books, editorial illustration, and illustrations for educational games and other didactic materials. Given her background as a practicing clinical psychologist, Danielle is drawn to cross-disciplinary research, including the intersections between visual culture and emotional development, gender, and learning. She holds a PhD in clinical psychology from Kent State University, and more recently, graduated with a Bachelor of Fine Arts in Graphic Design from the University of Missouri-St. Louis in 2020. Her work has appeared in the AIGA St. Louis Annual Design Show, Type Hike Arch, and Uppercase Magazine.
---
Danielle Ridolfi in her studio. (Photo: Caitlin Custer)
Danielle Ridolfi in her studio. (Photo: Caitlin Custer)
What drew you to graphic design, illustration, and visual culture?
Graphic design was actually a career switch for me. Before becoming a designer, I was a licensed psychologist — I have my PhD in clinical psychology and worked in research and then clinical work for several years. The area I focused on was body image and eating disorders. Looking back, I was always really interested in visual culture — harmful beauty ideas perpetuated in advertisements and social media — and the way that it impacts our wellbeing, body image and behaviors, everything about our lives. I was interested in helping people grapple with that and find ways of coping and improving their lives despite the toxic visual environment that we live in.
Now, I am a maker of visual culture. I've always been a student of it. My goal is to make visual work that encourages people to go out and actually experience the world more directly, in a healthy way. It's easy to get lost in our digital world — I want to make work that connects my audience with the tangible.
What does that more direct experience of the world mean to you?
The natural world has always been really close to my heart. I grew up reading nature-focused picture books and exploring outside all the time. Today, we do a lot of passive looking in our world as opposed to touching things, discovering. I want to make work that encourages children to go outside, have an experience, and connect with nature.
I use a lot of collage, especially in my thesis project. To create a collage, I work in such a way that I have to go out and find materials, because that's what I hope the book will do for others — encourage them to look more closely at their world. I find leaves to make rubbings, bits of fabric and string that I scan in, textures that I can photograph. It's an adventure.
Tell us more about your thesis project.
My thesis project is a picture book for children around ages 2-6. There's something really lovely and experiential about that age group. I came into the Illustration & Visual Culture program knowing I wanted to make picture books — I really leaned into my background in psychology and child education and let those ideas influence my work.
My book is about a thunderstorm. It's a pretty simple plot — on purpose — because I'm drawn to those kinds of stories where it's not necessarily dramatic and wild and scary. It's a simple, sensory story with overlooked moments that we don't pay attention to in our world anymore. It focuses on the sensory aspects of the storm — the sounds, the smells, the colors. I wanted to make a story that was a little more open; I think of it as a visual poem.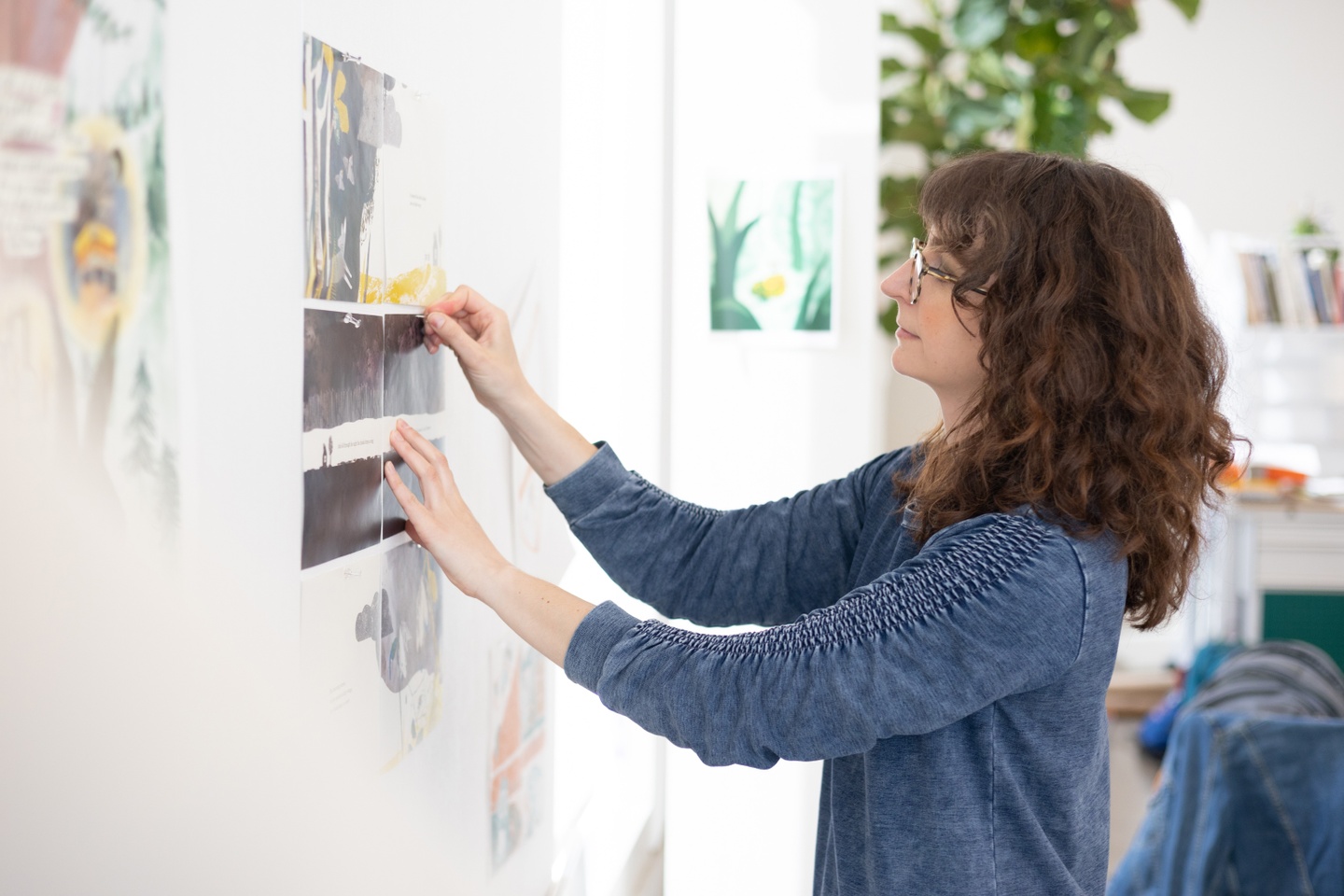 How has your thinking or practice evolved while working on your thesis project?
I've thought a lot about whether I want to include people in my picture books. When there's a person in a picture book, that tends to be the only thing we pay attention to. And then we have a human tendency to compare ourselves. We do it all the time — it's not always bad, it can be how you advance academically or in your job. But I'm curious about creating an experience where you don't have to grapple with comparing yourself to another human's appearance, emotions, or behaviors — where the goal is just to focus on your own experience.
Were you always creative?
I grew up drawing. I made picture books when I was around six years old. They're all stories of animals frolicking in the woods, being friends. I also did a lot of collage. As a teenager, I had a creative urge but I didn't know what to do with it. It took me a while to figure out how to channel it. I didn't know any illustrators or graphic designers growing up, so going to art school was really important for me — it helped me learn more about the different avenues that an artistic career can take.
What has your experience in the Illustration & Visual Culture program been like?
It's been such a great, supportive experience in this program. It's really expanded my understanding of what drawing and illustration can be. The program and faculty do a great job of looking at your strengths and helping you figure out how you can grow creatively. It's been so generative — you really do understand your practice better when you hear it reflected back from other people.
What advice would you give to a future student?
Know that however you make work, it's unique and wonderful. Think about why it is that you enjoy that way of making, lean into it, but also try new things. There's benefit to going out of your comfort zone. When you're in graduate school, I would encourage students to reinvent their practice and try all kinds of wacky materials and processes. But eventually, come back to what it was you used to do, and you'll see it differently.
Any hopes for what comes next?
I feel really excited for the possibilities. I'd love to teach because I love the academic environment — being around students and people with ideas who are excited and learning new things. I've been on a journey of figuring out my path in the arts, and it feels important to help others do the same.
I'm planning to pitch my thesis project to publishers. And I'd love to find an agent to help navigate that world. I still identify as a graphic designer as well, so I plan to continue using that skill. I love making work that combines writing with image-making, including picture books, zines, and other types of publications. I know that I'll always have a creative practice and that picture books will remain a big part of that.
Danielle Ridolfi reflected on the scope of her practice, time at WashU, and thesis project leading up to the MFA in Visual Art thesis exhibition. This is an edited transcript of Ridolfi's words as told to Caitlin Custer.