Q&A with Allena Marie Brazier
---
---
Allena Marie Brazier
is an artist from East St. Louis, Illinois. She earned a BFA with an emphasis in Sculpture and a minor in Art History from Southern Illinois University Edwardsville (SIUE). From a young age, Brazier has expressed an interest in subject matters of race, class, and systematic structures, especially as they pertain to and involve Black Americans from the past to contemporary times. Her outdoor sculpture, Katherine Dunham: Perpetual Motion, was awarded the 2019 Luis Jimenez Award. She has exhibited works throughout the St. Louis region and internationally.
---
Allena Marie Brazier, Back Home and Across the River, 2023, Basketball goal from home, asphalt, railroad ties, sandbags, family photos, and interior paint
Allena Marie Brazier in her studio. (Photo: Caitlin Custer)
Tell us about your project.
In this project, I created a layered sculpture to represent a geographical portrait, a family portrait, and a self-portrait. There are a lot of ideas of home that were important to bring into this work at the end of this stretch of my career.
What inspired you to start on this work?
I was looking at potholes, thinking about the memories of the street. Like, "if these walls could talk…" kind of thing. If these streets could talk, especially in a more urban area, what would they say? Growing up, I did everything in the street. We walked everywhere. We played, we jumped rope. There'd be a fight, and then everybody would make up. There was a lot of memory and history on my street.
The idea of crossing the river has also been a big influence. I'm from East St. Louis, so a lot of my time is crossing back and forth the Mississippi River. Before coming to WashU, I only crossed the river for family events or the airport. Now I work at home and I work here, so I have to do a lot of crossing. My grandfather was in the East St. Louis Race Riots in 1917. They flipped over to St. Louis after that, but then they went back. My grandparents' house is still there. The crossing has just risen to the top because I cross all the time now.
What kind of materials are you using?
I work with asphalt a lot, so I created my own mix and am making a little section of an outdoor basketball court. I'm bringing my basketball hoop from home. It's been at my house for 32 years — it's seen a lot of generations.
There are also some railroad ties involved. Those speak to the industrialization and growth and the spirit of East St. Louis, as well as the idea of traveling. Plus, there are sandbags used for floods.
The piece is partly on the floor, partly on the wall. There's a bit of a portal aspect to it.
What does the basketball court symbolize for you?
It's a beautiful moment for me. When I was little, I'd hear my brother go out the back door, and then I'd hear the basketball. And I'd be like "oh it's time to go outside!" I loved being outside and playing basketball. We used to bring the goal out to the street or play in the side yard, go to somebody else's street and play.
The court is about movement, this opportunity of play within the world. What does play look like in a moment of grief? How do you process how to play as an adult? This piece synthesizes all that together.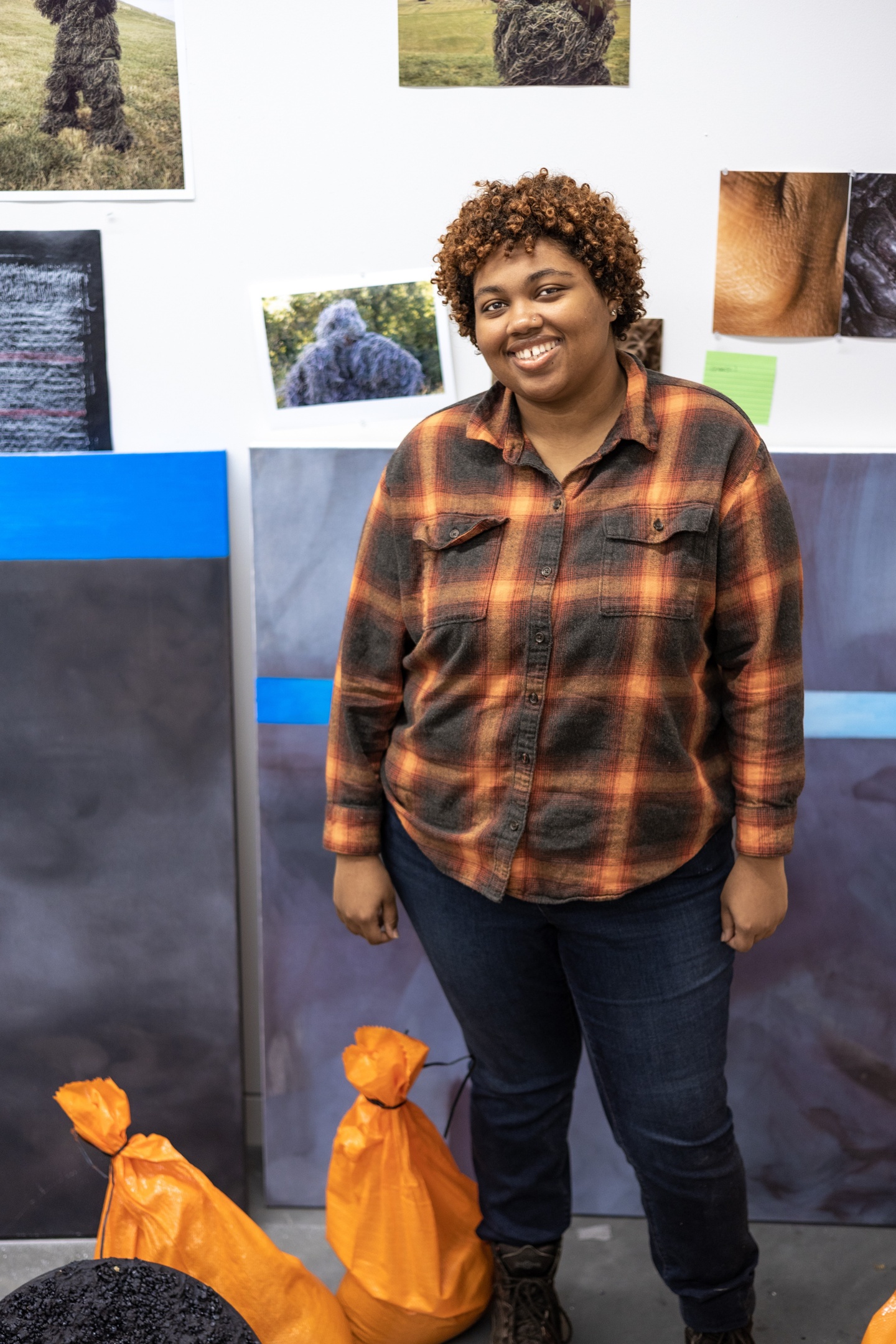 How about the piece at large? What meaning does it hold for you?
The piece is a north star for me. The asphalt has a sparkle to it, or wonder, kind of sky-like.
It represents possibilities and truths. It's this moment of play and safety that switches back and forth. Some people don't think about their safety all the time, and some do. That's why the fluorescent colors are important. But it's also just play.
What drew you to become an artist?
Creativity was always within me. Innovating, making flashlights into robots. When I went into sculpture class in undergrad at SIUE, I loved the hands-on approach. I think that listening and acting upon the inner voice is really important. I also like helping people find creative ways to express something, and creating a space for people to feel or imagine.
How did you choose WashU, and what's something that comes to mind when you think of all you've learned here?
After I graduated from SIUE, I was thinking about grad schools, looking into some other places. I came on campus here at WashU, not even for a tour or anything like that, I just came here, sat down, and had this feeling of like, "This. This is right."
As for what I've learned, the unplanned is something that has really sunken in. See where things take you. I've learned to trust that process and trust myself.
What do you hope people experience when they see your work?
I'm excited to hear what other people have to say. My approach when I'm creating is that I'm telling a story, but you have to read it. You take a lesson from the story. If you don't get the story, that's fine — you still read it! I hope people see the love I'm trying to express, and sense of wonder and play.
Allena Marie Brazier reflected on the scope of her practice, time at WashU, and thesis project leading up to the MFA in Visual Art thesis exhibition. This is an edited transcript of Brazier's words as told to Caitlin Custer.