---
A Houston native,
Karen L. Yung
graduated from the University of Houston with a Bachelor of Fine Arts in 2020. She can oftentimes be found either with her head buried in a painting or sketching away her next big idea. Born into a traditional Asian household, Karen focuses on breaking the traditional ideals of the perfect American family in her artwork by presenting comical snippets of her memories and experiences of growing up in a traditional Asian American household and the hidden tensions between parent and children that are often too easily brushed off. Karen attempts to create works that can be easily seen as both humorous and dark, as a way to highlight the real pain and hidden feelings that are present in these moments. Through the use of color and humor, Karen hopes to draw the focus of viewers to themselves, so that they, too, can have a self-reflection of their lives and experiences, starting a conversation from within.
---
Karen Yung, Home, 2023, Antique apothecary cabinet, wire, cement, plaster, and wax
Karen Yung in her studio. (Photo: Caitlin Custer)
Tell us about your thesis project.
I wanted to create something calming. I have an interest in domestic objects, as well as creating rock formations or stalagmites. For my project, I created something where a formation is growing out of a cabinet. Each drawer of the cabinet has a different item that I associate with a memory or something that's important to me.
What will happen when someone opens a drawer?
For some drawers, there will be a sound. Some will have a voice reading a poem in a different language — I grew up hearing a lot of Vietnamese, Mandarin, and Cantonese. Others may have birds chirping, wind rustling in the trees, things I heard growing up.
Where did you interest in rocks come from?
I like the idea that rocks have different energies. My father is an avid rock collector, so I grew up around them. He's also really big on feng shui, and rocks can be used to substitute different elements in Chinese tradition.
At the moment, I'm really fascinated with stalagmites. You're not supposed to take them from caves, and yet somehow my house has two of them. When they're in the cave, they're growing. They're continuously maintaining energy in the cave, forming new energy which is good for the world. Then we take them from their place to ours to help maintain our own energy. It's ironic.
What got you into the creative field in the first place?
I always liked art, but it's something my parents weren't sure about. They came to the U.S. from very traditional backgrounds. My mom was an English teacher, my dad was a math and science teacher. They studied things they believed would help you make money. For me, I just liked drawing.
I wanted a way to express myself — I don't think I'm great with words. I convey my ideas much better in artwork. Going through this program, writing about the things I've made, has given me a much better sense of the why behind my pieces.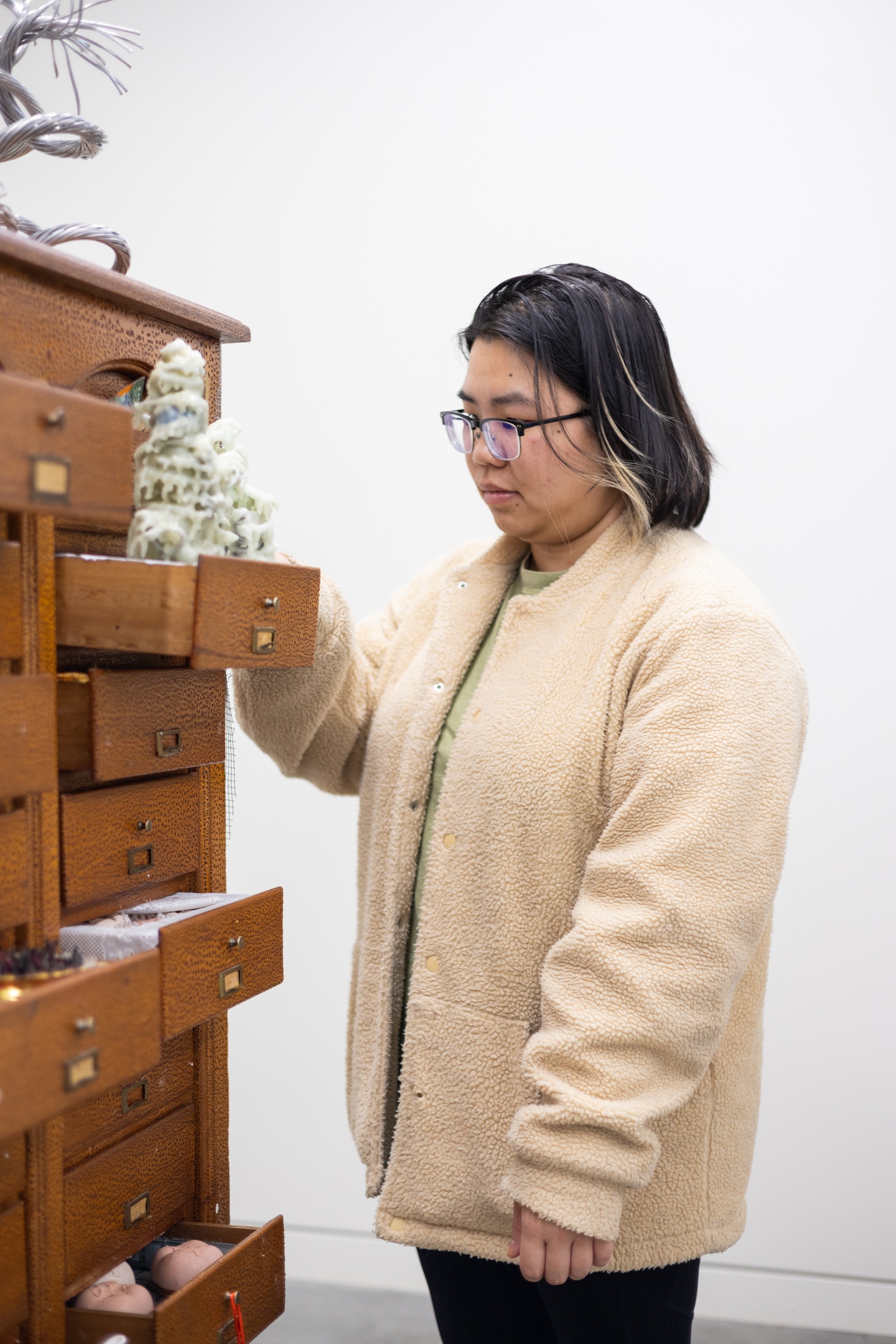 How has your practice changed over the years?
I came from an undergrad painting program. In that program, if you go in as a painter, you can only paint. You can't dabble in other areas. Everyone here has a variety of mediums. I didn't know you could be a multimedia artist at all. I thought crocheting and stuff like that was just for home. Seeing people trying other work inspired me to try more three-dimensional ways of creating.
My interest right now is displacement. Growing up, I didn't feel like I fit in with the mainstream race and community. I spent most of my time around my parents, a lot of time at their business. And it didn't help that we lived in Chinatown. I'd hear people talking about going out to eat at Chili's or Applebee's and I was like, "I've never been to those places at all." The first time I went to Cracker Barrel when I was in fifth grade, I was like, "Whoa, what is this?" It was a culture shock at a really late age.
I want to talk about displacement, not just for myself, but for people who have just moved here. Assimilation is encouraged in America, but not everyone wants to do that. My parents have assimilated in some ways, but there are still many ways in which they haven't.
What was it like coming to St. Louis?
I feel like it's benefited my art to be further away. Sometimes, I collaborate with my parents to see how they feel about a piece. I ask what they think I should add or something like that. I often take their suggestions, but being further away has definitely given me more thinking room.
What do you hope someone experiences when they view your work?
I'm really curious what the drawers in this piece remind the viewer of and what they think when they see it. They're very nostalgic for me, so I hope that comes across.
Karen Yung reflected on the scope of her practice, time at WashU, and thesis project leading up to the MFA in Visual Art thesis exhibition. This is an edited transcript of Yung's words as told to Caitlin Custer.