(Opens in a modal)
Lily Zhang Awarded 2018-19 Steedman Fellowship
---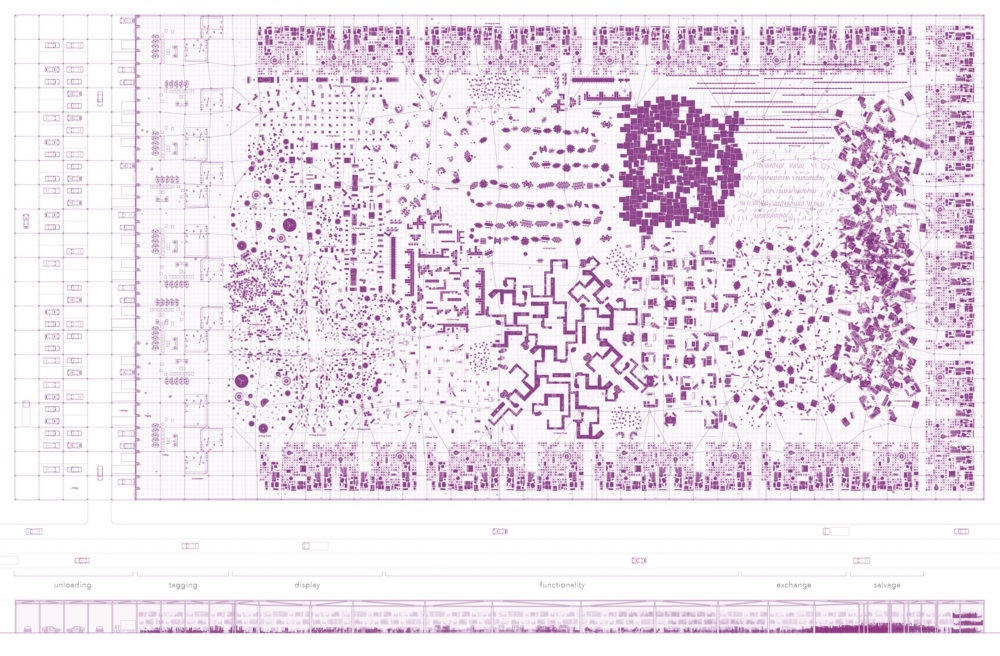 If architecture is in a relationship, posits Lily Zhang, then storage is its selfless soul mate: essential and supportive but typically overlooked.
"Storage allows architecture to maintain order," said Zhang, an architectural designer based in New York and winner of the 2018-19 James Harrison Steedman Memorial Fellowship in Architecture.
"We keep our active inhabitable areas free of clutter and the appearance of overindulgence," Zhang added, "while banishing unused and unwanted items to the basement, the warehouse, the broom cupboard, or the mechanical room.
"Yet rather than dismissing these spaces as passive and inert, what we stash away and where we hide them are as revealing as what we display, if not more."
Granted since 1925, the biennial Steedman Fellowship is organized by the College of Architecture and Graduate School of Architecture & Urban Design in the Sam Fox School of Design & Visual Arts at Washington University in St. Louis, and by the American Institute of Architects (AIA) St. Louis. The $50,000 prize, which is awarded on the basis of applicants' proposals, supports international travel for research. It is one of the largest such fellowships in the United States.
This year's theme, "Infrastructure," was created by jury chair Andrea P. Leers, principal and co-founder of Leers Weinzapfel Associates in Boston. Participants were challenged to explore how fundamental systems, facilities, and services might better enable, sustain and enhance societal living conditions.
Zhang earned her master of architecture degree from Princeton University in 2016, where her thesis project, "Collective Clutter," was awarded the Suzanne Kolarik Underwood Prize. She has practiced in New York, San Francisco and Tokyo, including at the offices of Diller Scofidio + Renfro, nARCHITECTS, Junya Ishigami, Toyo Ito and Fumihiko Maki.
Zhang's Steedman proposal, "Revealing Storage: The Stuff of Architecture," was chosen from a field of more than 80 applicants from across the United States and Canada as well as Argentina, Australia, Brazil, China, Denmark, Germany, India, Italy, Japan, Spain, Sweden and the United Kingdom.
"The notion of identifying systems of storage as infrastructure is wholly original, revealing both the ubiquity of our ever-expanding stuff and its spatial impact," Leers said. "Members of the jury were impressed with the investigation at multiple scales, and look forward to seeing the outcome in terms of drawings and photos, full-size installations and public workshops."
As Steedman Fellow, Zhang will spend six months to a year examining unseen storage and support infrastructure across Italy, England, France, Switzerland, the United States and Japan.
Alternate and Special Mentions
James Leng, who currently serves as the 2018-19 Harry der Boghosian Fellow at Syracuse University, was selected as alternate. His proposal, "Infrastructure in the Anthropocene: An Alternative Modernity for the Three Gorges," would explore the impact of a massive new dam along China's Yangtze River. Leng earned his master of architecture degree from Harvard's Graduate School of Design in 2013.
Two submissions received special mentions:
Aurélie Frolet, adjunct faculty in architecture at Syracuse University, was recognized for "Aqua Urbana: Architectural Potentials for Water in the City." The project would focus on hydrological typologies throughout the former Roman Empire, and examine how they shaped cultural and civic life. Frolet earned her master of architecture degree from Cornell University in 2018, where she was awarded the Richmond Harold Shreve Thesis Award.
Michael Chin, who earned his bachelor of architecture from Woodbury University in 2018, was recognized for "Informal Infrastructure: Examining the Stranger Aspects of Civic Architecture." The project would explore the ways infrastructure projects tend to embody and reinforce the organizations and governing bodies that sponsor them.
In addition to Leers, the jury included: Marion Weiss, co-founder of WEISS/MANFREDI Architecture/Landscape/Urbanism in New York; Lisa Iwamoto, a founding partner of IwamotoScott Architecture in San Francisco; Linda C. Samuels, associate professor of urban design in the Sam Fox School; and Anna B. F. Ives, managing partner of patterhn ives in St. Louis and lecturer in the Sam Fox School.
The fellowship was organized by the Steedman Governing Committee: Patty Heyda, associate professor of architecture and urban design in the Sam Fox School; architect William Wischmeyer, the 1973 Steedman Fellow; and David Polzin, AIA, design principal of CannonDesign, St. Louis.
The Steedman Fellowship is supported by an endowment given to the Sam Fox School's College of Architecture in honor of James Harrison Steedman, who received a degree in mechanical engineering from Washington University in 1889. He was a decorated veteran of World War I, and passed away at the family's home in Montecito, Calif., in 1921. The memorial was established by Steedman's widow, Mrs. Alexander Weddel, and his brother, George.
In addition, the Steedman Student Summer Research Grants are awarded annually to current Sam Fox School architecture students to support travel and the investigation of an architectural topic of the student's choosing.