(Opens in a modal)
Fox Fridays Awarded Grant from Brabson Family Foundation
---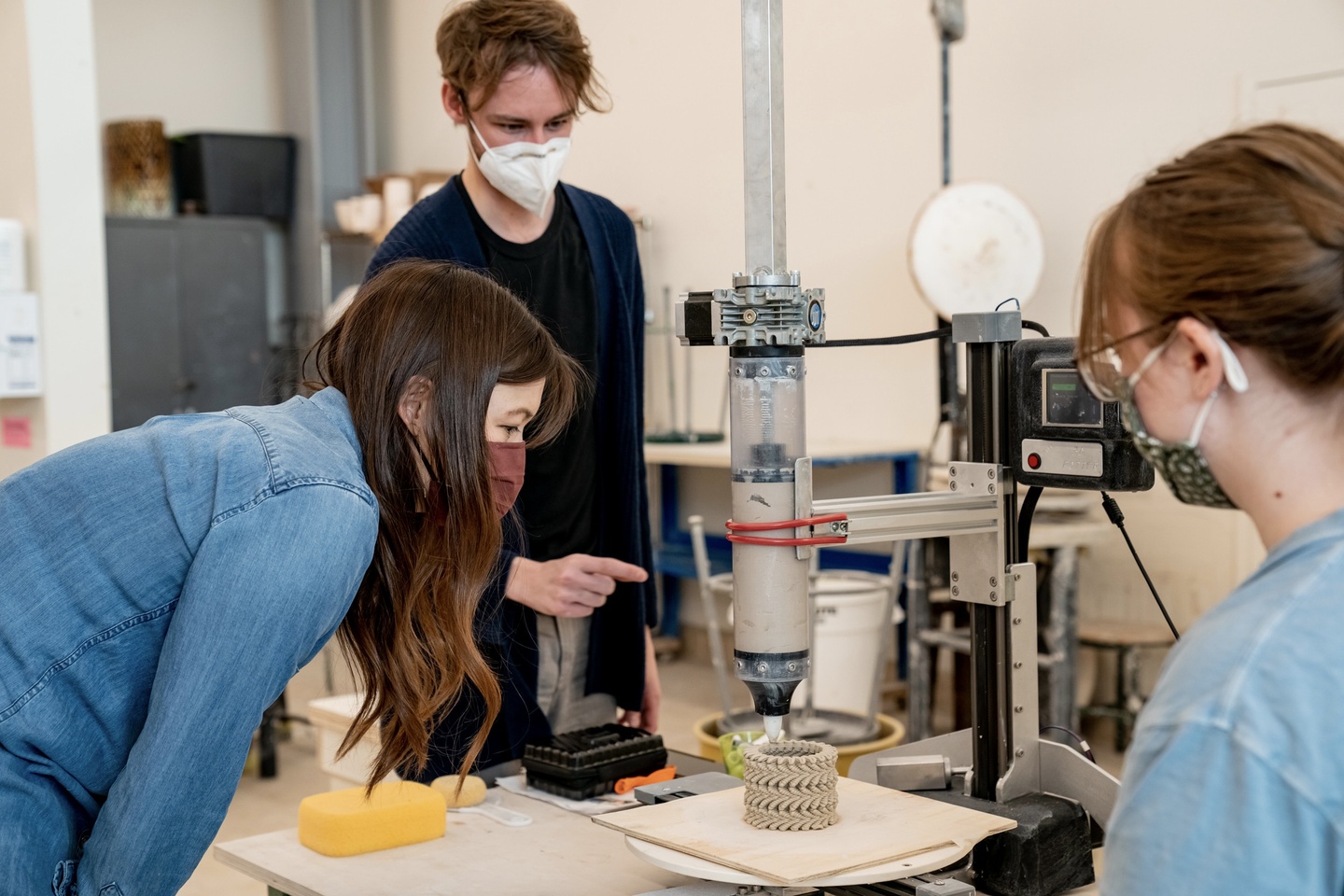 The Sam Fox School of Design & Visual Arts at Washington University in St. Louis has received a two-year, $100,000 grant from the Brabson Library and Education Foundation to support Fox Fridays, the School's series of free interdisciplinary workshops.
"Fox Fridays reflect the dynamic, cross-disciplinary spirit of the Sam Fox School and our collaborative studio culture," says Carmon Colangelo, the Ralph J. Nagel Dean of the Sam Fox School and E. Desmond Lee Professor for Collaboration in the Arts.
"By providing informal, 'low-stakes' access to the exciting possibilities of new and traditional media, Fox Fridays are a valuable resource for students from across the Sam Fox School and Washington University," Colangelo adds. "We are deeply grateful to the Brabson Foundation for making this innovative program possible."
Launched in fall 2019, Fox Fridays help to foster a culture of play, experimentation, dialogue, and interdisciplinary making. Each week throughout the academic year, the series transforms a particular resource or tool facility into a space for exploration outside the pressures of regular studio courses. Participants are introduced to a range of resources, processes and ideas (many of which may be under-known or overlooked), from bookbinding, risograph, and textile prototyping to laser cutting, drone photography, machine learning, and micro-animation.
The series was founded by associate professor Jonathan Hanahan, director of Fox Fridays, and Heather Woofter, the Sam and Marilyn Fox Professor and the director of College of Architecture and Graduate School of Architecture & Urban Design. Hanahan notes that over the last two years, despite the disruptions of COVID-19, the series has presented more than 40 workshops drawing nearly 800 students, faculty, and staff.
"This generous award will allow us to expand our programming with more workshops, acquire new tools and resources, and invite more participants and instructors from across campus and beyond," Hanahan says.
All workshops are organized on a first-come, first-served basis.
About the Brabson Foundation
Established in 1990, the Brabson Library & Education Foundation is a philanthropic family foundation that supports bold, innovative ideas in education and the arts, particularly those with potential for significant long-term impact. For more information, visit
brabsonfamilyfoundation.org
.