(Opens in a modal)
2021 Stone & DeGuire Contemporary Art Awards
---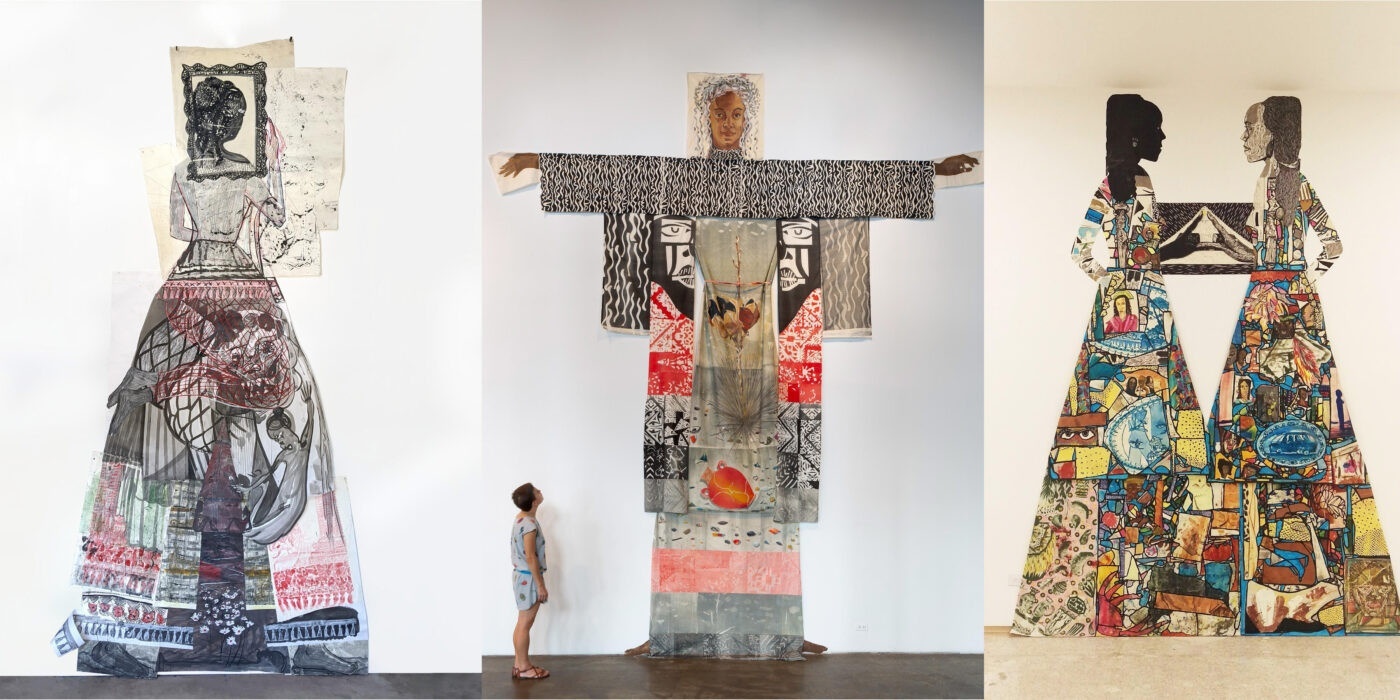 Cartoonist Lauren Weinstein and multimedia artist Paula Wilson have both won the 2021 Stone & DeGuire Contemporary Art Awards.
Presented by the Sam Fox School of Design & Visual Arts at Washington University in St. Louis, the Stone & DeGuire awards are open to all alumni of the Sam Fox School's Bachelor of Fine Arts and Master of Fine Arts programs (with the exception of full-time Sam Fox School faculty). Recipients are chosen by a jury of faculty and alumni. Each winner receives $25,000 to advance their studio practice.
"Lauren and Paula are wonderful examples of the range of artists to emerge from our programs," said Amy Hauft, director of the College of Art in the Sam Fox School. "Lauren's comics and graphic novels provocatively work as social activism; bracingly honest and intimate, they grapple with pressing contemporary issues, personal and political. Paula's monumental projects and idiosyncratic films embody complex personal and cultural histories from landscape to identity. The Sam Fox School is proud to support such strong, distinctive voices."
The Stone & DeGuire Contemporary Art Award is named for the artist duo Nancy Stone DeGuire (1947-2013) and Lawrence R. DeGuire Jr. (1947-2006). The pair met as Washington University undergraduates and, beginning in the early 1970s, exhibited widely along the West Coast.
"Through their decades-long collaborative practice, Stone & DeGuire created a significant body of work that captures the synergy of their creativity and collective dialogue," said Carmon Colangelo, the Ralph J. Nagel Dean of the Sam Fox School. "We are proud to honor their legacy by advancing the practices of our most active and creative Sam Fox School alumni."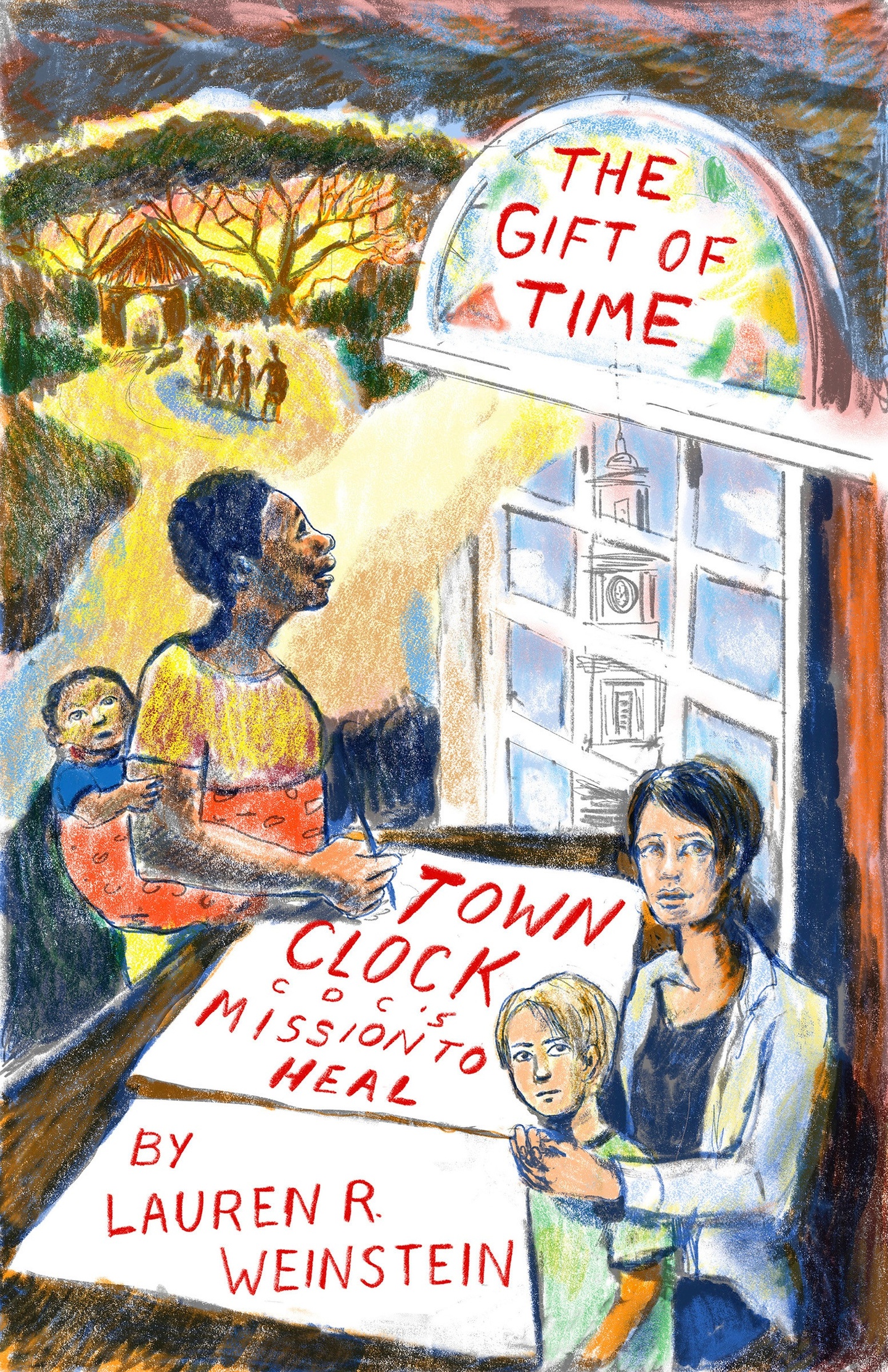 An acclaimed cartoonist and graphic journalist, Weinstein is known for comics and graphic novels addressing universal human issues such as mortality, time, and motherhood. Her short story Being an Artist and a Mother, which originally appeared in The New Yorker, won the Slate Cartoonist Prize and was anthologized in Best American Comics 2019. Other publications include the novella Mother's Walk (Youth in Decline, 2018), the science-fiction epic Goddess of War (Picturebox, 2008), the teenage memoir Girl Stories (Henry Holt, 2006), and the collection Inside Vineyland (Alternative Comics, 2003).
Weinstein's Normel Person, drawn in response to the tumultuous sociopolitical climate following the 2016 election of Donald Trump, was the final weekly comic strip to run in The Village Voice, before moving to Popula, the journalist-owned-and-operated website. Her work also has appeared in The New York Times, Bookforum, Nautilus, and The Guardian, among many others. Her numerous honors include two Ignatz Awards, a Sam Fox School Award for Distinction, and a Gold Medal from The Society of Illustrators.
The Stone & DeGuire Award will support the creation of a new graphic novel—The Gift of Time—inspired by Town Clock, CDC, a New Jersey nonprofit that provides survivors of domestic abuse with affordable, permanent housing plus supportive services. "Unlike transitional shelters, which typically only provide a place to stay for 90 days, Town Clock provides permanent stable homes, where survivors get the time they need to heal and guidance to rebuild their lives," Weinstein explained. In 2019, she was appointed the group's artist-in-residence, through an arrangement with coLAB Arts, a local arts engagement organization. In The Gift of Time, Weinstein fictionalizes oral histories she conducted with Town Clock staff, residents, and board members to provide insights into the lives of survivors and explore how society can break the cycle of abuse, especially during COVID.
"Through her thoughtful art instruction, Lauren has brought joy, healing, and hope to the lives of survivors. She also has helped our residents reveal hidden talents and inspire new dreams," said Rev. Susan Kramer-Mills, executive director of Town Clock CDC. "Through The Gift of Time, Lauren will inspire all of us to break the cycle of violence."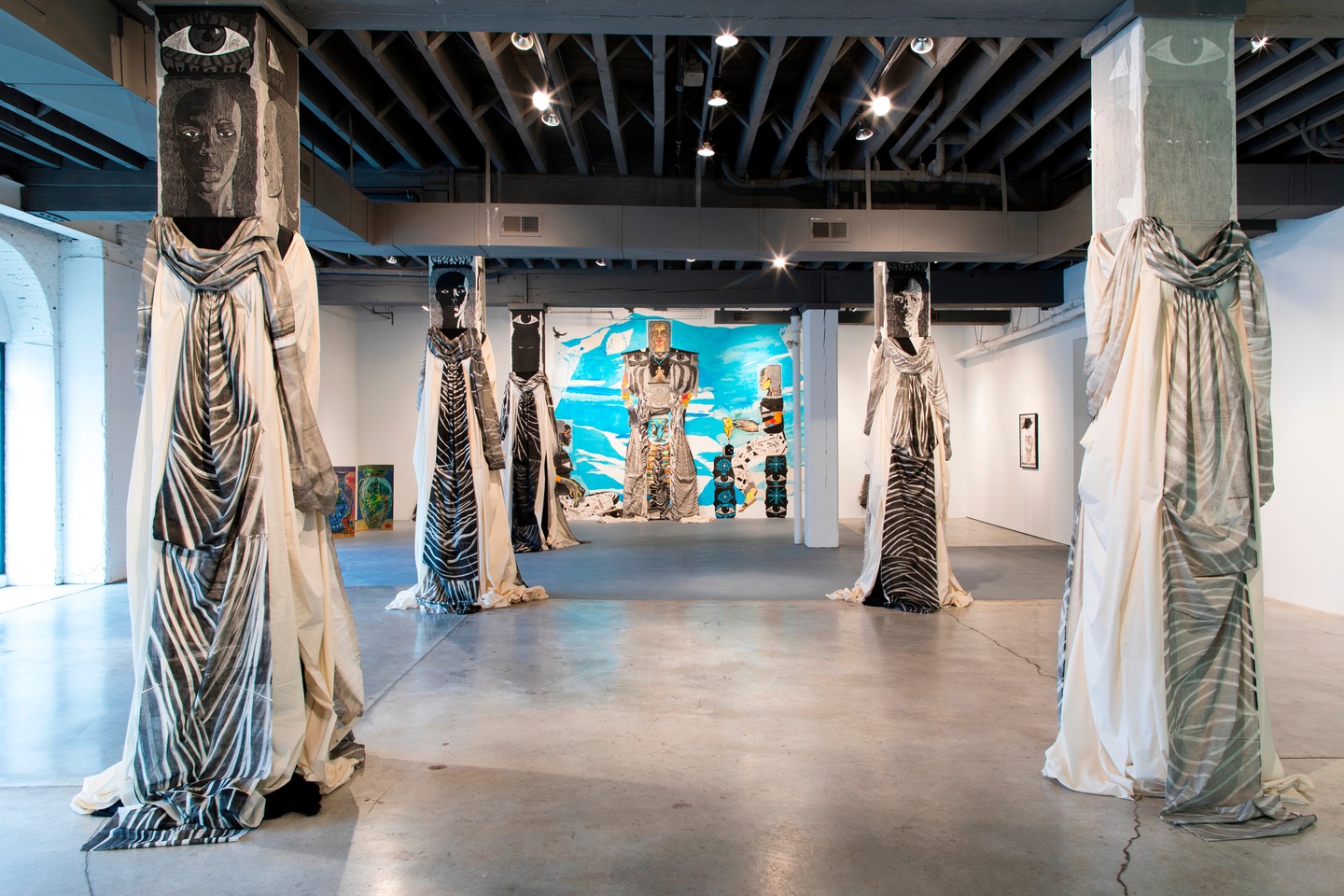 Characterized by their use of narrative, bold color, and pattern, Wilson's extravagant paintings, prints, videos, and installations are simultaneously realistic and otherworldly. Her work often depicts interactions between monumental figures and highly detailed scenes of the natural environment, exploring issues of myth, race, and sexuality as well as real and invented cultural histories and identities.
Wilson's work has been featured in Hyperallergic, Artforum, The New York Times, The New York Observer, The Brooklyn Rail, and The New Yorker, among others. Recent solo exhibitions include shows at Locust Projects, Miami (2020-21), 516 ARTS, Albuquerque (2019), and the Denny Dimin Gallery, New York (2018). Her numerous honors include a Joan Mitchell Artist Grant, a Sam Fox School Award for Distinction, and grants and residencies from Princeton, Yale, and Columbia universities.
Wilson lives in Carrizozo, a high-desert railroad town in south-central New Mexico, where she co-founded the artist organizations MoMAZoZo and the Carrizozo Artist-in-Residence (AIR). The Stone & DeGuire Award will support a new body of work centering on the sacred datura, a flowering plant with medicinal and hallucinogenic effects, which thrives in the region. "I want to see gigantic, figurative embodiments of the datura and other native plants in the streets of Carrizozo," Wilson said. Three-dimensional marionettes, partially inspired by West African masquerade and European puppetry traditions, will serve as public storytelling devices. In addition, Wilson will produce a new video work chronicling "the historical mythology of plants and insects as an ecological love story, centering the relationships of interdependence through art."