(Opens in a modal)
2021 Awards for Distinction
---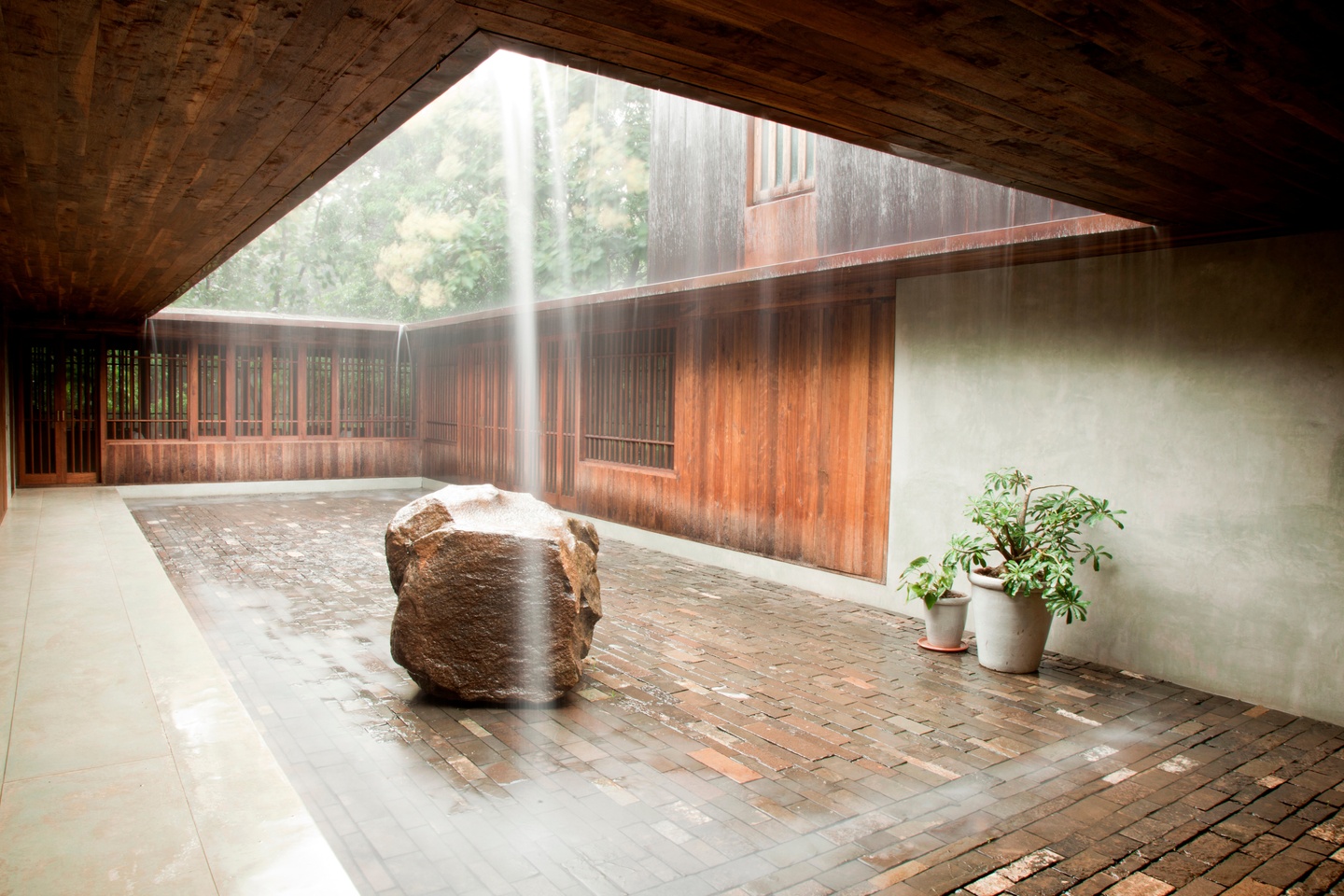 Internationally renowned architect Bijoy Jain, founder of the Indian architectural practice Studio Mumbai, will receive the Dean's Medal from the Sam Fox School of Design & Visual Arts at Washington University in St. Louis.
Jain will receive the Dean's Medal Thursday, April 8, as part of the Sam Fox School's annual Awards for Distinction ceremony. In addition, six other outstanding art and architecture alumni will be recognized for demonstrating creativity, innovation, leadership, and vision in their respective fields.
Born in Mumbai in 1965, Jain earned his Master of Architecture from Washington University in 1990. He then worked in Los Angeles and London before returning to India in 1995. His work explores the boundaries between art, architecture and material. Studio Mumbai operates as an interdisciplinary group of architects, engineers, master builders, artisans, technicians, and artists across continents. As a collective, they are involved in the research and development of projects, using process and time as an integral part of their expression, with water, air, and light being the basis of all materiality in the synthesis of the work—man in nature, nature in man.
The Awards for Distinction ceremony will also recognize two distinguished alumni in architecture: Bill Hanway (BA83), executive vice president and global sports leader at AECOM, who has led the winning design teams for the masterplans for three Olympic Games; and Brian Vitale (MArch95), co-managing director, design principal and inspirational leader for the 300-plus-person Chicago office of global design firm Gensler.
Distinguished Alumni in art will be Michael Joo (BFA89), whose work has been featured at the Venice Biennale, the Whitney Museum of American Art, and the Freer | Sackler Galleries of the Smithsonian Institution, among many others; Adam Rubin (BFA05), a New York Times best-selling author, world-renowned designer of optical illusions and "impossible objects," and director of puzzles and games for the retail brand Art of Play; and Cayce Zavaglia (MFA98), a widely exhibited artist whose unique sewing technique allows her to create colors and tonalities resembling those of classical oil painting.
L. Irene Compadre (BA08/MLA12), founding principal and design director for Arbolope Studio and a lecturer in the Sam Fox School, will receive the Recent Alumni Award. Founded in 2015, the award-winning landscape architecture firm has worked on numerous projects throughout the St. Louis area and beyond, including Washington University's East End Transformation (with Michael Vergason Landscape Architects and KieranTimberlake).
The Awards for Distinction ceremony will take place virtually this year, beginning at 10a Central Thursday, April 8. The event is free to attend, but you must register online. For additional information, please contact Mandy Davis at sfs.awards@wustl.edu.