(Opens in a modal)
---
2022-06-28 • James Byard & Leslie Gibson McCarthy
---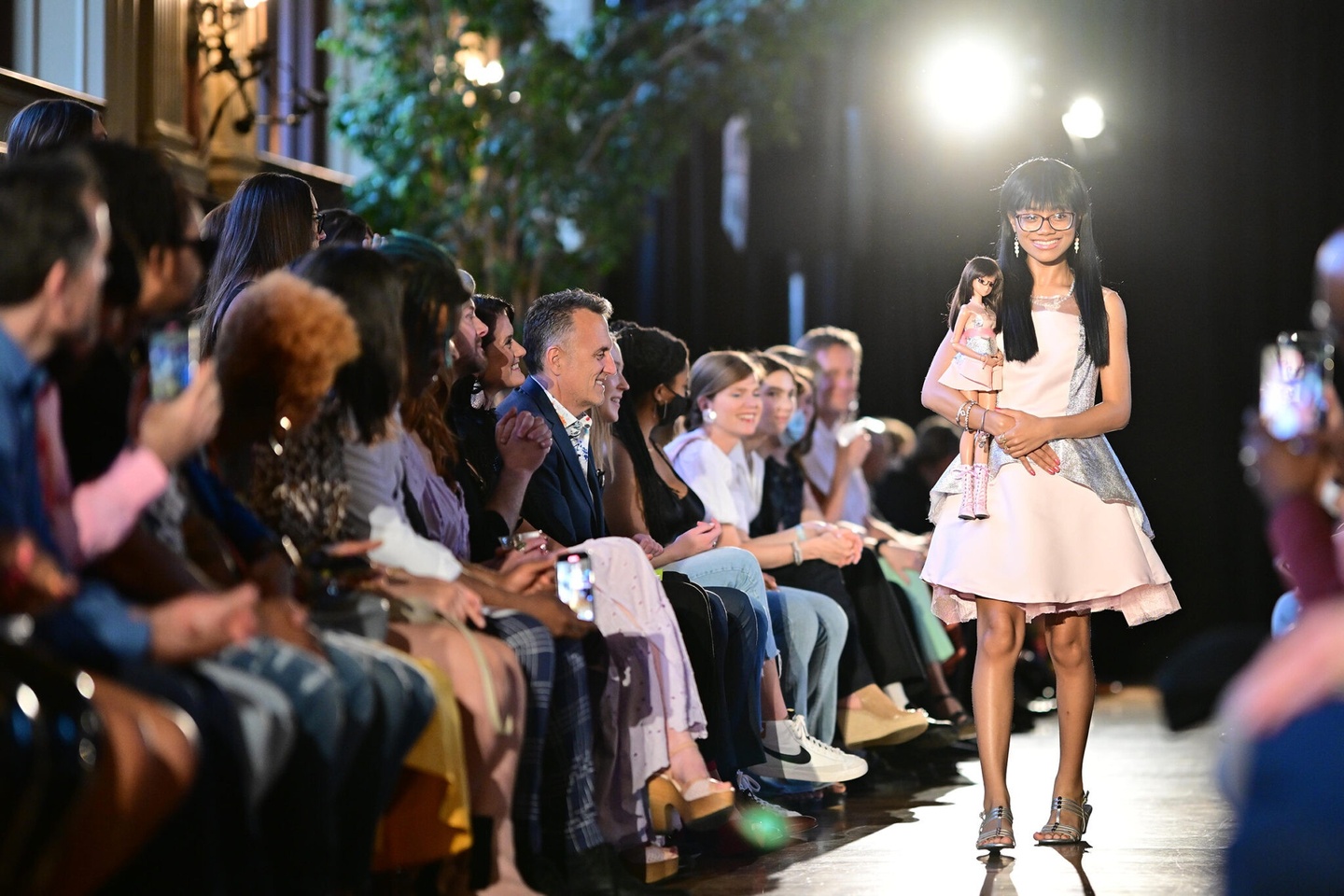 The Annual Fashion Design Show, the capstone event for students in the Sam Fox School of Design & Visual Arts at Washington University in St. Louis — opened with a first in its 93 years: a group of 15 kids with functional needs from the St. Louis region wearing clothing designed just for them. The special outfits were a result of the WashU student-run "Made to Model" program — nearly a year in the making.
Inspired by a national program called Runway of Dreams, a foundation that promotes inclusion, acceptance and opportunity in the fashion industry for people with disabilities, Made to Model at WashU is student-driven and student-run, and worked with community partners Special School District of St. Louis County; Variety STL; and KEEN (Kids Enjoy Exercise Now) St. Louis to find the models.
Beginning in the spring of 2021, 32 WashU students, along with faculty advisers from the Sam Fox School and the Program in Occupational Therapy (OT) at the School of Medicine, worked on the project in various capacities, from design to therapy to logistics, says Shelei Pan, a rising junior in Arts & Sciences and a catalyst for the Made to Model program. Alumna benefactor Paula Varsalona, BFA '71, played a key role in advising the students and donating fabrics. Financial support came from the Gephardt Institute for Civic and Community Engagement; the Women's Society of Washington University; and CityStudioSTL.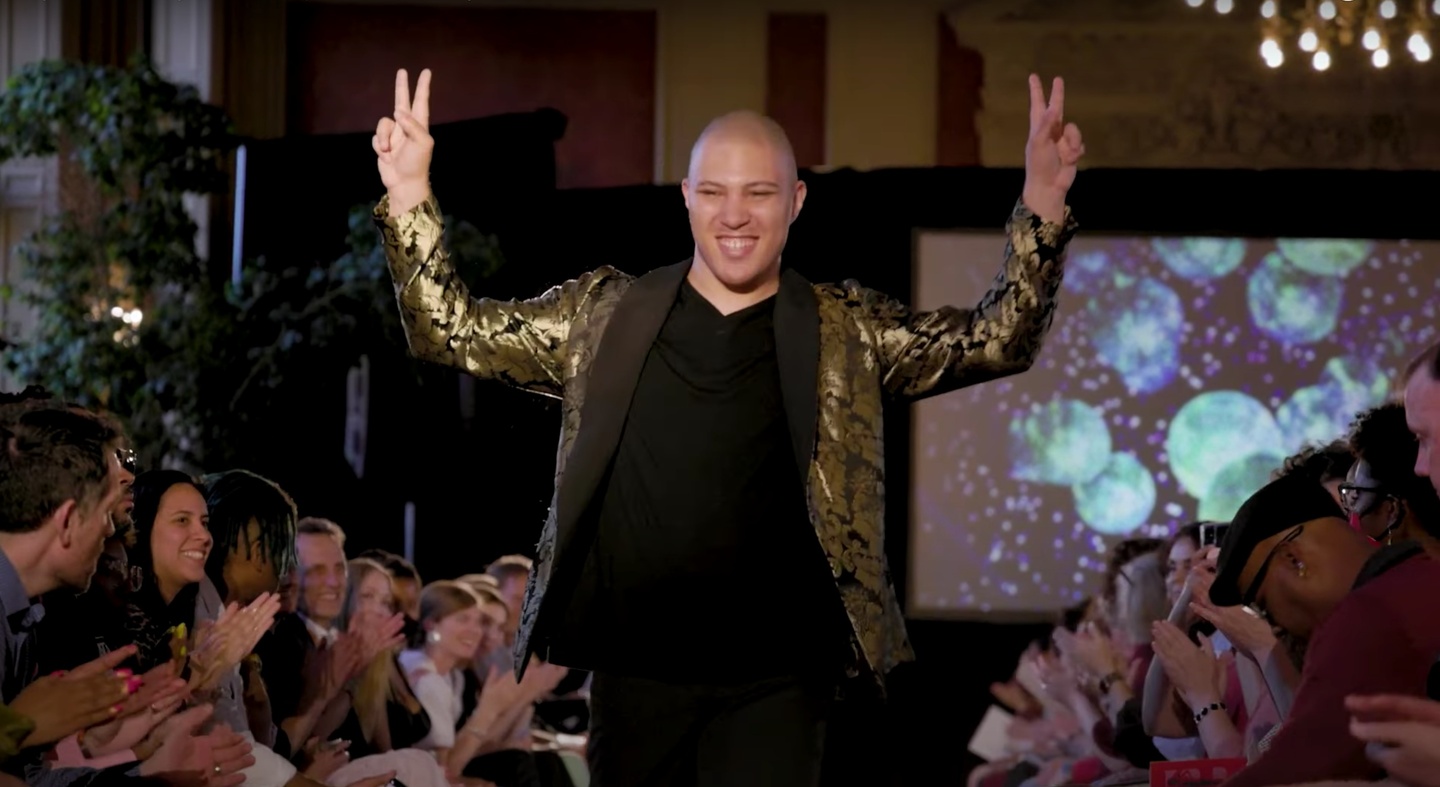 Meeting first on Zoom and then in person for initial consultations, measurings and fittings, 12 WashU student designers from across academic disciplines worked with 15 young people and their parents from throughout the St. Louis region. Along with faculty advisers from the Sam Fox School and OT, they sought to learn not only about each child's specific needs, but also their specific desires for what felt good to wear. The result was runway-ready clothing that made them feel like, well, models — and an unforgettable opening to the Fashion Design Show on April 30.
"These pieces of clothing are a form of expression," says Jennifer Ingram, senior lecturer in the Sam Fox School, who worked with Anna Jerdee, a rising junior in Arts & Sciences, to create clothing for Andrew Tollefson. "The clients told us what colors, silhouettes, materials and details they preferred. We problem-solved with empathic design by identifying the aesthetic and functional needs. After assessing the needs, we are able to give back by using our talents to create a product that fulfills a greater need and purpose. "The problem-solving has always been something I've loved about fashion," Ingram says.
"Ella and Andrew and all of the models that participated in Made to Model are the voices that fashion designers looking to make clothing more accessible should be listening to."
And there were plenty of feels to go around in Holmes Lounge the night of the Fashion Design Show, from the nervous last-minute adjustments by the designers backstage, to the smiles on the faces of the models as they walked the same runway as all the other models. And the models' parents, who couldn't take pictures fast enough and beamed with pride. Parents like Ann Tollefson, Andrew's mom.
"In a wheelchair you have a harness, you have seat belts, and you have lateral supports, and all of those things then get in the way of putting on a nice suit," Ann Tollefson says. "The WashU team was very ingenious in coming up with a solution that also took into account the fact that most of the fabric he wears ends up in his lap, or it's all bunchy or too big on the sides. Jennifer and Anna considered all those things and really tailored his suit. They were wonderful to work with."
The Made to Model team meanwhile, was happy to have raised awareness of design for kids of all ages with functional needs. "Ella and Andrew and all of the models that participated in Made to Model are the voices that fashion designers looking to make clothing more accessible should be listening to," Pan says. "They and their families came in with wonderful ideas that led to brainstorming sessions and teaching moments with our faculty mentors that made me and the fashion design students reconsider traditional garment construction."