(Opens in a modal)
'I feel really supported'
---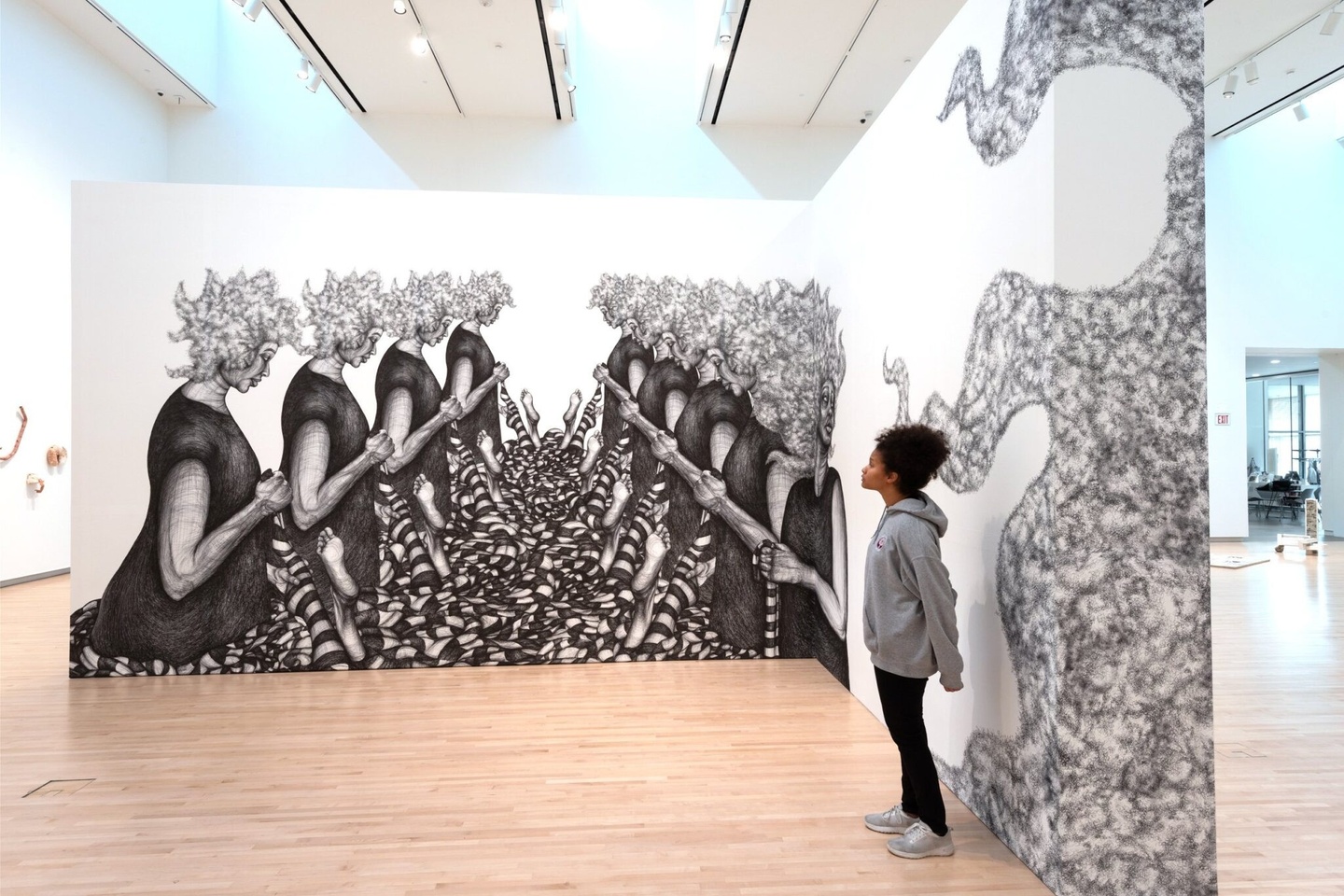 The images are monumental and dreamlike. A woman leans forward, regal in a billowing dress. Identical figures wrest striped leggings from a chaotic pile. Twisting locks erupt, untamable as flame.
In "Source of All Hair, Wearer of All Socks" (2022), artist Sam Modder — a recent alumna of the Sam Fox School of Design & Visual Arts at Washington University in St. Louis — explores questions of power, exploitation and resistance.
The piece also represents a culmination for Modder herself. In 2020, she was among the inaugural cohort for the Sam Fox Ambassadors Graduate Fellowship Program. This spring, "Source of All Hair" debuted in the university's Mildred Lane Kemper Art Museum as part of Nine Ways from Sunday, the Sam Fox School's 2022 MFA in Visual Art thesis exhibition.
"My experience as an Ambassadors fellow was an amazing one," said Modder, who was born in Nigeria and raised in Sri Lanka. "I felt really supported. The professors, staff and students truly rooted for me to succeed in my artistic practice.
"My undergraduate background at Dartmouth was as a double major in engineering and studio art, and since then I've worked in the nonprofit space around issues of social justice and global health equity," Modder added. "So I bring all of those interests into the studio with me, and I feel like the Sam Fox School celebrates that."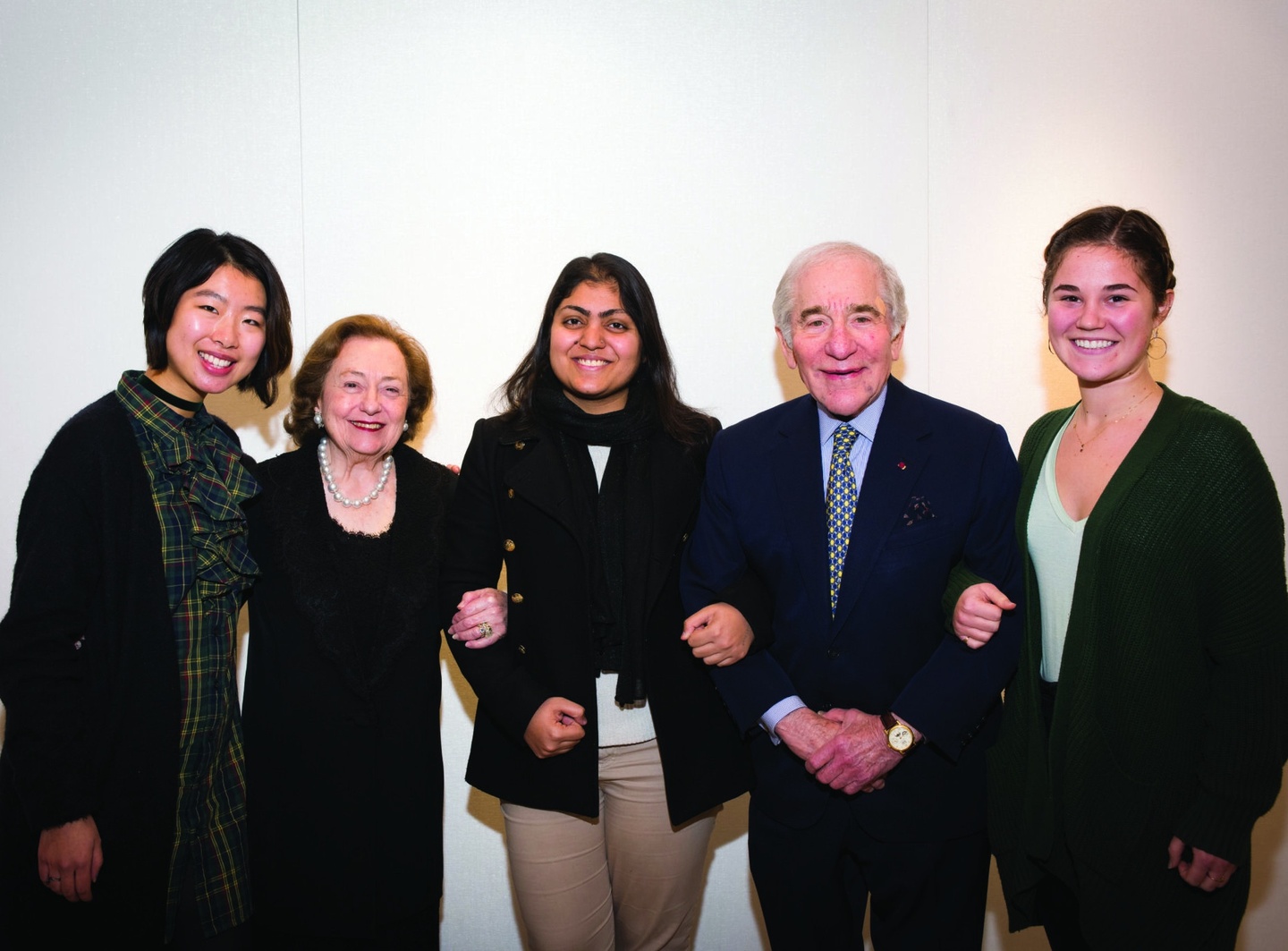 Powerful forces
Established in 2019, the Sam Fox Ambassadors fellowships help provide full-tuition waivers for 10 outstanding graduate candidates each year. Fellows are drawn from both the Graduate School of Art and the Graduate School of Architecture & Urban Design.
The fellowships were created thanks to a $1.05 million gift from the Sam and Marilyn Fox Foundation. The Foundation is now following that initial gift with an additional $10 million pledge to permanently endow the Ambassadors program.
"Art, architecture and design are uniquely powerful forces," said Sam Fox, a 1951 alumnus of Washington University's Olin Business School and a prominent St. Louis philanthropist, businessman and former U.S. ambassador to Belgium. "They have the power not only to reshape the world, but also to enlighten us, to enrich us and to expand our own sense of what is possible. Marilyn and I hope that these fellowships will enable talented and creative students to continue charting new paths for generations to come."
Fox, a lifetime voting member of the university's Board of Trustees, is founder of Harbour Group Ltd., which specializes in acquiring and developing companies for long-term investment. He is a past president of the Saint Louis Art Museum's board of commissioners and has served on the boards of Barnes-Jewish Hospital, Opera Theatre of St. Louis, the Saint Louis Science Center and the Saint Louis Zoo, among others.
From 1998-2004, Fox chaired the public phase of the Campaign for Washington University, which raised more than $1.5 billion in gifts and commitments, including $60 million to improve campus arts facilities. As part of that campaign, Fox provided a $10 million leadership gift to support the creation of the Sam Fox School.
"Sam and Marilyn have been at the heart and soul of the Sam Fox School since its very formation," said Carmon Colangelo, the Ralph J. Nagel Dean and the E. Desmond Lee Professor for Collaboration in the Arts. "They have supported virtually every aspect of the school, from students and faculty to facilities and scholarships to our very name."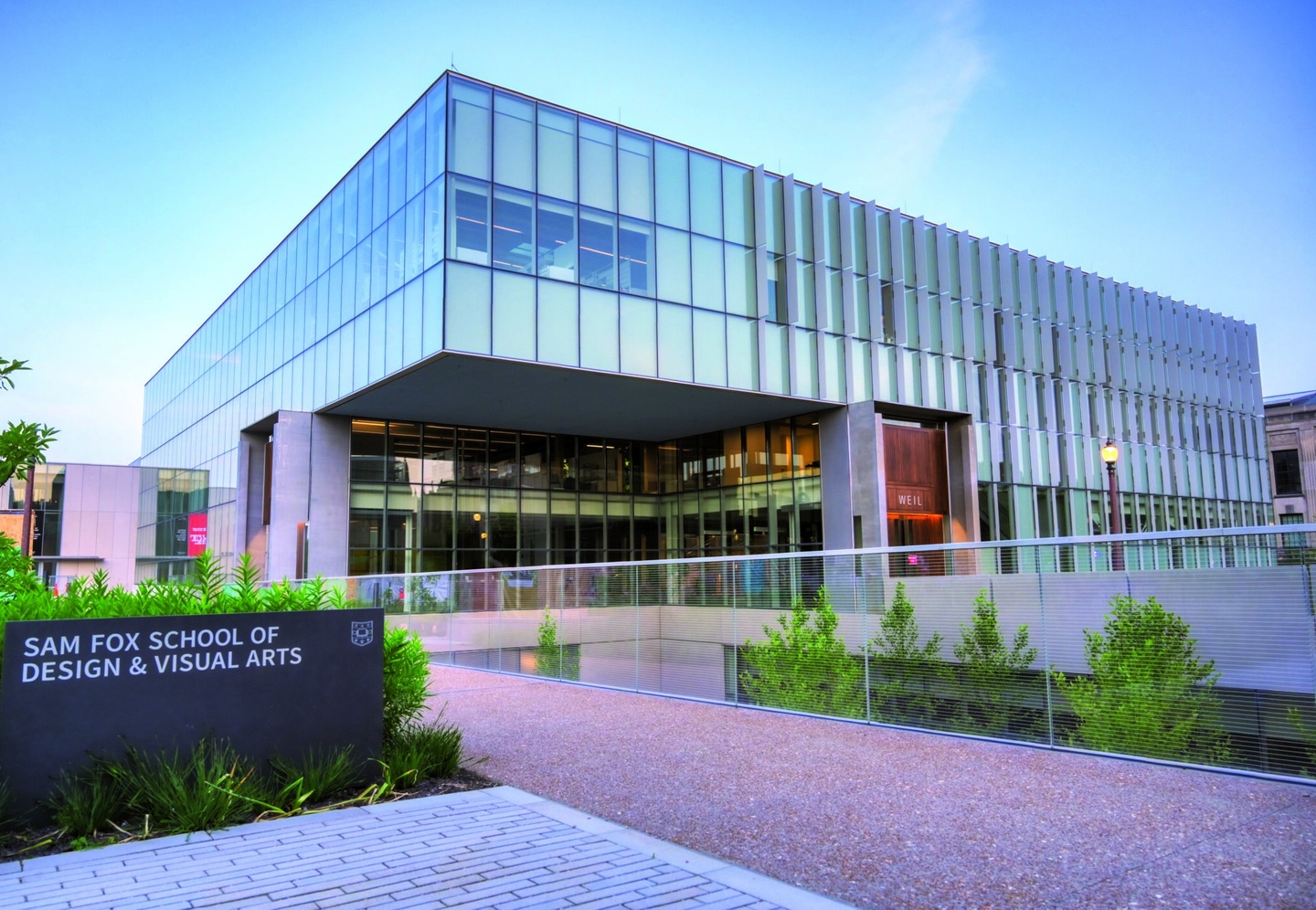 Something extraordinary
Dedicated in 2006, the Sam Fox School combines professional art, architecture and design education with the broad intellectual resources of a world-renowned research institution. It was created by uniting three longstanding WashU academic units, each with a rich individual history:
The College of Art was the first professional, university-affiliated art school in the United States.

The College of Architecture was among 10 founding members of the Association of Collegiate Schools of Architecture.

The Mildred Lane Kemper Art Museum is the oldest art museum west of the Mississippi River.
Since joining together as the Sam Fox School, these units have seen significant growth in both physical facilities and graduate programs. Historic Bixby, Givens and Steinberg halls have been joined by Walker Hall, the Kemper Art Museum building and, most recently, Weil Hall, as a state-of-the-art home for graduate programs. Meanwhile, the school has added distinctive new graduate degree programs, such as the Master of Landscape Architecture and the Master of Fine Arts in Illustration and Visual Culture, and increased graduate student enrollment.
"By permanently endowing the Ambassadors program, the Sam and Marilyn Fox Foundation is providing the resources we need to compete head-to-head with our peer institutions and recruit some of the nation's most talented young artists, architects and designers," Colangelo said. "Their vision and foresight are helping us to grow something extraordinary."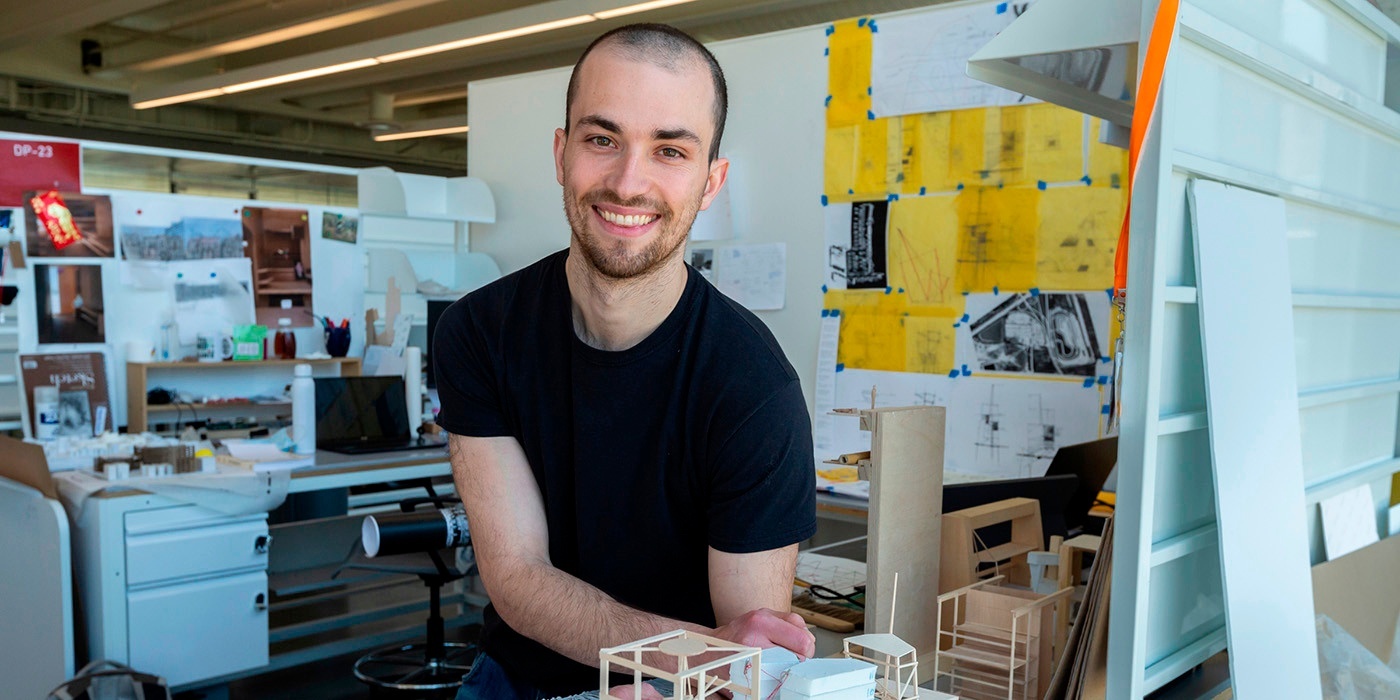 Cross-pollination
Nathan Stanfield earned a bachelor's degree in architecture from the Sam Fox School in 2018, as well as a minor in philosophy from Arts & Sciences. He spent the next two years with Maryann Thompson Architects in Boston, leading the net-zero-energy renovation of a modernist residence, among other projects.
But in 2020, as COVID-19 battered the architecture and construction industries, Stanfield returned to the Sam Fox School as an Ambassadors fellow. Working with Derek Hoeferlin, chair of landscape architecture and urban design, Stanfield helped create the installation Tracing Our Mississippi for Indiana's prestigious Exhibit Columbus, and later won a Divided City research fellowship to explore how levees, dams, pipelines and other systems of control have impacted Indigenous people.
"I investigated the histories and futures of water-based crises experienced by Native communities throughout the Mississippi River Basin," Stanfield explained to architecture news site Archinect. At the same time, he noted that the Ambassadors fellowship, in addition to supporting his architectural studios, provided opportunities to pursue coursework in hydrology, construction management and electronic music.
"It is my belief and experience that researchers, scientists and artists are increasingly receptive to cross-pollination," Stanfield added.
That interdisciplinary approach was visible in two projects Stanfield completed this spring. "Bricolage," his Master of Architecture project, examined the fraught juxtaposition of Cahokia Mounds, a UNESCO World Heritage Site located just outside St. Louis, and a nearby landfill.
Meanwhile, Stanfield's soundscape "Pendulum" was featured in the Kemper Art Museum as part of the multimedia showcase "Kemper Live: Here and Now."
"Architecture is actually very similar to music," said Stanfield, who recently joined Hood Design Studio, a social art and design practice based in Oakland, Calif. "It's a process of iterating and critiquing and working through layers of information. You experiment, you try something, and if it doesn't work, you try something else."
Working together
All applicants to the Sam Fox School's graduate degree programs are considered for the Ambassadors fellowships; no separate application is required.
In addition to tuition waivers, which are renewed annually for Ambassadors in good standing, fellows receive annual travel stipends and participate in a series of academic and professional opportunities designed to advance their creative work while building connections across disciplines.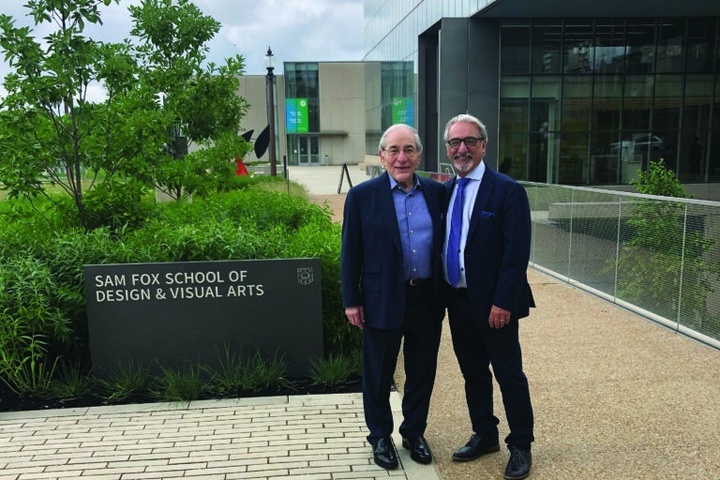 The world is a complicated place," Colangelo said. "Today's most critical challenges — from environmental stewardship and global health to sustainability and social justice — are complex as well. Addressing them will require rigor, creativity, research and determination. Most of all, it will require working together. The arts play a critical role in reminding us of our shared humanity."
Sam Fox and Carmon Colangelo outside Weil Hall. (Photo: Sam Fox School)
---
"In their own lives, Sam and Marilyn have demonstrated the power of collaboration," Colangelo added. "They have gathered teams, built businesses, unified organizations and even brokered agreements between nations. We are both grateful and inspired by their confidence in us."