(Opens in a modal)
Architect Francis Kéré to speak April 1
---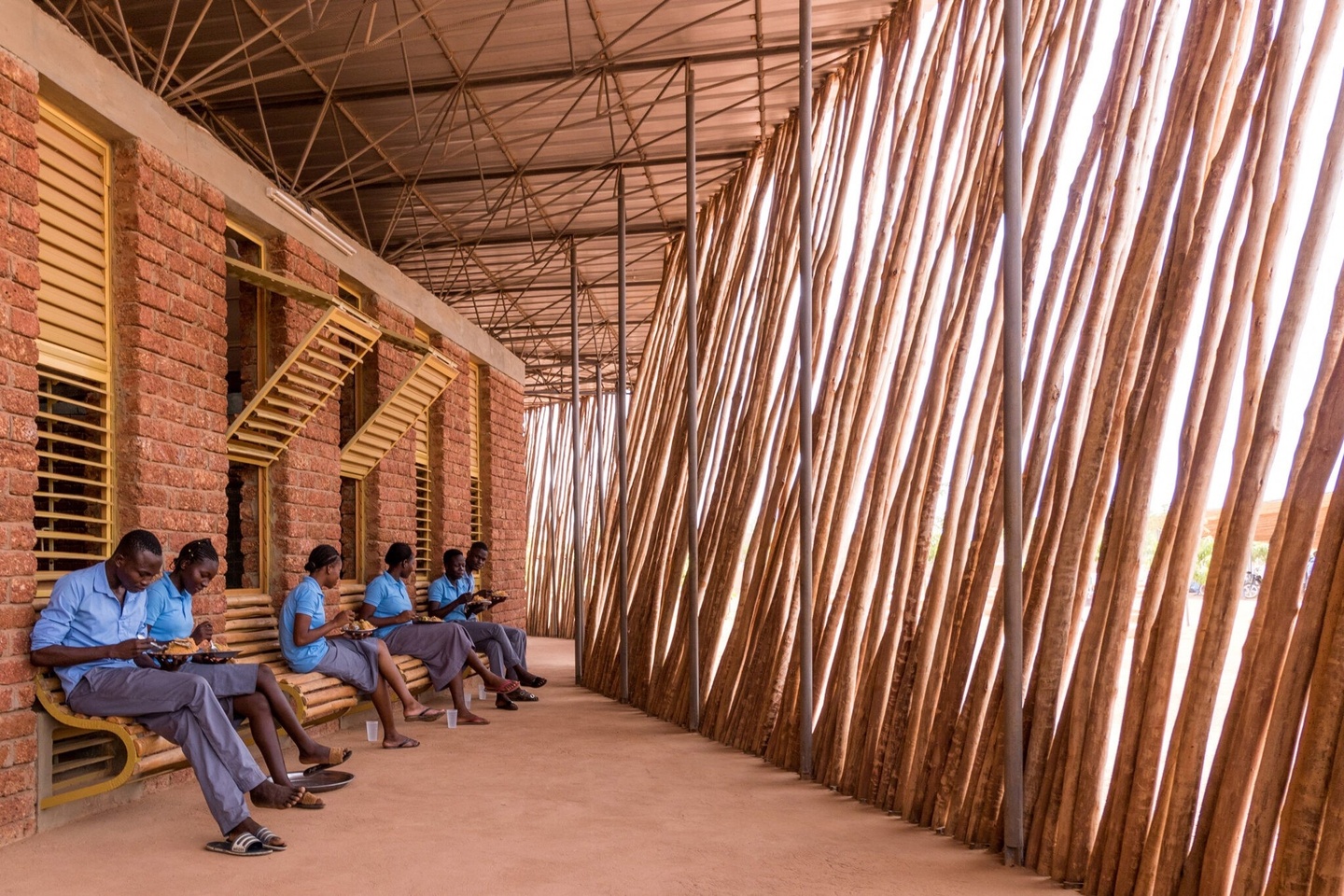 Francis Kéré's buildings are at once humble and revolutionary — poetic, light-filled structures internationally celebrated for engaging regional craft traditions and indigenous, eco-friendly materials.
On Saturday, April 1, Kéré, the first African architect to win the Pritzker Prize, will discuss his work for the Sam Fox School of Design & Visual Arts at Washington University in St. Louis. The talk will begin at 5 p.m. in the university's Graham Chapel.
"Francis Kéré is an architect of great inventiveness and integrity," said Heather Woofter, the Sam and Marilyn Fox Professor as well as director of the College of Architecture and Graduate School of Architecture & Urban Design. "His works, which are often created under conditions of material scarcity, are both beautiful and socially conscious, responding to the natural climate and the needs of the surrounding community. We are proud to welcome him to the Sam Fox School."
Born in Burkina Faso, Kéré is known for elegant civic projects, particularly schools, that employ both local labor and locally sourced materials, such as clay and eucalyptus wood. While still a student at the Technical University of Berlin, he collaborated with residents of his hometown to design, raise funds for and complete his very first building, the Gando Primary School. In 2004, the school won the prestigious Aga Khan Award for Architecture.
In 2005, Kéré founded his architectural practice, Kéré Architecture GmbH, as well as the Kéré Foundation, a nonprofit organization that pursues projects in Gando. Other major projects include designs for the Burkina Faso National Assembly, the Lycée Schorge Secondary School, the Léo Surgical Clinic and Health Centre, the 2017 Serpentine Pavilion and Xylem, the recently opened pavilion for the Tippet Rise Art Centre. He received the Pritzker Prize in 2022.
"I am hoping to change the paradigm, push people to dream and undergo risk," Kéré said of his Pritzker selection. "It is not because you are rich that you should waste material. It is not because you are poor that you should not try to create quality. Everyone deserves quality, everyone deserves luxury, and everyone deserves comfort."
Presented as part of the Sam Fox School's spring Public Lecture Series, Kéré's talk also will serve as the closing keynote address for the 111th annual meeting of the Association of Collegiate Schools of Architecture (ACSA). Titled "In Commons," and hosted by the Sam Fox School beginning March 30, the conference will highlight efforts by contemporary architects to build more sustainable, resilient and equitable communities. In conjunction with the meeting, Kéré will receive the 2023 Tau Sigma Delta Gold Medal from the Tau Sigma Delta Honor Society in Architecture and Allied Arts.
For more information about the Sam Fox School Public Lecture Series, visit samfoxschool.wustl.edu/pls. For more information about the ACSA annual meeting, visit asca-arch.org.