(Opens in a modal)
Beauty in Enormous Bleakness
---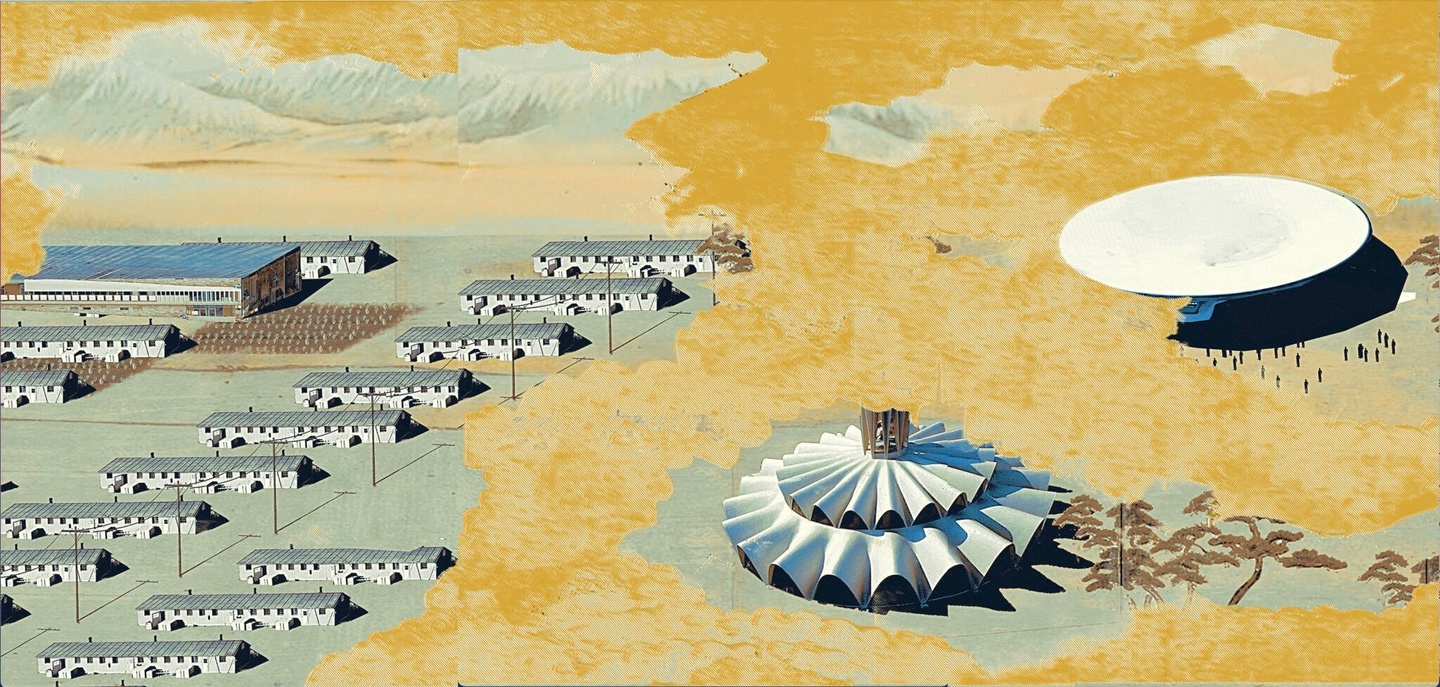 Beauty in Enormous Bleakness
It's an image of contradictions. A barren landscape glows with riches. A traditional form showcases modern masterworks. Citizens once distrusted by their country are celebrated for cultural achievement.
"Beauty in Enormous Bleakness," on view in Washington University in St. Louis' Olin Library, honors four architects: Gyo Obata, Richard Henmi, George Matsumoto and Fred Toguchi. As students during World War II, all four avoided the infamous mass-incarceration of Japanese Americans by enrolling in the WashU School of Architecture.
The exhibition, subtitled "The Design Legacy of the Interned Generation of Japanese Americans," includes biographical material and historical framing. At its center is an enormous mural created by Kelley Van Dyck Murphy, assistant professor of architecture in WashU's Sam Fox School of Design & Visual Arts, and recent architecture graduate Makio Yamamoto.
The mural — inspired by ukiyo-e, or "floating world," artworks from Japan's Edo period — combines residential blocks from the Poston Internment Camp in southwestern Arizona with a series of iconic St. Louis structures. These range from Obata's Abbey Church and Henmi's beloved "flying saucer" building (now a Starbucks) to the former Magic Chef headquarters, with its ceiling by famed sculptor Isamu Noguchi, and WashU's Steinberg Hall, by future Pritzker Prize-winner Fumihiko Maki.
"To create this landscape, we began with a background sampled from Gyo's father, the painter Chiura Obata," said Van Dyck Murphy. "It depicts a dusty orange desert scene, of the kind Chiura would have observed while at the Topaz Internment Camp."
Layered over Chiura's desert are amorphous clouds and sharply realized architectural environments. The effect, Van Dyck Murphy added, "suggests a degree of concealment — a lost or forgotten past that may yet be felt or seen."
'Moonscape of the Mind'
Heidi Aronson Kolk, assistant professor of art in the Sam Fox School, notes that the exhibition is just one facet of a larger investigation into architecture's relationship with race, nationality and cultural identity.
That investigation, also titled "Beauty in Enormous Bleakness," spans oral histories, site-based research, a podcast series and a forthcoming book.
"We set out to tell these stories because we think they're compelling in their own right, but also because they're urgently important right now," added Aronson Kolk, who leads the project with Van Dyck Murphy and Columbia University's Lynnette Widder. "We also think these architects and their work deserve fuller recognition. Their stories need to be shared with the world in all their complexity."
On Thursday and Friday, April 13 and 14, Aronson Kolk, Van Dyck Murphy and Widder will welcome more than a dozen scholars from across the United States as well as Japan to the Sam Fox School for "Moonscape of the Mind," a symposium exploring Japanese American design in the post-war period.
Ken Tadashi Oshima, professor of architecture at the University of Washington, Seattle — who has written widely about trans-national architectural history, theory and design — will present the keynote address. The opening session will examine the work of Noguchi and World Trade Center architect Minoru Yamasaki. Other sessions will focus on the circulation of vernacular artistic traditions as well as the intersections of art, activism and civic resistance.
Notably, the event takes its title from Noguchi, who described his own internment at Poston, with its paradoxical mix of open landscapes and military constraint, as "a moonscape of the mind."
"Not given the actual space of freedom," Noguchi observed, "one makes its equivalent — an illusion within the confines of a room or a box — where imagination may roam."
Visitor information
"Beauty in Enormous Bleakness: The Design Legacy of the Interned Generation of Japanese Americans" remains on view in Olin Library's Thomas Gallery through July 9. For more information, visit library.wustl.edu.
"Moonscape of the Mind: Japanese American Design After Internment" takes place April 13 and 14 in the Kuehner Family Court of Anabeth and John Weil Hall. For a complete schedule and list of participants, visit samfoxschool.wustl.edu.
Both the exhibition and symposium are free and open to the public and are sponsored by the Sam Fox School and Olin Library Special Collections, with support from The Divided City: An Urban Humanities Initiative; the American Culture Studies program in Arts & Sciences; and HOK.