(Opens in a modal)
Sung Ho Kim Installed as Raymond E. Maritz Professor of Architecture
---
---
2023-04-19 • Caitlin Custer
---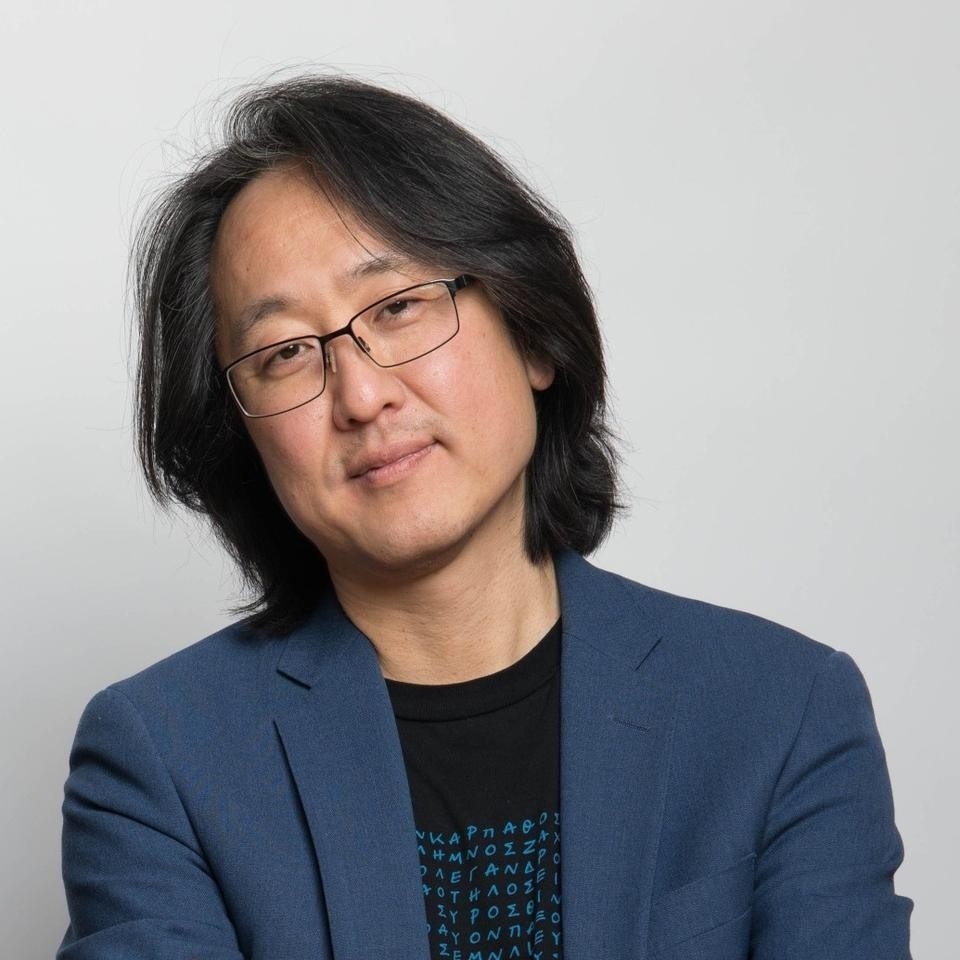 The Sam Fox School of Design & Visual Arts installed Sung Ho Kim as the Raymond E. Maritz Professor of Architecture on March 27, 2023. Kim began teaching at the Sam Fox School in 2002, and is also the design director of architectural firm Axi:Ome. Kim's primary research is design practice, developing various commissions globally with international competitions. He is focused on teaching design that bridges technology, science, and ecological investigations.
Carmon Colangelo, the Ralph J. Nagel Dean of the Sam Fox School, opened the program. "I'm deeply grateful to be able to gather with you in person today," he said, "as we recognize the truly stellar work of Sung Ho Kim. We recognize Sung Ho for his innovative, powerful, and cutting-edge work in the field of architecture, and for a sustained record of excellence in teaching, and for his dedicated record of service to the Sam Fox School." Colangelo went on to describe Kim's "intense work ethic," commitment to the field, and work to advance interdisciplinary research at WashU.
Adrian Luchini, the outgoing Raymond E. Maritz Professor, also gave remarks. "To know that my good friend and colleague Sung Ho is my successor fills my heart with happiness." Luchini shared his admiration for Kim's ability to easily navigate the worlds of teaching and practice, noting his tireless aim to "push the boundaries of architectural design."
Provost Beverly Wendland presented Kim with a medallion as a symbol of the professorship at Washington University in St. Louis.
As Kim began his address, he opened with gratitude and the adage that it takes a village to raise a child, "but it takes an entire city of St. Louis to raise a Raymond E. Maritz Professor." He went on to share a video on eudemonic practice, or a practice that "produces happiness or bases the idea of happiness as the proper end of conduct."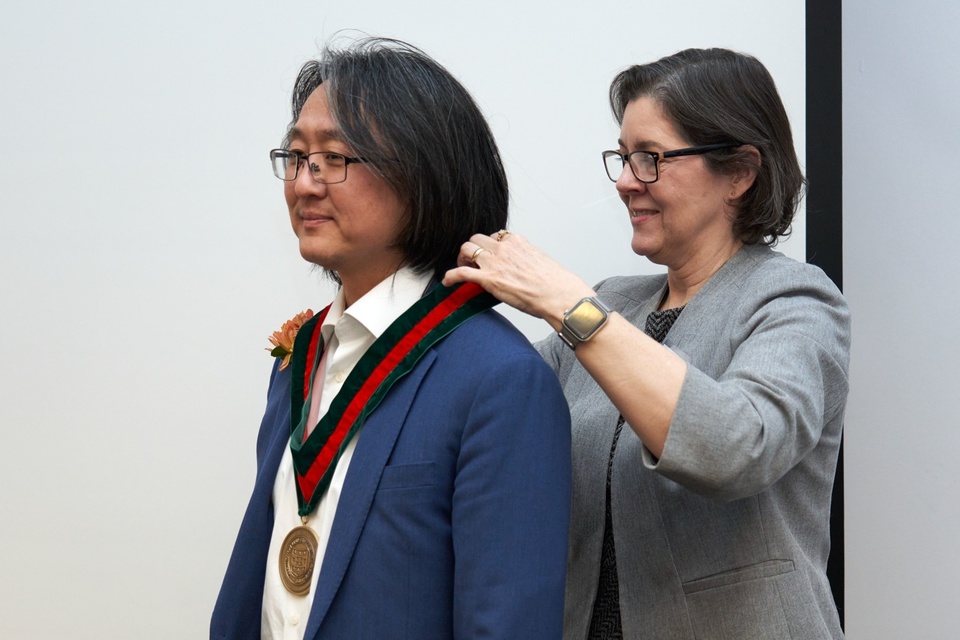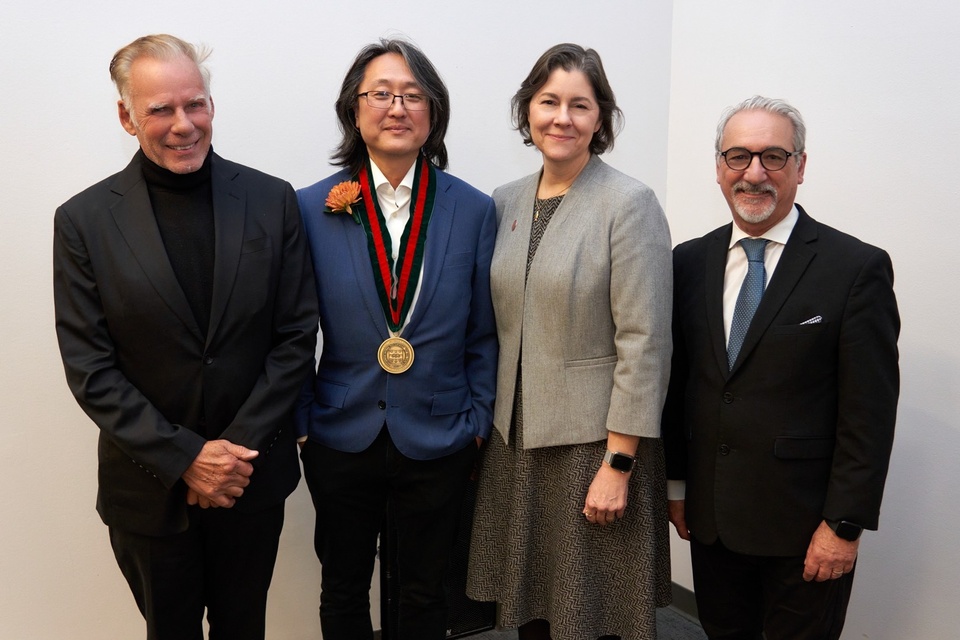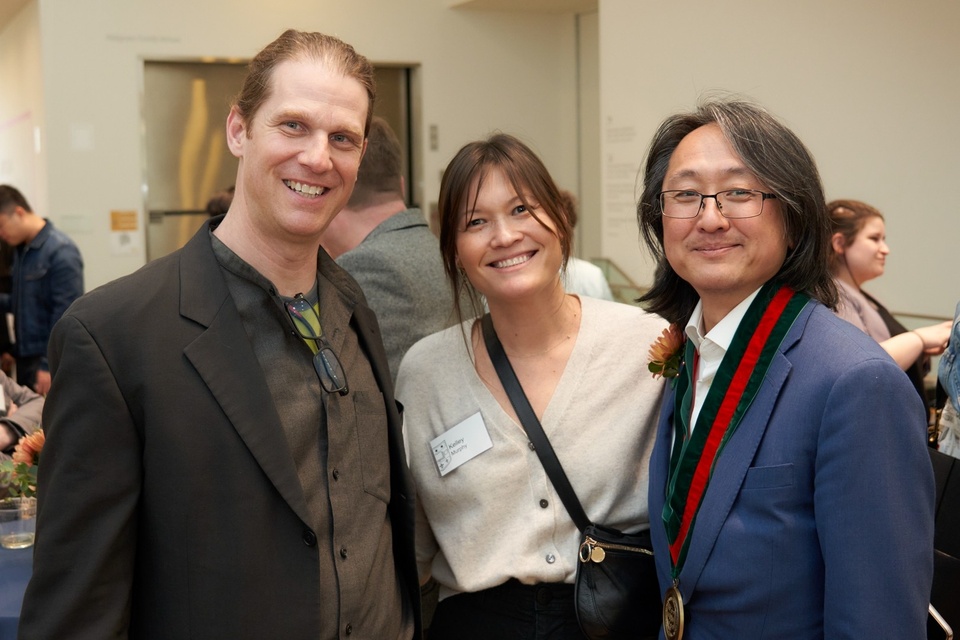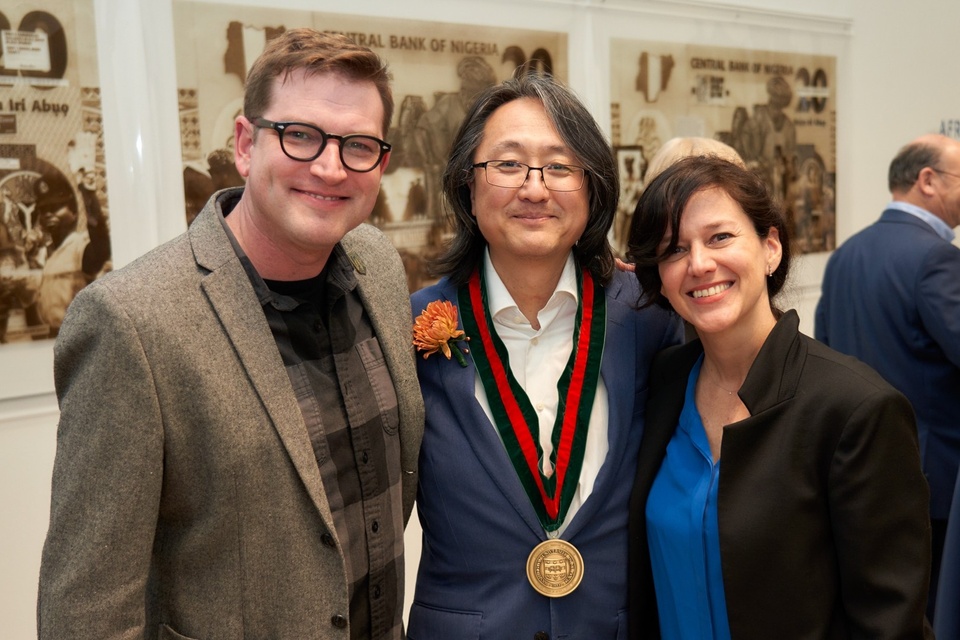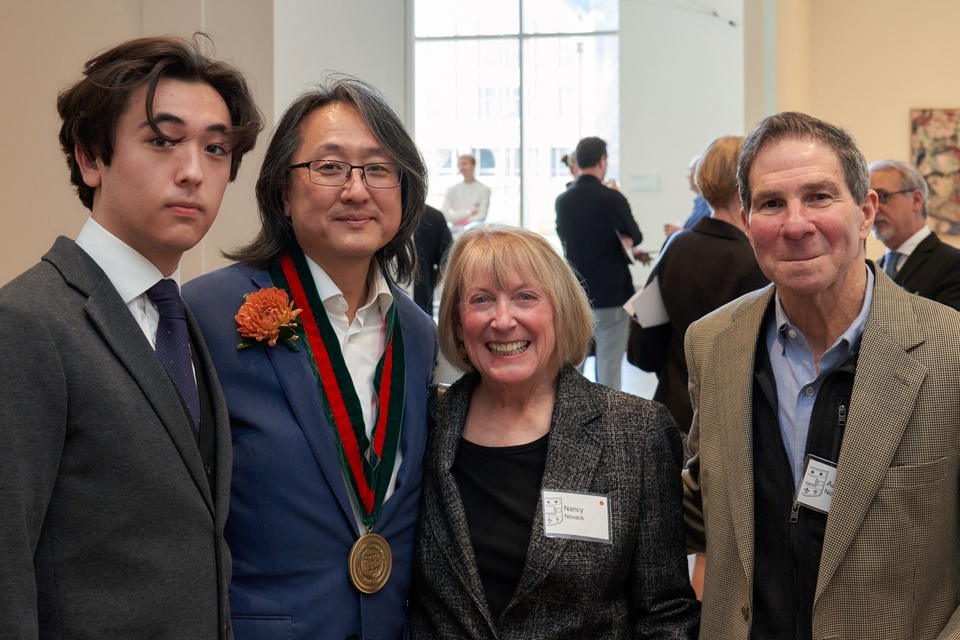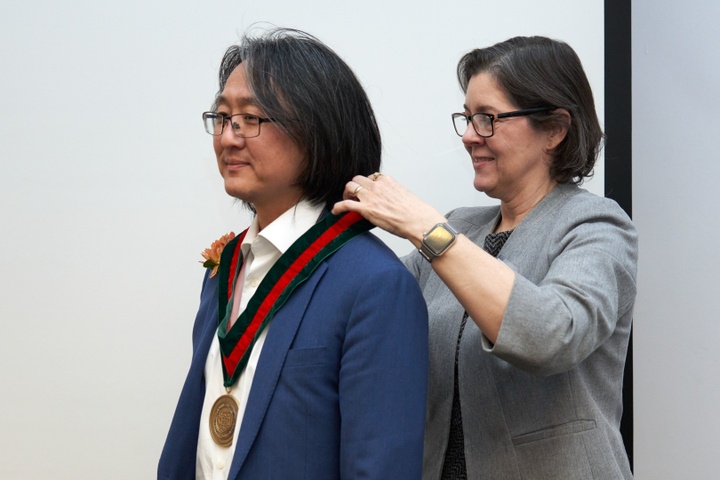 Washington University Provost Beverly Wendland bestows the Raymond E. Maritz Professor of Architecture medallion onto Professor Sung Ho Kim.
Photo: Dan Donovan / Washington University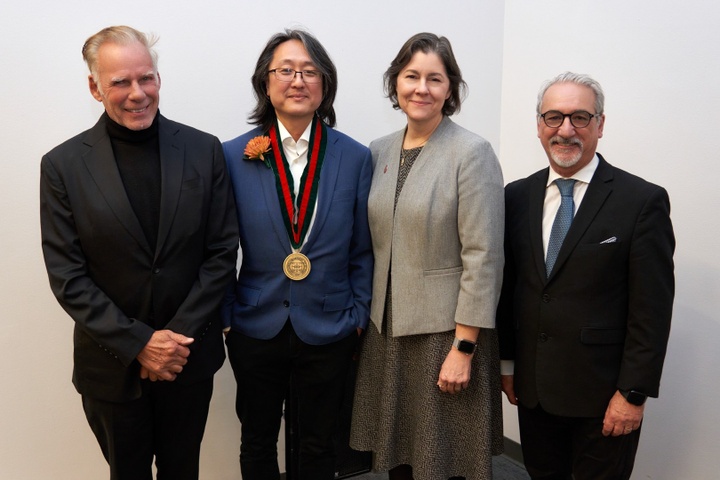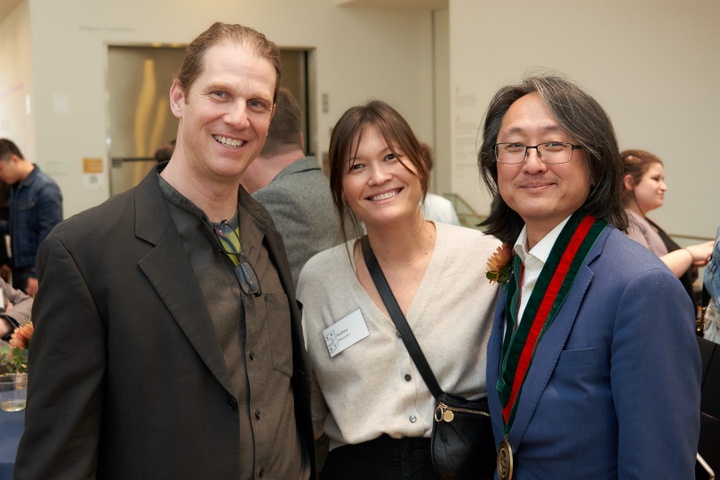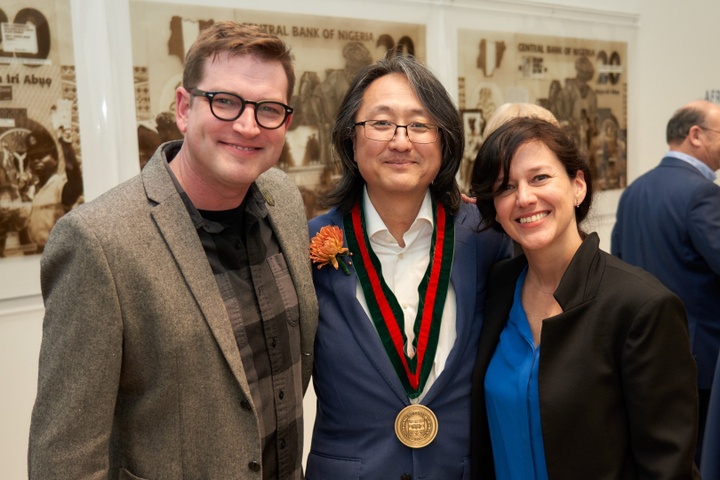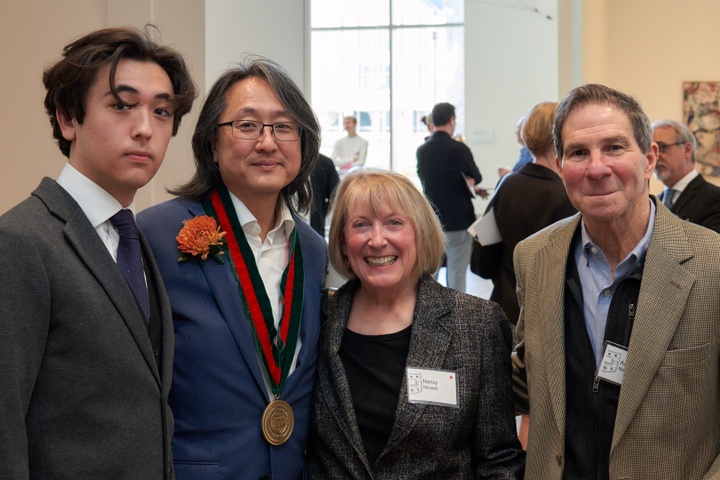 He shared stories from his personal life that have informed his perspective as an architect and teacher, notably his grandfather's insistence to enjoy life because other people have sacrificed their own. "That's what I try to teach my students," Kim said, "that it's not about skill set or technique, but it is about passion and enjoying the work they're producing."
The professional projects Kim shared illustrated his broad interests: studying wind and airflow patterns, building machines that give voices to people who can't speak (whether from illness or a language barrier), collaborating with computer scientists to build 3D models out of 2D drawings. Most recently, he's worked closely with Ram Dixit in the WashU biology department to study how biological materials could be engineered for environmental uses, such as absorbing radioactive material, polluted air or water, or even Covid particles. "We want to find where design and science merge so that we can find a new kind of environment."
One of Kim's proudest ongoing projects is the architectural firm Axi:Ome, which he describes as a hybrid between education and practice. "Something that was missing in my education was a transitional process — so we do a mix of research projects and client projects." The firm places importance on community engagement and working with institutions to envision their space, develop projects, and guide collaboration. Kim also cites Axi:Ome as a space where he could learn from his partner Heather Woofter, who is the director of the Sam Fox School's College of Architecture and Graduate School of Architecture & Urban Design. "Heather really taught me how to listen and how to design for a person or inhabitant. She designs from the inside out, while I design from outside in."
"Architecture is one of the most comprehensive processes," Kim said, "because you're not just giving yourself, you're giving your vision to share, to sculpt the community and how people live. You have to be able to find happiness in reasons beyond money, power, or a good grade. Being a teacher is a very important aspect of how architecture becomes a part of the social condition and cultural aspects of the world."
About Raymond E. Maritz
Raymond E. Maritz was a noted architect in St. Louis who studied at WashU. He established a leading firm, Maritz & Young, which designed a number of residences just west of WashU's Danforth campus. Maritz was also involved in large projects such as Clayton City Hall, Westwood Country Club, and the United Hebrew Congregation on Skinker Boulevard.
Jackie and William Maritz endowed this professorship in 1997 in honor of Mrs. William H. Danforth and named for his uncle, Raymond E. Maritz.
Kim studied drawing and sculpture as a teenager at the Art Students League of New York and Harvard Graduate School of Design Career Discovery Program. He earned a Bachelor of Fine Arts and Bachelor of Architecture from Rhode Island School of Design and an AA Diploma from Architectural Association of London, UK, with Royal Institute of British Architects Part I and II. He also earned his Master in Science in Architecture Studies from Massachusetts Institute of Technology. He was a project designer for Nasrine Seraji in Paris, France, and Wellington Reiter in Cambridge, Massachusetts. He served as a principal researcher for the Interrogative Design Group at Center for Advanced Visual Studies at MIT.
Kim taught at Rhode Island School of Design and was an assistant professor at Northeastern University. He was a visiting professor at Aristotle University of Thessaloniki in Greece, and at Konkuk University and Korea University in Seoul, Korea. Currently, he is a tenured full professor of architecture, engaged in research with biology and computer science, at Washington University in St. Louis, and received the 2018 Emerson Excellence in Teaching Award. He was a founding director of Axi:Ome llc of Providence, RI, in 2001 and has been co-director of Axi:Ome llc of St. Louis with Heather Woofter since 2003.
Kim's primary research is design practice, developing various commissions globally with international competitions. He is focused on teaching experimental design that bridges technology, science, and ecological investigations.