(Opens in a modal)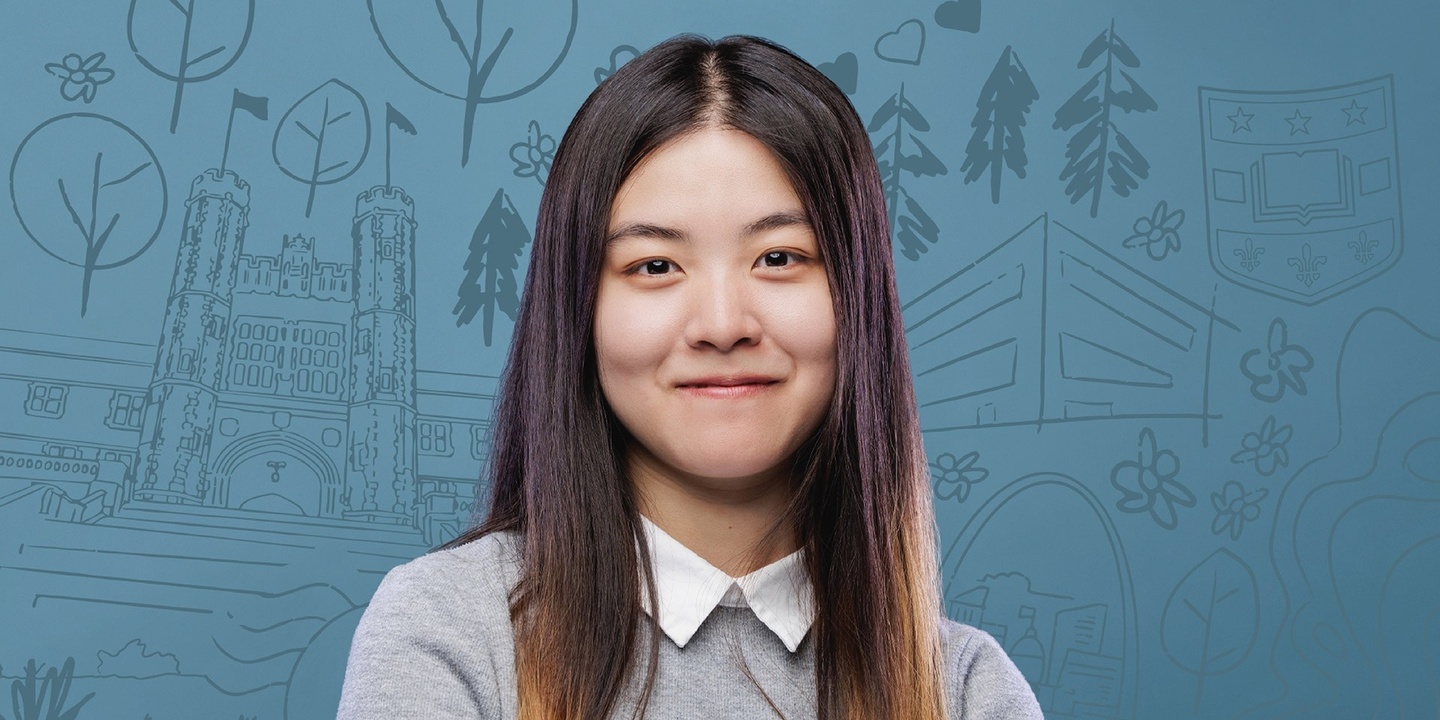 Chenyue Wang wasn't familiar with St. Louis before arriving here for graduate school. But over the last two years, the Beijing native has come to appreciate the city's creative opportunities, quality of life and plentiful greenspace.
"Large cities often have gardens or pocket parks," said Wang, who in May is set to earn a master's degree in landscape architecture from the Sam Fox School of Design & Visual Arts. "St. Louis has Forest Park, which is huge! We have museums, the zoo and lots of trails for hiking. There are also sections where they're trying to preserve native species and the original landscape, which is really interesting to me."
Last summer, as a Sam Fox School CityStudioSTL Fellow, Wang interned with Arbolope Studio, the acclaimed landscape architecture firm founded by WashU alumna, and current lecturer, Irene Compadre. After graduation, Wang will join Arbolope full time, working on projects in St. Louis' College Hill neighborhood and the Cherokee Street business district.
In this Q&A, Wang discusses those projects, what drew her to landscape architecture and the importance of community engagement.
You earned your bachelor's degree in human geography and urban planning from Peking University. What drew you to landscape architecture?
My undergraduate major relates to large-scale policy and planning, but I was able to take optional studios on architecture and landscape architecture. I also interned with Turenscape, the landscape architecture firm, and worked on their "Sponge City" master plan, which will help cities to absorb rainfall and prevent flooding. And I realized that I liked the opportunities of working in practice.
At Arbolope, you've worked on designs for Peace Park, now under construction in the College Hill neighborhood of north St. Louis. Tell us about that project.
Peace Park will provide open space for the community to meet, children to play and artists to perform. It's a large piece of land, located next to the historic Grand Avenue Water Tower. There's a steep slope running through the site, and we're thinking about how that slope might be used as a kind of amphitheater, or how existing fruit trees might become part of an orchard.
When I joined the team, a lot of research and design iterations had already been done. So the work I've been doing is largely about finishing drawings and engaging the community to make final decisions. We gather on site and have a conversation.
You're also working on Love Bank Park, which spans two formerly vacant lots just off Cherokee Street.
Love Bank Park is quite small. There's one basketball hoop but no lighting or fences. Part is covered by asphalt, part by wild grass. The overall idea is just to keep the basketball court functioning while also making it a place where kids can play and local artists can perform.
In a lot of ways, we know what makes a large park or green space successful. But I'm also interested in the smaller elements, like vegetation or lighting, that can really make people feel comfortable. You have to think about the human scale.