(Opens in a modal)
Sam Fox School Celebrates Graduating Class of 2023
---
---
2023-05-15 • Caitlin Custer
---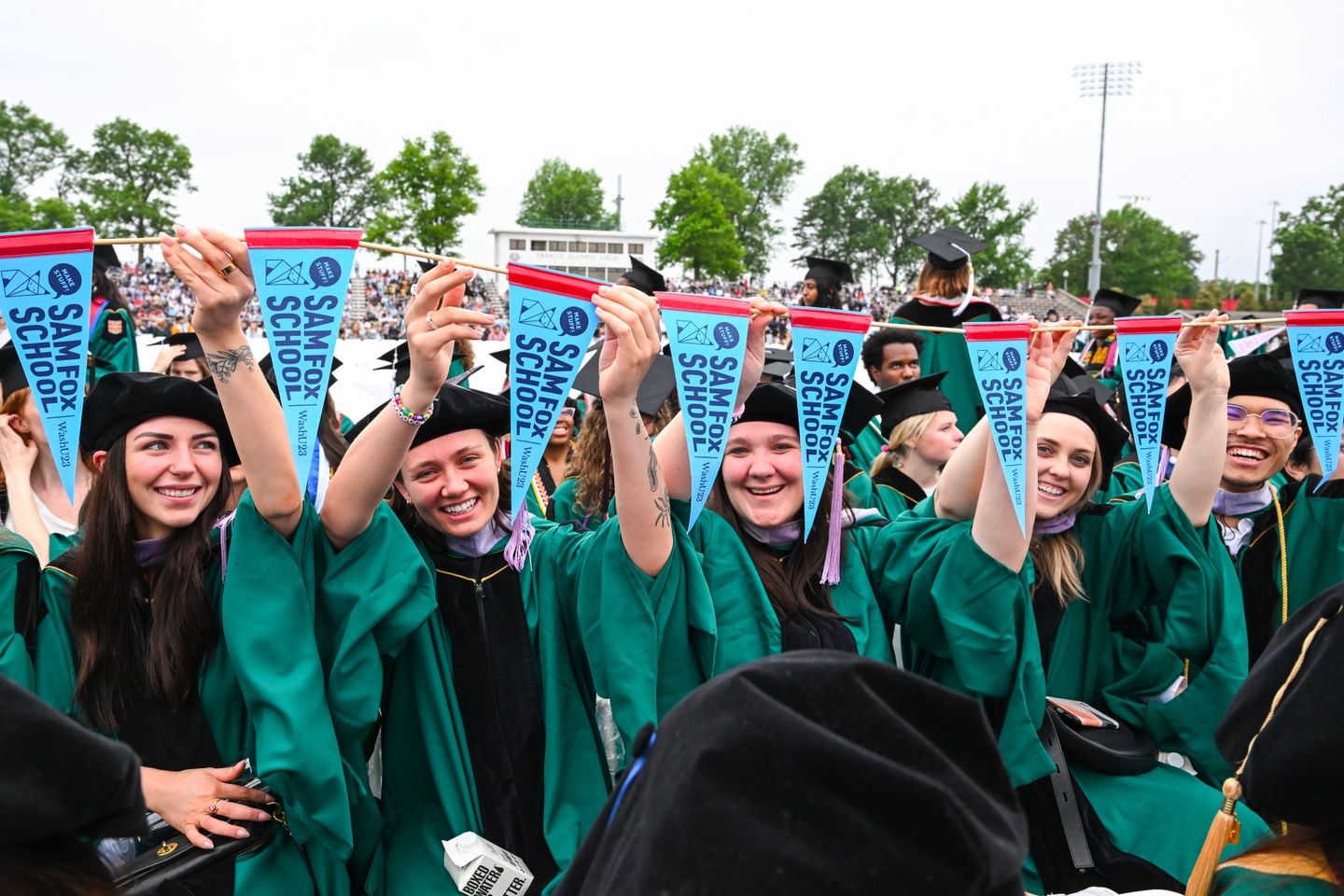 The Sam Fox School held its all-school recognition ceremony on Sunday, May 14, marking the completion of studies for students in art, architecture, and design. Many students also attended the university-wide commencement ceremony on Francis Olympic Field on Monday, May 15.
Carmon Colangelo, the Ralph J. Nagel Dean of the Sam Fox School, started the program with a brief address to the graduates. "You have demonstrated ingenuity, commitment, empathy, and hard work," he said. "You are ready to face the most complex and critical issues facing humanity."
Following Colangelo, the keynote address was given by Min Jung Kim, the Barbara B. Taylor Director of the Saint Louis Art Museum. Kim shared her the story of her career trajectory, its twists and turns, reminding the graduates to embrace uncertainty. "You can and should start, stop, start over, stop, and start again. Whatever you do, keep making," she said. She went on to encourage graduates to seek out and create community, establish a voice, and build the world they want to live in.
Student speakers included Nema Swareh, who earned her BA in architecture, and Allena Marie Brazier, who earned her MFA in visual art. Swareh spoke about building spaces that allow people to think and be, noting that "the self is built in space." Brazier shared words from her mentor: "Trust yourself. Trusting yourself isn't just a pretty phrase — it's a call to action." Following the speakers, undergraduate and graduate students walked across the stage, receiving their degrees to cheers from the audience.
Ahead of the recognition ceremony, several students received awards and funding for future work. Among the most prestigious awards in art are theJeffrey Frank Wacks Scholarship, awarded to Connor Seger; the John T. Milliken Foreign Travel Award — both a monetary award and a residency at the school's Cité internationale des arts studio in Paris — awarded to Alex McLaughlin at the undergraduate level and Sharlene Lee at the graduate level; and the Caroline Risque Janis Prize in Sculpture, awarded to Levi Gentry. In architecture, the Frederick Wildmann Prize was awarded to Chuchu Qi at the undergraduate level and Jacqueline Traudt at the graduate level; the American Institute of Architects Medal was awarded to Bob Peniel Inapanuri; and the Alpha Rho Chi Bronze Medal was awarded to Mila Lipinski.
---
College of Architecture + Graduate School of Architecture & Urban Design
---
Shameen Ahktar
St. Louis Community Partnership Award
Fatimah Alsaggaf
Associate of Licensed Architects Student Merit Award
Zachary Ebbers
Graduate Architecture Faculty Book Award
Degree Project Book Award
Margaux Elliot
Master of Urban Design Faculty Book Award
Andrew Foster
Excellence in Craft Award
Degree Project Book Award
Faye Hu
Hugh Ferriss Award for Architectural Drawing
Weicong Huang
Olmsted Scholar
Peniel Bob Inpanuri
American Institute of Architects Medal
Marshall Karchunas
Degree Project Book Award
Angela Lai
Betty Lou Custer Book Award
Min Lin
William Tao Prize
Mila Lipinski
Alpha Rho Chi Bronze Medal
Ange Long
Hugh Ferriss Award for Architectural Drawing
Alex Lyu
Graduate Architecture Faculty Book Award
Monica Mulica
Civic Engagement Award
Stephen Pan
Excellence in Craft Award
Cat Prater
Undergraduate Architecture Faculty Book Award
Chuchu Qi
Frederick Widmann Prize
Kaitlin Sampson
Master of Landscape Architecture Book Award  Outstanding 1st Year
Madeleine Starr
Civic Engagement Award
Nema Swareh
St. Louis Community Partnership Award
Jacqueline Traudt
Frederick Widmann Prize
Chenyue Wang
Master of Landscape Architecture Book Award Outstanding 3rd Year
Haoxuan Yan
Degree Project Book Award
Haoyu Yan
Master of Landscape Architecture Book Award Outstanding 2nd Year
Maya Yildirim
Undergraduate Architecture Faculty Book Award
Associate of Licensed Architects Student Merit Award
---
College of Art + Graduate School of Art
---
Alex Braden
Summer Project Support Grant
Allena Brazier
Community Partnership Award
Zinaida Calixte
Lillie Elise Willemsen Award
Shaelee Comettant
Belle Cramer Award in Printmaking
Marsha Hertzman Blasingame Award in Printmaking
Des Lee Gallery MFA AlumX Residency
Thesis Research and Production Grants
Brooke Cowan
Future Talent in Bridal and Special Occasion Wear Award
Ella Dassin
Susan Sanders Block Silver Ripper Award in Fashion Design
Connor Dolan
Hazel H. Huntsinger Memorial Prize in Painting
Cameron Ekstrand
Catalyst Award
Emily Elhoffer
Graduate Student Production Grants
Levi Gentry
Caroline Risque Janis Prize in Sculpture
Cara Gillow
The Fashion Design Citizenship Award
Emma Harrison
Jayne Ball Rousseau Memorial Prize
Jackson Hescock
Hazel H. Huntsinger Memorial Prize in Painting
Courtney Huang
John T. Milliken Foreign Travel Award - Alternate
Joshua Johnson
Al Parker Award for Excellence in Illustration
Talie Johnson
Civic Engagement Award
Talie Johnson
Mary Cowan Harford Award in Watercolor
Sasha Kostenko
Margo Trump Award
Adelaide Koziol
Truth and Beauty Award
Jessica Lee
John T. Milliken Foreign Travel Graduate Award
Sharlene Lee
Paul Edward Birdsall Award in Visual Communications
Layla Lee Choi
Anne Fuller Dillon Prize
Maggie Liu
Jack Unruh Award in Illustration
Mackenzie Llewellyn
Saks Fifth Avenue Honorary Designer
Tirzah Estella Reed
Caroline Risque Janis Prize in Sculpture
Will Masters
Eda L. and Clarence C. Cushing Memorial Prize in Painting
Alex McLaughlin
Anderson Ranch Scholarship
John T. Milliken Foreign Travel Award
Morris M. Horwitz Award in Photography
Peter Marcus Prize in Printmaking
Shiyeon Monk
Yale/Norfolk Summer Residency
Becky Moon
Yale/Norfolk Summer Residency
Meera Patel
John T. Milliken Foreign Travel Graduate Award - Alternate
Reagan Pendergast
Anderson Ranch Scholarship
Purvi Rajpuria
Graduate Student Thesis Production Grant
Danielle Ridolfi
Walt Reed Award for Excellence in Writing on Visual Culture
Maxine Roeder
Future Talent in Bridal and Special Occasion Wear Award
Riverbend Textiles Sustainable Design Leadership Award
Sophie Roig
Roig Catalyst Award
Stephanie Sasahara Silva
Graduate Student Thesis Production Grant
Maddie Savitch
Stars Design Group Award
Anna Schenker
Fine Arts Work Center Award
Thesis Research and Production Grants
Connor Seger
Dominic Michael Silver Scissors Designer of the Year Award
Jeffrey Frank Wacks Scholarship
Daniela Shapiro
Graduate Student Thesis Production Grant
Rose O'Neill Award for Distinction in Illustration
Lynne Smith
Fine Arts Work Center Award
Jenny Wang
Robert Weaver Award for Excellence in the Visual Essay
Julia Yuan
Future Talent in Bridal and Special Occasion Wear Award