(Opens in a modal)
Sam Fox School and Eden Seminary Students Collaborate in Design Competition
---
---
2023-07-07 • By Sam Fox School
---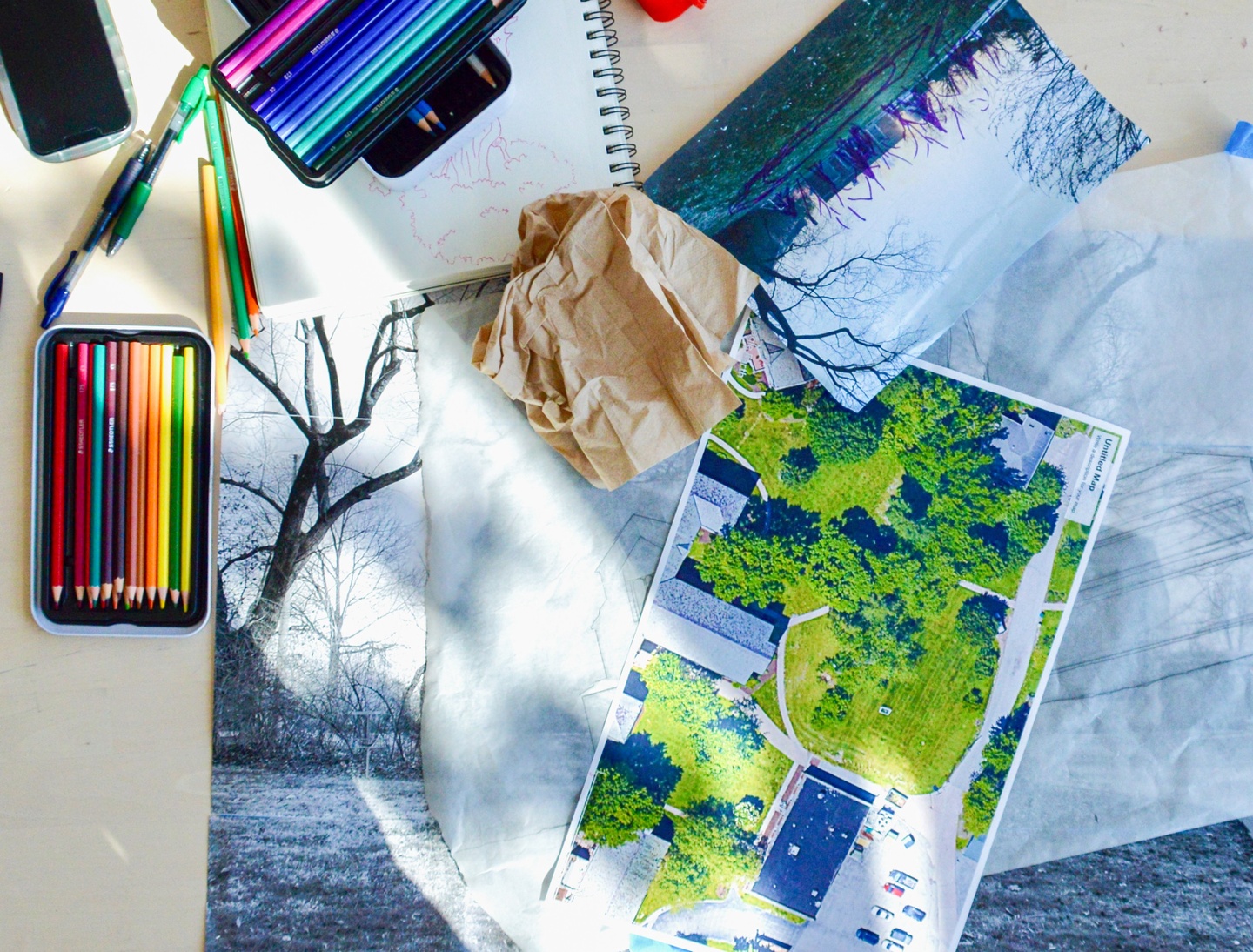 During the spring 2023 semester, students at WashU's Sam Fox School worked together with students at nearby Eden Theological Seminary in Webster Groves to deliver proposals for an interdisciplinary design competition titled "Though the Earth Should Change: Biosancturary Sacred Groves for Worship in an Era of Ecological Crisis."
The competition was developed by Eric Ellingsen, an assistant professor at the Sam Fox School; Christopher Grundy, a professor of worship and preaching and academic dean at Eden; and the Sam Fox School's Office for Socially Engaged Practice.
The competition began in February with a public conversation including a keynote address by Erika Allen, co-founder of Urban Growers Collective and Green Era. Topics ranged from creating new conditions that prioritize social and environmental justice, to connecting congregations with the divine in the natural world, to designing worship spaces that foster environmental justice and preserve biodiversity.
Four teams of WashU and Eden students worked together, each selecting a site on Eden's campus. Their challenge was to imagine a sacred grove on church property which:
Provides an encounter with the natural world that inspires awe

Makes it easy and accessible for faith communities to worship outdoors more often, across three or four seasons

Offers an environment for ecological spiritual formation

Acts as a sanctuary of biodiversity

Makes a healing space in an era of climate crisis

In addition to the opening conversation, interactive "walkshops" were held to stimulate novel and accessible ways of approaching design that included movement, speech, and performance. Walkshops were led by choreographer David Marchant — a WashU professor of practice in dance — poet Nathaniel Farrell, artist Allana Ross, and Chris Carl of Studio Land Arts.
"This was an excellent opportunity for students at both institutions to come together and build something our world would benefit from," said Matthew Bernstine, associate director of the Sam Fox School's Office for Socially Engaged Practice. "I know this interdisciplinary experience will have a lasting impact on their careers."
In April, each team submitted hand-constructed perspective drawings and graphic narratives, a short video, a field book, and a narrative describing their proposal. The winners were selected by a jury of Rodrick Burton, pastor at New Northside Missionary Baptist; Irene Compadre, AB '08 / MLA '12, principal at Arbolope Studio; Jonathan Losos, biology professor at WashU and director of the Living Earth Collaborative; Alexandra Mei, BDes '15, associate at Merritt Chase; and Mary Nelson, a UCC transitional conference minister. They rated the projects based on a variety of criteria, including its connection to place, function as a place of worship and gathering, catalyst for biodiversity, and feasibility to develop within our lifetimes.
Supporters of the competition include the Calvin Institute of Christian Worship, Sam Fox School Office for Socially Engaged Practice, and WashU's International Center for Energy, Environment, and Sustainability.
Competition Winners
The Meeting Place – Tied for First
Sylvia Bowen-Bailey
Kaitlin Burger, MLA '23
Shannon Quintana, BS '25
Re-membering: Nature as Community – Tied for First
Quinn Adam, MArch/MLA '27
Elliott Boyle, MArch/MUD '23
Christopher Trousdale
Stitching Spiritual Stages – Second Place
Kendall Miller
Holly Reising, MArch/MLA '25
Emma Woolcott, MArch/MUD '25
Lauren Verseman
Eden Grove & Labyrinth – Third Place
Bentley Caughlan
Karen Kilty
Jose Tenorio Villagomez, MLA '24
Ruiquan (Rachel) Xu, MLA '24