(Opens in a modal)
Sage Dawson's STNDRD Receives Grant to Launch Exhibition Space
---
---
2023-08-09 • Sam Fox School
---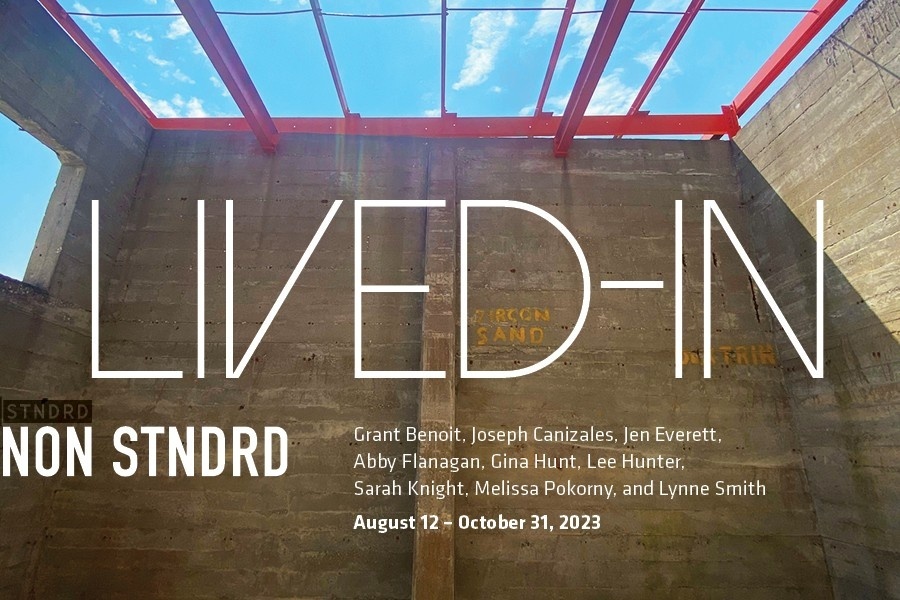 STNDRD — a public art project co-directed by Senior Lecturer Sage Dawson — recently received a grant through The Luminary's Futures Fund to launch a new exhibition space. The new space, NON STNDRD, will focus on contemporary art and be created in partnership with the National Building Arts Center, where Senior Lecturer Michael Allen serves as executive director.
"NON STNDRD embraces artistic experimentation and critical inquiry and shines a light on the non-standard and exploratory nature of contemporary art by presenting it in a space that radically and intentionally breaks from traditional exhibition venues," the organization shared.
The space is located at the National Building Arts Center in Sauget, Illinois. The campus was formerly the Sterling Steel Casting Company, and now houses a collection of building artifacts. NON STNDRD will occupy two adjacent spaces, which were once sand bunkers for steel casting. The spaces are enclosed by high concrete walls with an exposed, structural grid roof.
The partnership includes plans for an inaugural group exhibition to launch this month, and further exhibitions to follow in 2024. According to STNDRD, "Exhibiting artists are encouraged to explore an interplay between raw architecture and immediate landscape, contextualized by the history and function of the facility and the surrounding place, geography and terrain."
The first exhibition, Lived-in, features artists Grant Benoit; Joseph Canizales, MFA '22; Jen Everett, MFA '19; Abby Flanagan, lecturer; Gina Hunt; Lee Hunter; Sarah Knight, MFA '20; Melissa Pokorny; and Lynne Smith, MFA '24. There will be a free, public reception on Saturday, August 12, from 3:00-6:00pm. The exhibition will run through October 31.
NON STNDRD is located at 2300 Falling Springs Road, Sauget, Illinois, 62206.
About STNDRD The mission of STNDRD is realized first through a flagship program in Granite City, Illinois, where exhibitions rely on a flagpole as a site, and examine the power and potential of flags. NON STNDRD is an expansion and evolution of site-based inquiry that steers STNDRD programming. STNDRD is an artist-run initiative, organized by Bruce Burton, Sage Dawson, and Allison Lacher.
About Sage Dawson Sage Dawson is an artist and curator whose work examines the politics of housing and labor inherent to the American city. She is currently the director at STNDRD (Granite City, Illinois) — a public art project examining the power and potential of flags. Dawson has curated exhibitions at The Luminary (St. Louis), Loyola Marymount University (Los Angeles), ACRE Projects (Stueben, Wisconsin), the Terrain Biennial (Springfield, Illinois), and Dalton Warehouse (Los Angeles).
About The Luminary's Futures Fund Futures Fund is a regranting initiative organized by The Luminary and funded by the Andy Warhol Foundation for the Visual Arts in order to support innovative, experimental and forward-focused artistic projects throughout the St. Louis region. Futures Fund was founded in 2019 to provide essential support to creative projects that exemplify the unique possibilities of St. Louis, deeply engage its past, present and possible futures, and model new ways of working within our region.