(Opens in a modal)
PXSTL: A Way, Away (Listen While I Say)
---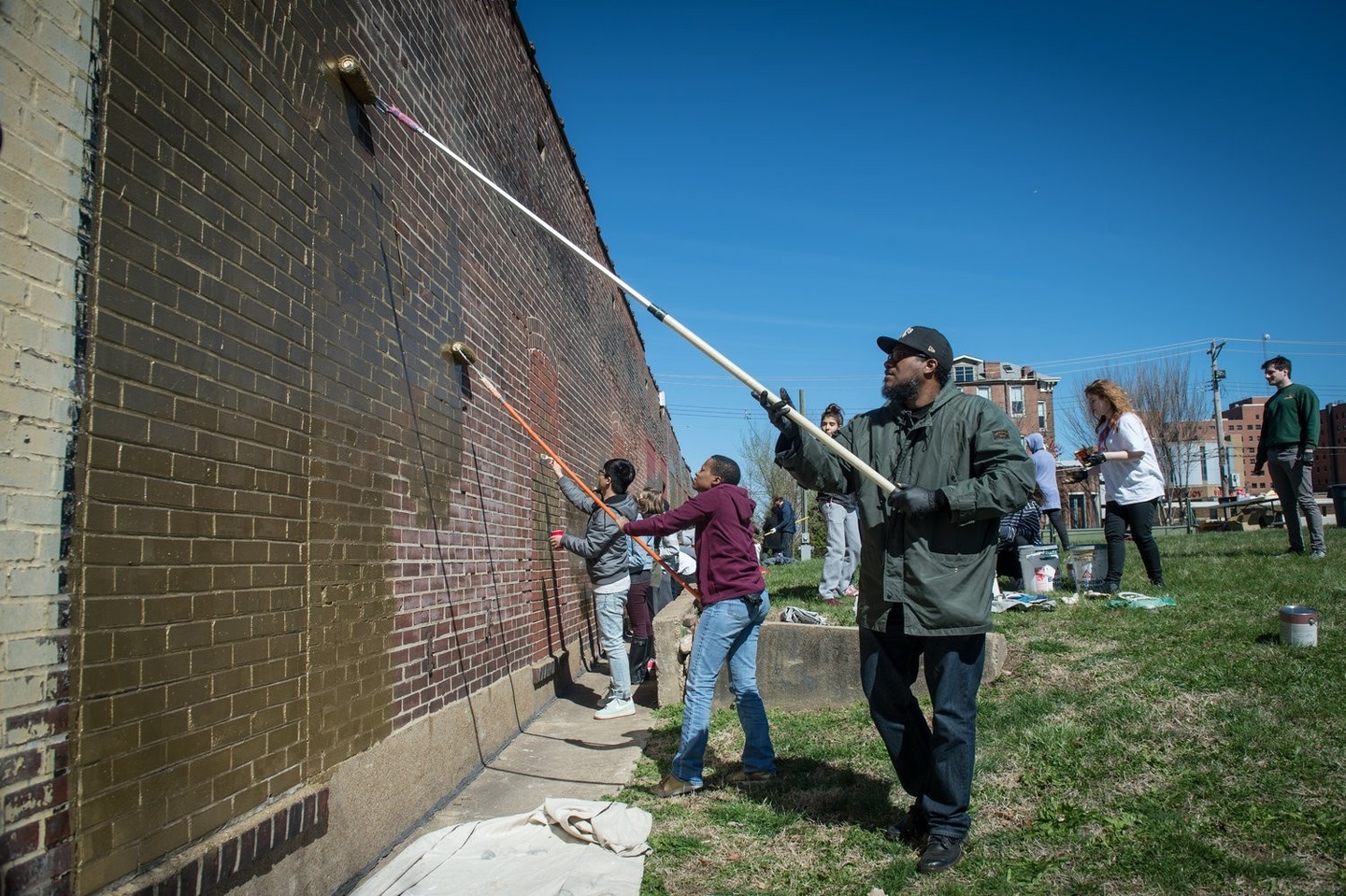 In March 2013, the Pulitzer Arts Foundation and the Sam Fox School of Design & Visual Arts at Washington University in St. Louis launched PXSTL, based on the belief that creative interventions have the power to serve as meaningful catalysts for urban transformation. PXSTL, an acronym that stands for the Pulitzer, Sam Fox School, and St. Louis, begins with a national competition to design and build a temporary, site-specific structure that functions as a venue for community-based and site-specific programming, while activating a vacant lot in the Grand Center neighborhood of St. Louis.
2015-2017 Installation
For the second iteration of PXSTL, Chicago-based artists Amanda Williams and Andres L. Hernandez activated an empty land parcel as well as an adjacent building at 3721 Washington Boulevard that was demolished in April 2017. A Way, Away (Listen While I Say) unfolded over the course of several months, beginning by painting the building gold prior to demolition, followed by reshaping the topographical contours of the landscape and regenerating the green space. Materials salvaged from the building demolition have been given new life in community design projects. By choreographing the process in this way, the artists invited us to pause and evaluate the life cycle of the urban landscape. Drawing inspiration from classic tropes in blues music about hope and unrequited love, the work's title is meant to evoke the cycle of loss and transformation that characterizes the built environment.
A Way, Away (Listen While I Say) occurred from April–October 2017. It was located at 3713–3721 Washington Boulevard across the street from the Pulitzer Arts Foundation.
For the 2015-17 PXSTL competition, the Pulitzer and Sam Fox School solicited nominations from deans of architecture, art, and design programs; editors of art, architecture, and design publications; distinguished practitioners; and directors and curators of arts institutions. Three finalists were chosen from a group of more than 35 international practitioners. The selection committee, which comprised representatives from the Pulitzer and the Sam Fox School, chose Williams and Hernandez based on criteria that included the strength and creativity of their past work, innovation of approach, and the potential to invite public engagement.
Learn more about the project at the A Way, Away microsite and on Instagram at @awayawaystl. #PXSTL17 #awayawaystl.
Community Design Project Grants
Four grants were awarded to support the development of community design projects as part of the final phase of the PXSTL project A Way, Away (Listen While I Say). Recipients included:
Founded by Jenny Murphy (BFA09), Perennial is a nonprofit organization dedicated to building a culture of sustainability through creative reuse, a process of artistically transforming discarded goods into objects of worth. At Perennial's community workshop, a staff of teaching artists, educators, and community partners offers educational programming to diverse populations, teaching more than 2,000 people last year. In addition to the workshop, Perennial's store sells handmade DIY kits and eco-friendly supplies for reuse projects. To learn more about Perennial, visit perennialstl.org.
Located just across the Mississippi River from St. Louis, the nonprofit Granite City Art and Design District (G-CADD) is a consortium of creative spaces on the 1800 block of State Street in Granite City, Illinois. The collection of buildings and properties that make up G-CADD provides both indoor and outdoor exhibition spaces to local and regional artists. For this partnership, G-CADD is working in collaboration with New American Gardening, an experimental landscape project focused on maximizing ecological impact by cultivating native plants, rain gardens, and productive landscapes. To learn more about these organizations, visit gcadd.org and newamericangardening.com.
Art House is a housing cooperative for artists and activists on the north side of St. Louis that emerged directly out of the events in Ferguson following the shooting of Michael Brown. Located at 3911 Greer Avenue, Art House provides necessary resources for residents including mental health support, political education, and a food share program serving over 100 families eight times per month. In addition to these services, the collective engages in a variety of art activities to inspire imagination and develop communication skills with neighborhood children.
Solidarity Economy St. Louis is a network of groups and individuals striving to build an economy based on the values of justice, sustainability, self-determination, and cooperation. Working to create just and sustainable systems for people to meet their basic material needs, the network resists exploitation by divesting from and directly challenging systems of capitalism, colonialism, patriarchy, and white supremacy. For this partnership, the Solidarity Economy is working with Citizen Carpentry, a St. Louis-based carpentry collective that offers services and training in practical trades through a paid apprenticeship program, and Tillie's Corner, a historic small black business hub that is home to a community garden providing education in healthy eating and black history to youth and families in the surrounding neighborhood. To learn more about these organizations, visit solidaritystl.org, citizencarpentry.com, and tilliescorner.org.
The announcement follows a public request for small-scale design projects that utilize salvaged bricks as a material component. Each of the community partners will receive a grant of up to $2,500, pallets of salvaged bricks, and professional design and project management support from organizers to complete projects by November 2017.
Programs
Saturday, October 21, 2017
PXSTL Closing Conversation: Building as Healing
1-3p, Pulitzer Arts Foundation, 3716 Washington Blvd.
Thursday, September 14, 2017
PXSTL Lecture
Mindy Fullilove
7p, Pulitzer Arts Foundation, 3716 Washington Blvd.
Saturday, May 6, 2017
PXSTL Public Celebration: A Way, Away (Listen While I Say)
Noon-3p, Pulitzer Arts Foundation, 3716 Washington Blvd.
3:30p conversation with Amanda Williams, Andres L. Hernandez, and Walter J. Hood
5p Lecture by Keller Easterling
Friday, May 5, 2017
Lecture by Michael Stone Richards
7p, Pulitzer Arts Foundation, 3716 Washington Blvd.
Several of these May programs took place in conjunction with Critical Spatial Practices St. Louis (CSPSTL), a multi-platform convening that takes on the spatial politics of the city. The event is organized by The Divided City: An Urban Humanities Initiative funded by the Mellon Foundation. For more details about the conference events, visit cspstl.org.
Fall 2016 Graduate Architecture Studio
In conjunction with the development of their design, Williams and Hernandez co-taught a studio for students in the Graduate School of Architecture & Urban Design with lecturer Jonathan Stitelman in fall 2016. Using demolition as a point of departure, students gathered broken bricks—a material rich with local and architectural significance—from the site of a previous Pulitzer project, raumlaborberlin: 4562 Enright Avenue. Students then actively investigated, researched, and experimented with ideas of building and unbuilding by repurposing these reclaimed bricks. Through studio-based projects, a field trip to Chicago, and a charrette with local community members, students engaged with social and spatial practices, integrating innovative design applications and community-oriented research.
Support
PXSTL is among several projects funded by an endowment created by Emily Rauh Pulitzer to support collaboration between the Pulitzer and the Sam Fox School.