---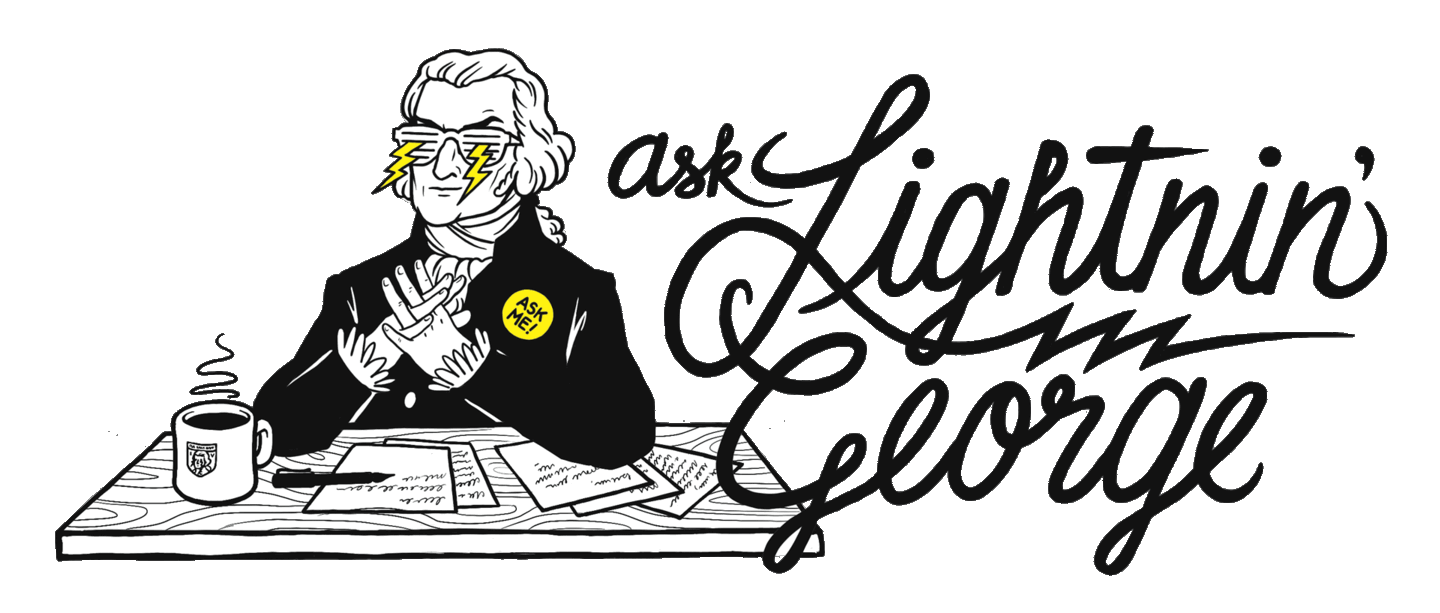 Official MFA-IVC spokesperson Lightnin' George answers your frequently asked, white-hot questions about the program.
---
I have made a series of 729 illustrations of cheese. Can I include all of them in my portfolio?
–Churning in Cheddar
As much as I'd like to see (and sample) the entire fromagerie, I'm afraid you'll have to narrow it down to your top wedges and wheels. If you happen to experiment with other things, like cracker GIFS, motion graphic crudités, or wine zines, we'd love to get a sense of the full range of your abilities. Send 12-20 images of your best, most recent work that is most representative of your practice. Get addition tips and advice here.
When you say writing sample, do you mean I should, like, handwrite a five-paragraph essay? Or, wait, do you just want my autograph? IDK, DM me?
–Inky in Indy
I do loves me some quill pen lettering! But what we really want is to get a sense of your writing style. So, if nonfiction essays are your jam, then we'd love to read that! Or maybe you're more into short stories, critical reviews, or even poetry. (I've been known to dabble in verse, myself.) In any case, writing, authorship, and scholarship are major components of our MFA-IVC program. Show us a sample of your work that demonstrates how you communicate your ideas in writing. Get additional tips and advice here.
I'm used to living with 6 roommates in a 472-square-foot efficiency apartment that costs $$$/month and overlooks both the sewer and a dumpster. (Inexplicably, we also have pets.) BUT…it's only 90 minutes from anyplace we like to go! Does St. Louis have good living like this?
–Crowded in Crown Heights
Oh, my. I'm not sure we can find you a comparable sitch here, Crowded, but how would you feel about something with a different olfactory profile? Would living close to restaurants, parks, and free museums be a deal-breaker? St. Louis is one of the most affordable places to live, and there are cool neighborhoods all around the University, like Tower Grove, the Central West End, and University City. ICYMI, see our St. Louis page for some of our favorite things to do.
I think my application is pretty rad and am hoping to save a few bucks on tuition. What kind of financial aid and scholarships can I apply for?
–Frugal in Fresno
I get it, man—I am always low on the Benjamins (my face is only on the dollar!). And I have great news for you: all MFA-IVC students received financial support from the University in 2020-21. We offer competitive assistance, based on a combination of need and merit, including full-tuition scholarships such as the Sam Fox Ambassadors Graduate Fellowship Program (which also includes an annual travel stipend) and the Sam Fox School Graduate Scholarship, along with the Catherine M. & Stanley R. Miller Scholarship, which covers 75% of tuition. Check out our full list of opportunities.
I see you have a swanky new studio just for MFA-IVC peeps. But, what else ya got?
I am writing a graphic novel about a self-actualizing garden snail who casts off his earthly bounds and heads to space. It's slow-going. Can I enroll in courses in other disciplines at WashU to help fortify my fiction with facts?
–Discouraged in Des Plaines
You bet! You may take courses at the 400-level and above from across the University—in subjects like writing, philosophy, art history, and the sciences—as long as you have the proper prerequisites. So, fear not, D—It sounds like you and your Astropod are already well on your way.
What does one do with an MFA in Illustration & Visual Culture?
–Pragmatic in Presidio
I admire your brevity, P, so I'll come right to the point of the pencil. Our graduates will be prepared to work as author-artists of graphic novels and picture books, professors of illustration, critical writers on popular culture, and curatorial staff in museums, libraries, and auction houses. We know you'll go far!
Can you show me how to make lightning bolts come out of my eyes?
–Curious in Curitiba
Can't be taught. But, MFA-IVC students have a statistically higher chance of becoming positively electrified with knowledge than any other sector of the population.