(Opens in a modal)
Sam Fox School, Pulitzer Arts Foundation Name Voraakhom Designer-in-Residence
---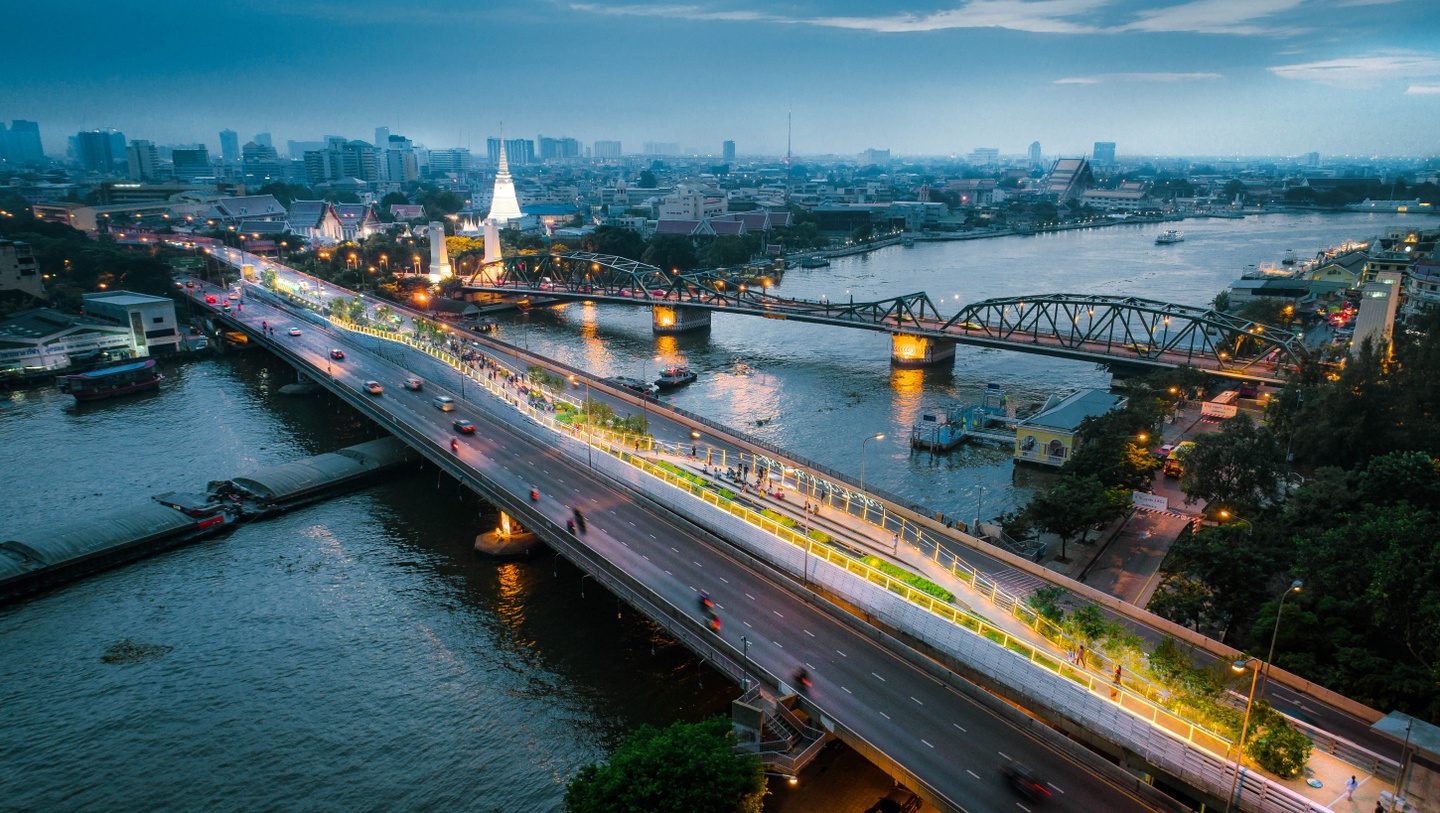 Internationally celebrated landscape architect Kotchakorn Voraakhom will serve a year-long appointment as designer-in-residence for the Pulitzer Arts Foundation and the Sam Fox School of Design & Visual Arts at Washington University in St. Louis.
Voraakhom is founder of the Bangkok-based design firm Landprocess as well as the nonprofit Porous City Network. Her work centers on designing urban green spaces that alleviate the effects of climate change in at-risk communities.
Major projects include Bangkok's Chulalongkorn University Centenary Park, which can collect and store up to a million gallons of runoff and flood water; the Thammasat University Urban Rooftop Farm, the largest urban rooftop farm in Asia; and Chao Phraya Sky Park, an elevated garden and pedestrian walk installed on an abandoned bridge over the Chao Phraya River.
In fall 2021, Voraakhom served as a visiting professor in the Sam Fox School. She taught the seminar "Messy Fluid Urbanism," which explored climate-related challenges in delta cities around the world and spoke in the school's Public Lecture Series in spring 2021. This summer, she will host WashU students in Bangkok as part of the 2022 Global Urbanism Studio, led by senior lecturer Jonathan Stitelman. The studio the annual capstone for the university's Graduate School of Architecture & Urban Design's Master of Urban Design program.
Voraakhom's appointment as designer-in-residence will begin July 1 and continue through the 2022-23 academic year. Organized around the topic "Ecologies of Access for Vulnerable Sites in St. Louis," it will include nearly a month of local site visits and engagement activities. Voraakhom also will continue to serve as a visiting professor in the Sam Fox School, co-teaching a studio for the school's Master of Landscape Architecture program in spring 2023 and participating in reviews, critiques and other aspects of university life. The residency will culminate with a public event later that spring.
See also: Derek Hoeferlin and Kotchakorn Voraakhom speak with the podcast Engineering With Nature.
Voraakhom's residency is funded through an endowment created by Emily Rauh Pulitzer to support collaboration between the Pulitzer and the Sam Fox School. It is organized by Derek Hoeferlin, chair of landscape architecture and urban design, in conjunction with the Pulitzer's Public Engagement Team and the Sam Fox School's Office for Socially Engaged Practice.
Other recent collaborations between the Pulitzer and the Sam Fox School include the ASAP Fund, a series of grants designed to help artists navigate the COVID-19 pandemic; a residency by artist Jordan Weber; and several iterations of the PXSTL design competition.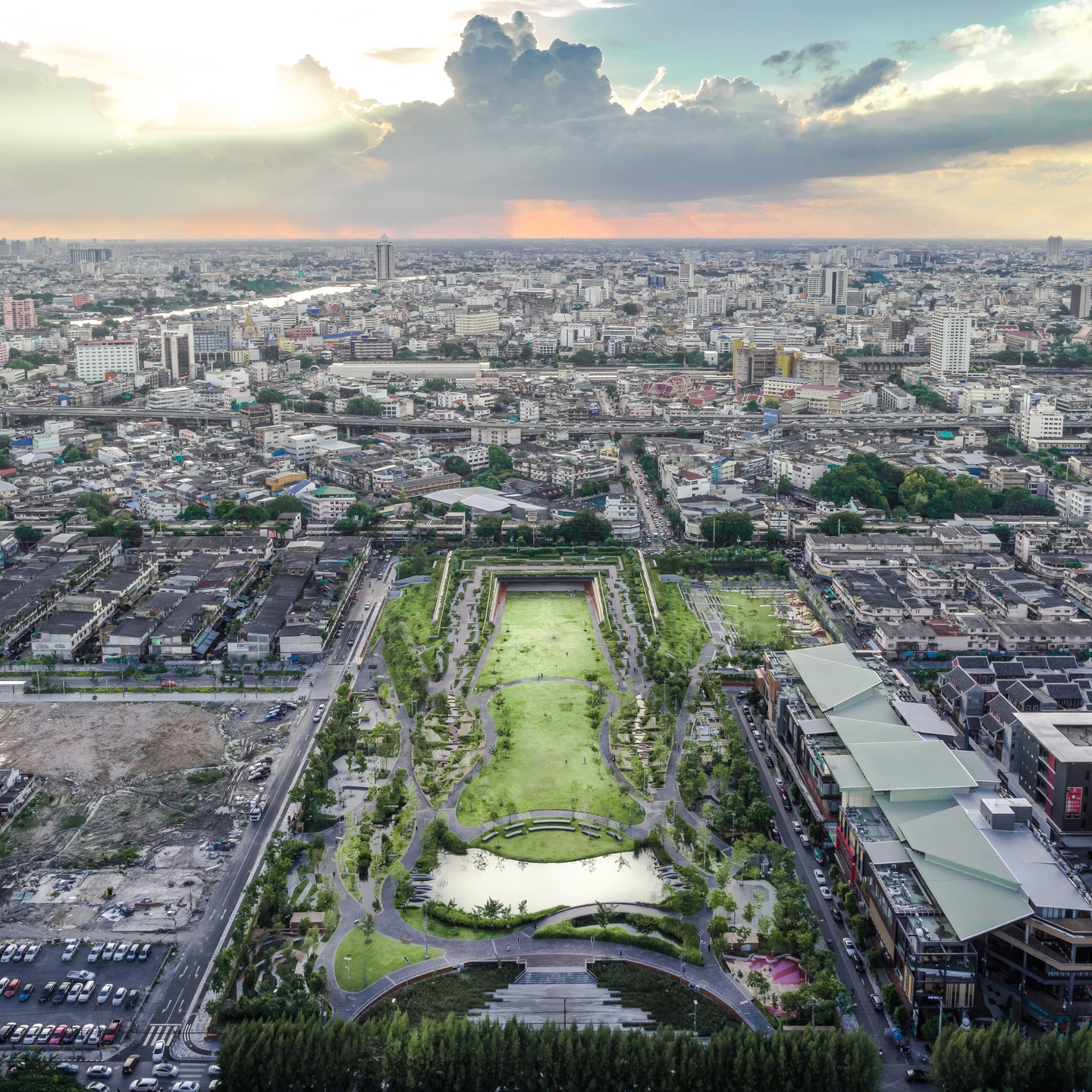 ---
About Kotchakorn Voraakhom
A Bangkok native, Voraakhom grew up in a dense urban area where the principal signs of nature, as she described in a 2018 TED Talk, "were these sneaky little plants trying to grow through the crack of the concrete pavement."
After earning a bachelor's degree in landscape architecture from Chulalongkorn University in 2002, Voraakhom attended Harvard University's Graduate School of Design, earning her master's in landscape architecture in 2006. She launched Landprocess in 2011 — the same year that her family's Bangkok home was decimated by record-setting floods.
Landprocess, which is dedicated to helping cities navigate climate uncertainty, soon won the competition to design the 11-acre Centenary Park, Bangkok's first new public park in nearly 30 years. Completed in 2017, the park can alleviate flood risk during heavy rainfall by collecting and holding runoff, which is filtered through a large green roof; wetlands filled with native water plants; and a retention pond that can double in size.
In a recent interview with The New York Times, Voraakhom explained that the design for Centenary Park was partly inspired by the example of a monkey's cheek, which can expand to store food until the monkey is hungry: "This is a kind of monkey cheek for water in the city."
The rooftop farm for Thammasat University, which was completed in 2019, combines green roof technology with cascading earthen terraces that absorb, filter and purify rainwater while growing food for use on campus. The Chao Phraya Sky Park, completed in 2020, is a model of adaptive reuse, built on what had been the central viaduct for an abandoned electric train project. Other major projects include Pathumwananurak Park phase two (2018), the Princess Maha Chakri Sirindhorn Healing Garden (2018) and Bangkok's ongoing, city-wide planning effort for "blue-green" infrastructure that incorporates both water- and plant-based solutions to address climate change.
A TED Fellow, Echoing Green Climate Fellow, Atlantic Fellow and BWM Foundation Futurity Fellow, Voraakhom currently chairs the Climate Change Working Group of the International Federation of Landscape Architects. In 2019, she was featured on Time magazine's "Time100 Next" list and in Time's "2050: The Fight for Earth" issue, as one of 15 women leading the fight against climate change. The following year, she won a United Nations Global Climate Action Award and was named to the BBC's annual 100 Women list and to Bloomberg's Green 30.
---